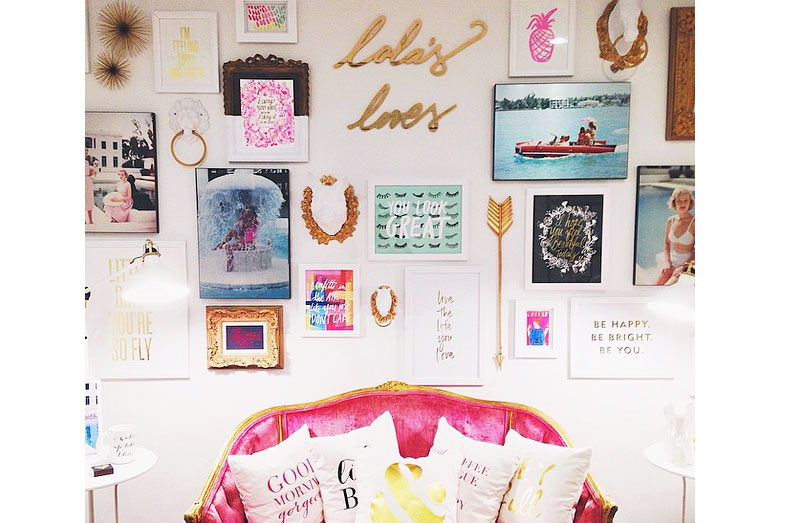 How to Create a Killer Gallery Wall
How to go big, without going crazy.
Something I would love to try in my apartment but have never quite known where to start is a gallery wall. Not just any gallery wall though, it needs to be ambitious. I want mixed contemporary and vintage frames, illustrations and text-based prints, and even some personal photos. In the iconic words of Johnny Tsunami, "go big or go home."
But we're not talking about shredding mountains; gallery walls are a delicate art. So instead of throwing up a crazy, incoherent collection of art and photos, I decided to ask a pro. After taking a trip to Read Between the Lines' new flagship store in Victory Park, it occurred to me that I had a golden opportunity on my hands. Owner Melinda Jones' joyful prints have been featured in fabulous examples from all over, so you know she's a pro on the rather tricky matter. After she gave me a tour of her new shop, she graciously shared a few of her best tips for putting together a killer gallery wall.
Melinda's Tips for a Gallery Wall
1. Don't box yourself in too tightly in terms of what it's supposed to look like. Just throw the rules out the door. That's how I get creative first. If I have too much structure around m
e I don't get the best product.
2. Start with your photos and find the ones that make you laugh out loud and [happy] sigh out loud. Set those out and let that be your starter.
3. When you go in search of frames, it's wonderful to mix an assortment of ready-made and found. Hit some vintage stores and look for some frames that you look at and go, "oh yeah." Let yourself have a primal reaction to something, and then mix that in with some easy, ready-mades from West Elm or CB2. You'll end up with something very original and true to you.
4. When incorporating text-based art or illustrations, just make sure that it's something that's true to you and that feels akin to the photos you have.
5. Just have fun! Don't worry about making it look perfect, just make it look real.