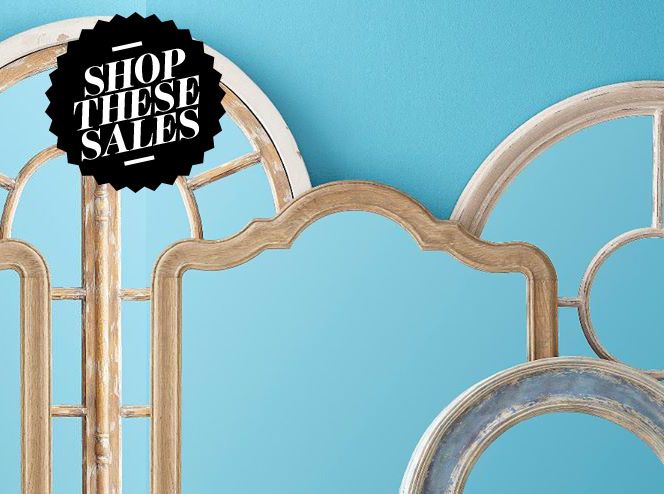 Dallas Design Sales to Shop This Weekend
Do you like saving money? You've come to the right place.
Do you like saving money? You've come to the right place. There are some serious sales going on this weekend. To be clear, we categorize any sale that offers of up to 75% off as a serious sale. So grab your planner, and be sure to include these design stores in your weekend shopping plan of action.
Jan Showers | Through March 31
Remember that March Madness sale we told you about earlier this week? Well it's still going on. After all, it wouldn't be "March Madness" if it didn't go all the way until the end of March. But real talk: the glossy, glamorous pieces that Jan Showers has become known for will be available for up to 75% off at her Design District showroom. Also, a portion of the proceeds will be donated to Dwell with Dignity, so it's a real win win.
The Gypsy Wagon | Through March 15
We challenge you to a dare. Go to The Gypsy Wagon this weekend for their Spring (Give Me a) Break Sale to get 20% off dresses and rompers and try not to leave with a new cookbook, coffee mug, candle or these amazing wind chimes. Just try.
Mitchell Gold + Bob Williams | Through March 22
Does your bedroom need a makeover? Maybe something clean and contemporary that's also comfortable? Where would you even find such a magical assortment? At Mitchell Gold + Bob Williams, of course! Their Spring Sleep Event is happening at their McKinney Avenue location now through March 22.
IBB Design | Through March 31
Let's talk about your sofa; it's time for a makeover. And even if it's not, 10% off on special order Burton James Sectionals at IBB Design may just be enough persuade you.
Wisteria | Through March 20
If you're a contemporary lover in need of a few new wall hangings, you're in luck! Wisteria's Mirrors + Art + Wall Décor Sale is going on now through March 20, offering up to 30% off the store's one-of-a-kind finds.