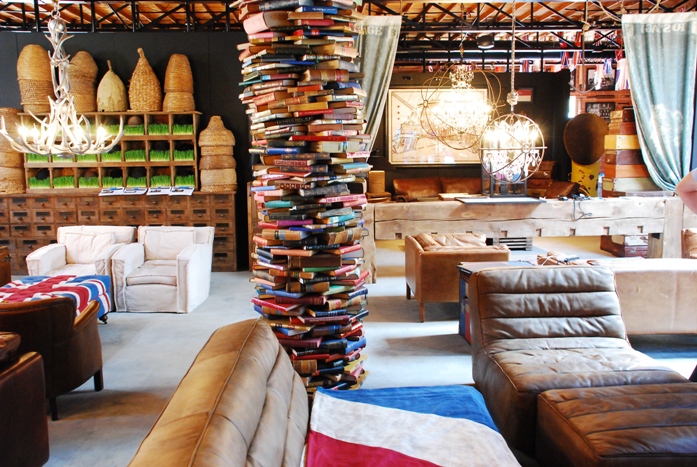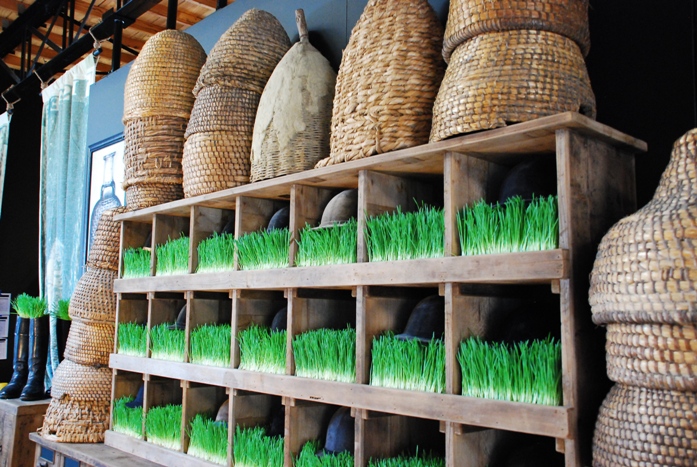 I was invited to stop by the
new Timothy Oulton store
for a sneak peek yesterday, and I'm still reeling a bit from all the eye candy happening in there… Oulton's crack team of stylists, shop staff, and visiting executives were all buzzing around readying things for their big bash tonight and this weekend's store opening. It was a mildly harried scene but ebullient too, with the team pausing from unpacking, arranging, polishing, and screwing in light bulbs to marvel at a school of fish in the aquarium or ponder the perfect placement of a silver orb the size of a Mini Cooper.
This was
my third visit
to the in-progress shop but my first when actual merchandise was present, and oh the merchandise… All those vintage goodies
spotted in storage
are there, only re-imagined as unexpected "moments" (think a mass of books snaking around columns in the main room), seamlessly co-mingling with Oulton's hulking wooden tables, baroque chandeliers, and sculptural leather sofas.  The promised yellow submarine is on display, as are more Union Jack flags than I have ever seen at one time (and I watched the entire Queen's Jubilee celebration on CNN).
Suffice to say, there's a lot to take in. So much so, that I may have gone a little snap happy even… But hey, I figured you guys would want to share in the peek, yes? Loads more photos after the jump, and you can witness the action in person when Timothy Oulton officially opens its hulking copper doors this Saturday. Enjoy!