At Hope Clinic in Garland, the nonprofit provider sees patients who often can't afford the medications they need to stay healthy. The free clinic serves uninsured residents who make less than 200 percent of the federal poverty level and have few other healthcare options.
The clinic serves a vulnerable and underserved community. Seventy percent of the clinic's patients are Hispanic, 20 percent are Black, and most of the patients are women. Last year, the clinic did 7,000 visits for 1,200 individual patients. These patients are seeking primary care, which helps keep them out of the hospital, where they would incur large bills that they would be unlikely to pay, but many of them can't afford the medicines that Hope's providers prescribe.
When patients don't take their medicine, outcomes decline. Non-adherence is responsible for as much as half of all treatment failures and up to 25 percent of all hospitalizations in the United States annually. Not taking or improperly taking medication is likely responsible for 125,000 deaths per year in this country alone. Estimates find that chronic medication adherence is only 50 percent.
Affording these medications is a major factor in adhering to doctor's orders. Medication can cost around 17 percent of all personal healthcare expenses, and the U.S.'s per capita drug spending exceeds all other countries."
"The thing we always have to remember with our patients is there's a lot of choices that have to be made," says Dr. Jennifer Kampas, a family physician and the medical director at Hope Clinic. "It's either you pay for the kids' food, or you purchase your medications. You are going to pay your rent in full, or you're going to buy my medication."
Hope Clinic's patients are already at a disadvantage, and when St. Vincent de Paul's leaders approached the clinic to discuss partnering with SVdP's free pharmacy (read more about the pharmacy and its reach here) that is delivering medication all over the state, clinic leaders thought it was too good to be true.
The pharmacy's services have been beneficial for those patients who are on multiple chronic medications. Many patients have hypertension, hyperlipidemia, asthma, and COPD, all requiring chronic medications to keep the patients healthy.
When patients have an appointment, the SVdP pharmacy is already an option in the electronic health record along with other pharmacies. Providers can send the prescriptions to the pharmacy electronically, where they can be picked up or sent directly to the patients if transportation is an issue. In 48 hours, the patients will have their medicine free of charge.
SVdP has also partnered with Baylor Scott & White's seven other community clinics, whose patients face many of the same issues. When BSWH's community health workers check in on patients, they often discover obstacles to remaining healthy or in crisis. The free pharmacy has been a great way to offer a solution for the patient's medication needs.
"It's helped to improve both their adherence to medicines, and it was for the first steps that we did because it was impactful in helping transition them from a crisis," says Dr. Jeffrey Zsohar, the medical director of BSWH's community clinics.
The initiative is more than just a feel-good story; it is making an impact on outcomes. In the chart below, the blue bars are the number of patients who received free blood pressure medication from the pharmacy, and the dotted line shows the average blood sugar count for those patients.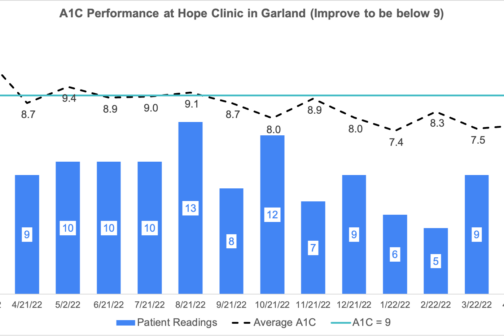 Many of the pharmacy's medications are donated by pharmaceutical companies, and others are purchased at a discount by the pharmacy. In the last fiscal year, the pharmacy sent nearly 79,000 prescriptions to patients across the state, and the organization hopes to increase that number to 150,000 this fiscal year. The organization is also looking to partner with other local community clinics as the program grows.

"If we can take care of them and help them take care of themselves, we can avoid trips to the ER," says Luis Gonzalez, the CEO of St. Vincent de Paul of North Texas. "We're looking forward to continuing to be able to make the impact that we're having, and we are going to see what else we could do to get the word out throughout the state."
Get the D CEO Healthcare Newsletter
Stay informed with a detailed weekly report on DFW's evolving healthcare industry.
Author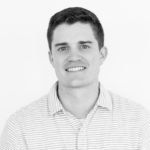 Will is the senior editor for D CEO magazine and the editor of D CEO Healthcare. He's written about healthcare…