If you're a cardiologist and you felt a brief moment of anxiety and panic between the hours of 2 p.m. and 4 p.m. Sunday, you're right to be worried: The winners of the 2023 State Fair of Texas Big Tex Choice Awards were announced, which means Dallas is about to fire up its motorized La-Z-Boy and storm the midway to get its hands on these delicious, diet-wrecking abominations.
Without further ado, here are your 2023 State Fair of Texas Big Tex Choice Awards winners!
2023 BTCA Best Taste: Savory WINNER: Deep Fried Pho
2023 BTCA Best Taste: Sweet WINNER: Bourbon Banana Caramel Sopapillas 
2023 BTCA Most Creative WINNER: Biscoff® Delight
Every year, before the winners are announced, there is an hour-long drumroll complete with local celebrity judges. The judges joke. The judges judge. And then, they start giving out awards. There are screams from the winners and polite sad claps from the losers, and all the local news stations zoom in. It's delightful.
But something hit us this year: Every year, without fail, the judges praise an item by saying, "Kids will love this." But will they? How would these judges know? What if this whole time, we've been asking for opinions from the wrong people?
So, this year, we brought our own judge. We may all pretend to be experts in the realm of ridiculous foods and beverages, but we've got nothing on this guy. He was born to rank carnival food. He asks for dessert right after he gets home from eating Andy's frozen custard. He regularly sneaks tater tots in his pocket "to-go" like Napoleon Dynamite.
Boasting 10 years of trick-or-treating experience, this guy tells it like it is. "Sugar Daddies? Are they serious?" He pulls no punches when he's out on a Friday night working on his ongoing ranking of the best Shirley Temples in Dallas. "I don't think that's Sprite." When asked how he'd like his steak cooked, he simply replies, "Soft, please." And he's got zero online followers because "I'm not allowed."  Meet Wes Laussade, my 10-year-old son.
No more wasting your money on foods that some adult told you were delicious. It's high time we all listened to a real pro. Here are Wes Laussade's hot takes and tasting notes on the food and beverage finalists in the 2023 State Fair of Texas Big Tex Choice Awards:
Savory
Deep Fried Pho – 2023 BTCA Best Taste: Savory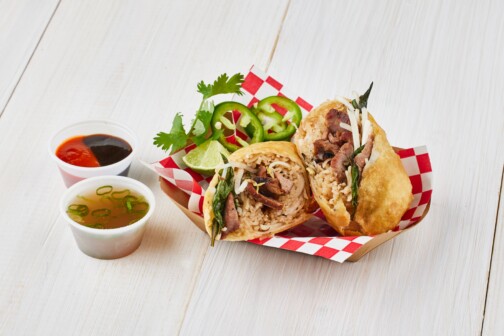 Food: Rice noodles, beef, fresh herbs, and bean sprouts are rolled and fried. Each roll-up comes with a side of broth for dipping, lime, jalapeños, cilantro, hoisin sauce, and sriracha. (Want to catch up on some State Fair of Texas reading? Check out this story of some recent controversy between the Deep Fried Pho and another popular Dallas food item.)
Wes Notes: "A mini burrito! Best Savory, for sure.* Kids would love this.** I give this a 10.***"
(*Please note: While Wes states here that this item is "Best Savory, for sure," he ultimately does not award this item Best Savory on his list. He's being nice. He liked it very much. But it did not earn his award. **Later, he clarifies, "Well, I like it. Some kids will not like it. That's just the way it goes." ***He gives it a 10 on a scale of "We have no idea" to "We don't know." But it seems like a very high rating. He smiled while he said it.)
Deep Fried Cheesy Crab Tater Bites – 2023 Wes Award for Best Taste: Savory
Food: Minced crab meat, shredded potato, cheese, and spices, rolled into a ball and fried. It's all topped with "cheesy crawfish sauce."
Wes Notes: "So good. Better than taters at home.* This dish is great for all ages. 10."
(*That's high praise.)
Loaded Fries Pizza – 2023 Wes Award for Most Creative
Food: A pizza topped with loaded French fries.
Wes Notes: "The crust is not too thin or too thick.* I give this a 10.**"
(*During judging, one of the panelists mentioned that she would have preferred a thinner crust. Wes found the crust to be just right. **So, if we're following along at home, we're maybe noticing that Wes is generous with the 10s he's handing out. We're three for three so far.)
OX'cellent Soul Roll
Food: Chunks of meat and crumbled homestyle cornbread are paired with butter, celery, and sweet onions. The mixture is rolled into a light and flaky, crispy spring roll and fried.
Wes Notes: "Good, but odd texture. Probably a 7. More for adults."
(Later, when pressed about his opinions on this dish, he noted that the name made him nervous to try the dish, because he hasn't had oxtail before. If you like oxtail and you're an adult trying to get your kid to try this dish, Wes recommends hiding the real name from them and telling them "It's made with their favorite meat." So, lying. Got it.)
Turkey Ribs!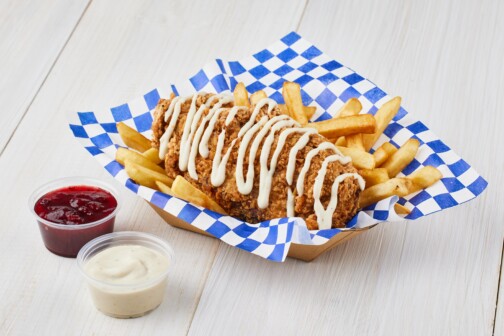 Food: Fried turkey meat served with stuffing-seasoned fries, homemade giblet gravy, and secret salsa. You can also order it Texas-style, which comes with BBQ sauce, fries, jalapeños, and pickles.
Wes Notes: "Tastes like Thanksgiving, in a nutshell. 9."
(Wes prefers the gravy version of this to the Texas-style version.)
Sweet
Biscoff® Delight – 2023 BTCA Most Creative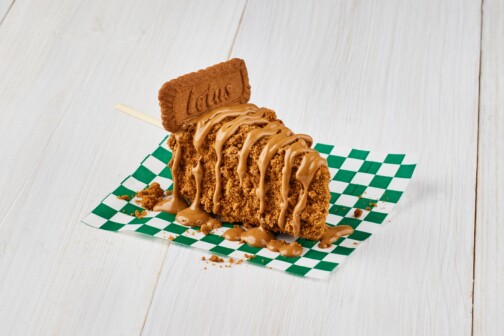 Food: Cheesecake rolled in Biscoff cookies, drizzled with rich Belgian chocolate, and skewered onto a stick.
Wes Notes: "They were out! There was a long line, but we were next in line, and they were out! But it was probably delicious."
(This commentary does not fully describe the frustration and sadness that befell this 10-year-old boy when he discovered that they had run out of cheesecake right before his turn. He took several deep breaths. He walked away from the empty cheesecake table quickly, so as not to be rude to the concessionaire. "It's not his fault." He began questioning all of his life choices. "We should have waited in this line first. I knew we should have." He has made it very clear that this is the first thing we will be eating at the State Fair of Texas in September.)
Bourbon Banana Caramel Sopapillas  – 2023 BTCA Best Taste: Sweet and 2023 Wes Award for Best Taste: Sweet
Food: Sopapillas topped with vanilla-caramel-infused bananas, sweet bourbon syrup, crushed candied pecans, sweetened mascarpone cheese, crumbled Nilla Wafers, and dusted with powdered sugar.
Wes Notes: "Very messy, but mmmmmm. Definitely a 10."
(He ate the whole thing. And he tried this one late in the game.)
Fernie's Fried Cherry Pie in the Sky
Food: A tiny fried cherry pie served with Blue Bell Ice Cream.
Wes Notes: "Sweet. Not too crunchy, but definitely enough. Kids will like it. 8."
(As he sat in the back seat of the car recalling this item, he went on a three-minute diatribe about the merits of Blue Bell Ice Cream. "That alone was worth it.")
Sweet Encanto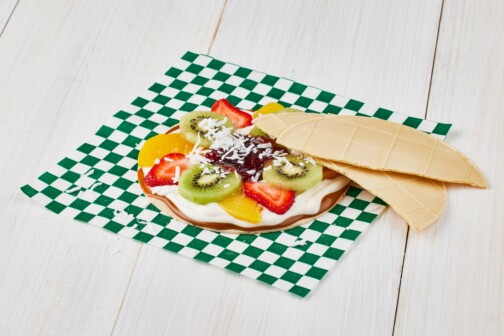 Food: A thin waffle topped with dulce de leche, cream, strawberries, kiwis, peaches, and shredded coconut. It's drizzled with raspberry jam and their homemade condensed milk (a closely guarded family recipe).
Wes Notes: "Messy, but delicious. Tangy and sweet. I give this a 9."
(He went back for seconds of this item.)
Trail-Ade – 2023 Wes Award: Best Beverage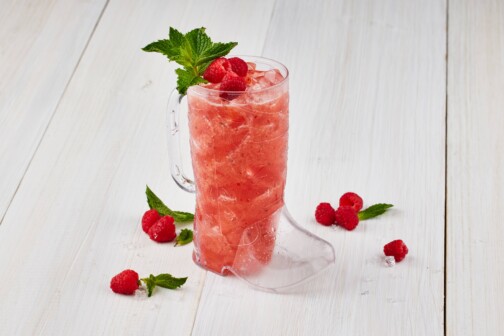 Food: This non-alcoholic beverage is a blend of summer fruits, cucumber, mint, and homemade lemonade.
Wes Notes: "I gave this Best Beverage. OK, it's the only beverage. But it should've had its own category, meaning for drinks. You can't judge a drink against all this other stuff. And it's sooooo good and it comes in a boot. Kids would love it. 10 +++"
(Wes drank three of these. Then, we had to leave because he has 5th Grade tomorrow.)
The 2023 State Fair of Texas runs September 29th through October 22nd. (Wes gives it a 10.) Be sure to bring an empty stomach. Bring a friend. Bring your kids. And, as always, bring some TUMS.
Get the SideDish Newsletter
Dallas' hottest dining news, recipes, and reviews served up fresh to your inbox each week.
Author