The Big Tex Choice Awards at the State Fair of Texas happens once a year, and once a year some sort of drama unfolds in its periphery. Conflict comes as no surprise, considering what a stress factory the competition creates for vendors. Concessionaires spend years testing, exploding, and perfecting recipes for this competition that have the potential to be worldwide news.
Being named a finalist in the competition can significantly increase a vendor's sales. And in past years, winning has meant $1 million in sales for some competitors. When you hear that your item has made it into the finals, all those days of being covered from head to toe in dough and powdered sugar seem worth it.
Unless a day or two after your item is announced as a finalist, you hear that a local restaurant has the same item on their menu, and the internet suddenly thinks you stole the recipe.
Last Wednesday, the State Fair of Texas announced its 10 finalists in the 2023 Big Tex Choice Awards. Shortly after the announcement, it became clear that there were similarities between the finalist dish of Deep Fried Pho and the Phorrito from local restaurant Cris and John, which serves "Vietnamese street food with a Mexican twist."
Here's what we know:
August 4: D Magazine announces that Cris and John won "Best Fusion in a Wrap" in the annual Best of Big D awards. Everyone cheers.
August 9: State Fair of Texas announces Deep Fried Pho as a finalist in the Big Tex Choice Awards. Everyone cheers.
Also August 9: Oh. Not everyone is cheering. The Internet looks at the two photos of the Phorrito and the Deep Fried Pho. They look similar:
Chatter ensues. Conspiracy theories begin. A big voice in the crowd is social media influencer @tim_vs_food, who tags the family that created Deep Fried Pho, the State Fair of Texas, and Cris and John in multiple posts.
This is what brings the issue to the attention of Michelle and Lam Le, the State Fair vendors with Deep Fried Pho. So, their family member posts a video attempting to quash any rumors that the idea was stolen. This video was taken down before I could post it here, but essentially, it states that "there's no ill will toward anyone" regarding the dish.
And then, that video leads Cris and John to feel like they need to participate in the conversation, too. They wanted to make clear that they want to support small businesses, too.
In a now-deleted post shared by Cris and John's Instagram account, the owners explained they were approached by the State Fair of Texas several months ago to sell the Phorrito at the fair. "They said we were exactly what they were looking for this year," the post read.
The owners explained that due to religious reasons, the restaurant must be closed on Saturdays, the busiest operating day for the fair. Fair organizers, who the restaurant said "had paperwork for them to sign," said taking Saturdays off wouldn't work and allegedly asked if another team could operate their booth on Saturdays instead.
"As small business owners that didn't sit well with us," the post said. "You have to ask yourself, with such a large event would you trust other people to run your business and prepare food that your team has been perfecting for years."
When the Big Tex Choice Awards finalists were announced, Cris and John's owners said they were taken aback by the similarities between the Deep Fried Pho dish and their Phorrito, and claimed it wasn't a coincidence that State Fair of Texas organizers wanted the dish and found another vendor to make it. They emphasized in the last few slides of the post that they did not want to "spread any hate" toward the concessionaires selling Deep Fried Pho and that they wanted to uplift other minority-owned businesses.
"We're not here to say it wasn't fair or right or victimize ourselves," the post said. "But the situation could have definitely been handled better."
At this point, the family member from the Deep Fried Pho concessionaire team reaches back out to Cris and John and asked them if they can all agree to stop "with the he said she said."
Both parties agree to take down their posts. And when we reached out for comment, both parties were hesitant to comment further.
But, when you read the now-deleted post from Cris and John, it's clear the story here isn't quite over. (We're still waiting to hear more from the State Fair of Texas, and hopefully from Cris and John.)
The State Fair of Texas and Cris and John
The State Fair of Texas was, in fact, courting Cris and John. They offered the restaurant a vendor booth at the fair.
We know from Cris and John that the State Fair of Texas had concerns when the owners voiced that religious reasons would keep them from operating Saturdays at the fair. Saturdays are factually the State Fair's busiest days of the season.
From the perspective of Cris and John, this is the reason they were ultimately not given a booth at the fair.
Karissa Condoianas, the top spokeswoman for the State Fair of Texas, says the fair never asked Michelle and Lam Le to produce Deep Fried Pho for the Big Tex Choice Awards after failing to reach an agreement with Cris and John. The Le family confirms this.
"When food items are entered into the competition, our team does a search of existing food items served at the Fair to ensure that each entry is not already served at the Fair. We do not search menus externally from local, regional, national, or international venues," read a statement from Condoianas. "We are looking for the top new foods that have not been served at the State Fair of Texas.
"In addition to our application process the State Fair team performs research on food industry trends or concepts and may seek out new foods and vendors for the Fair. As with any special event, the State Fair has a limited operating window to host its event and therefore requires its concessionaires to operate their food outlets on each day throughout the 24 operating days of the Fair."
The Rules of the Big Tex Choice Awards
Hypothetically, if Cris and John had been vendors at the fair this year, a lot of things would have kept them from submitting the Phorrito into the Big Tex Choice Awards.
The competition does not allow vendors to participate in the awards until they've worked at the fair for a whole season. The fair wants its operators to have a season of crazy fairgoers under their belts before they attempt to tackle the kinds of traffic they could get if their item were to win.
Secondly, competitors are not allowed to submit any items that they sell or ever have sold at their booths at the fair. So, if Cris and John ended up serving the Phorrito at their booth the first year of working there, they would have another roadblock to submitting it to the competition.
The @tim_vs_food of it all:
A quick look at @tim_vs_food's Instagram will show giveaway posts for Cris and John, asking his followers to like his posts for a chance to win some food. And if you take a little more time and go to his website, you'll find that he's listed Cris and John as the first partner in a non-alphabetical list of partnerships.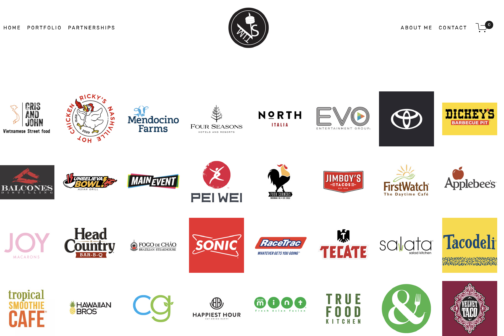 I reached out to @tim_vs_food for comment, and he said that he has "never been paid" by Cris and John, and that he has no further comment. Okay, but then, what does a "partnership" entail? He left me on read when I asked for clarity. Maybe "partnership" just means he really likes their food. In which case, I also have a partnership with Cris and John. And LifeSavers Sour Gummies. Specifically the green ones.
Over the weekend, I spent a lot of time talking with Cris and John and Michelle and Lam Le. And what I know is that both families are very proud of their dishes. Both families have good intentions behind their food. And both families want the best for Vietnamese culture and food in Dallas. It just seems like other factors got in the way.
There's certainly more to this story that we plan to report as it develops. Right now, we're here to urge you to eat a bunch of Phorritos. And when the fair opens, eat a bunch of Deep Fried Pho. Because, y'all—we're lucky to have both of these items in Dallas, Texas. We need more of this kind of food in Texas. Let's all go out there on social media and start acting like we deserve it.
Get the SideDish Newsletter
Dallas' hottest dining news, recipes, and reviews served up fresh to your inbox each week.
Author