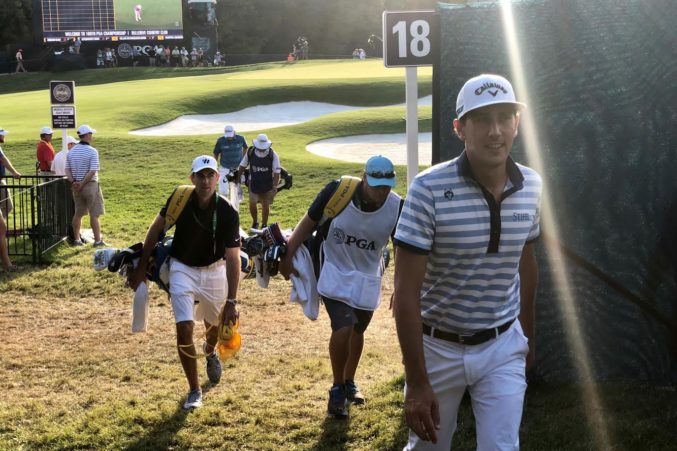 SMU Grad Kelly Kraft Lucks His Way Into PGA Championship
Sometimes just showing up is half the battle.
By Jordan Perez
Published in FrontBurner
August 10, 2018
12:21 pm
Denton native and SMU grad Kelly Kraft, along with caddie Boston Brittain, caught a Southwest flight to St. Louis on Wednesday. It turned out to be a good move. Kraft had become the first alternate for the PGA Championship after European Ryder Cup captain Thomas Bjorn withdrew Wednesday due to a back injury. (Kevin Streelman replaced him, announcing the news to his social media followers by trolling Phil Mickelson, with a GIF of Mickelson dancing in a viral ad for Dallas menswear company Mizzen+Main.) Then, early Thursday afternoon at Bellerive Country Club, Kraft got a call from PGA officials, telling him that South African golfer Louis Oosthuizen had withdrawn, also citing a back injury.
"It was weird," Kraft told me. "My phone rang at about 1:30 p.m. It was the tournament office, telling me to be on the tee in 20 minutes. I went out to the driving range, hit about 15 balls and a few putts, then went off. I didn't feel like myself until about hole 9. I had never been in that situation before."
Kraft held his own, coming in at one over par for the day, despite having never seen the course before. "I didn't know anything about it," Kraft said. "I think I'll play better [on Friday]. The greens got bumpy out there; they're long and slow. Fresh greens will be better for us."
The PGA Championship, of course, is one of four major tournaments each year (along with the Masters, U.S. Open, and British Open). Next year, the PGA Championship will move to May and fall between the AT&T Byron Nelson at Trinity Forest and the Charles Schwab Challenge at Colonial Country Club at Fort Worth.
This is the 100th year for the PGA Championship, and the golf stars have come out to play. Along with Mickelson and Dallas' Jordan Spieth, John Daly, Rickie Fowler, Rory McIlroy, and Dustin Johnson (currently ranked No. 1 in the world) are all in St. Louis. But the biggest crowd favorite, by far, is Tiger Woods, who's in the midst of his comeback tour. In the golf world, he's a god. He picks up a club, and it causes a huge stir. I've never seen this kind of rabid reaction from a crowd before.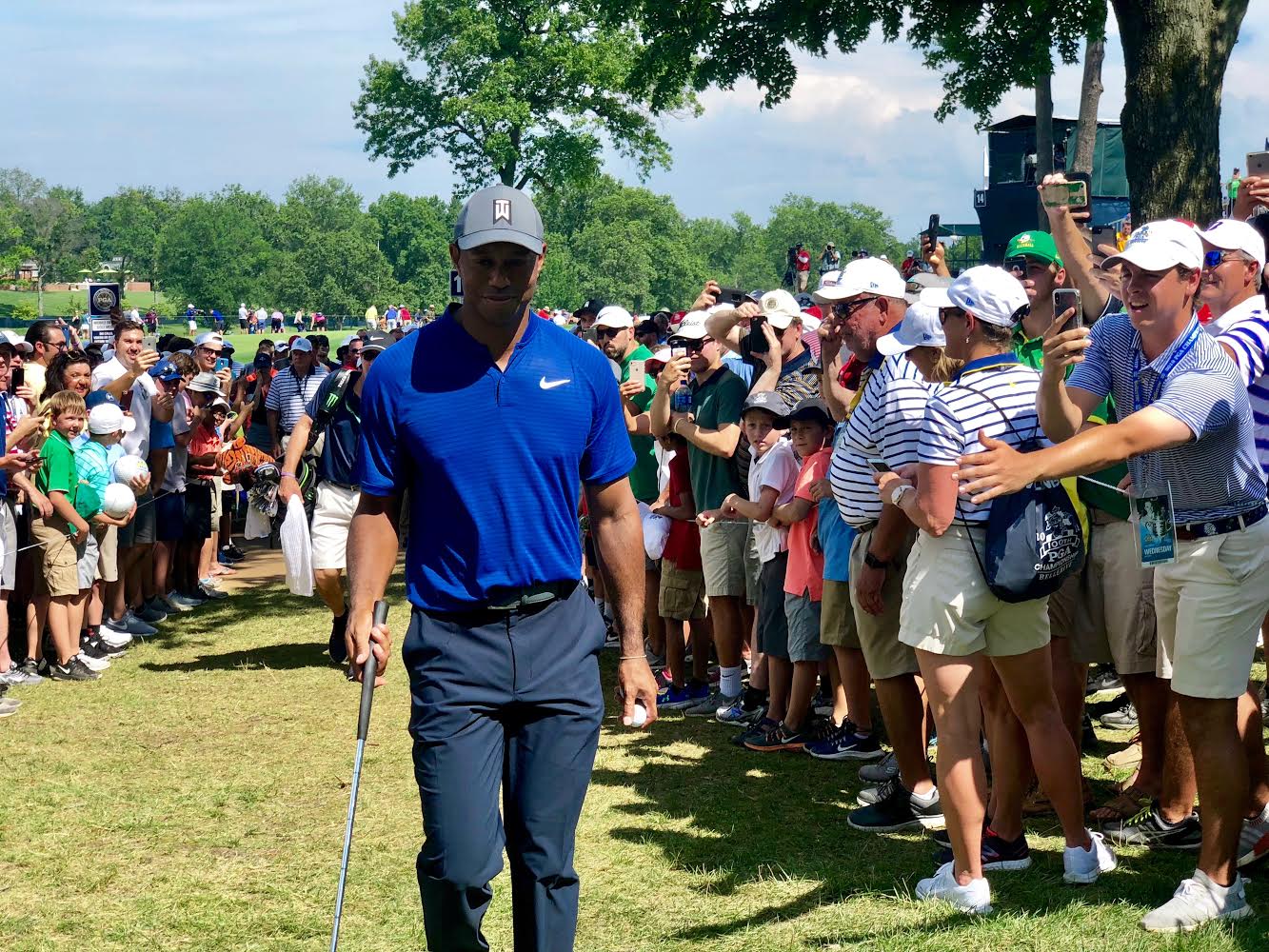 Woods started out Thursday with a bogey and double-bogey. Then he hopped into a porta-potty and changed his shirt, going from light gray to blue. The lucky blue shirt did the trick, as he birdied the next hole and finished the day at even par.
Spieth, who's at Bellerive with his coach, Cameron McCormick of Trinity Forest, had a hard-fought day. He made a long putt on 18 to save par and come out at one-over par. We'll see if he gets his mojo back today.
Editor's note: an early version of this story misstated which day Kraft flew to St. Louis and his first-round score. The mistakes were corrected.