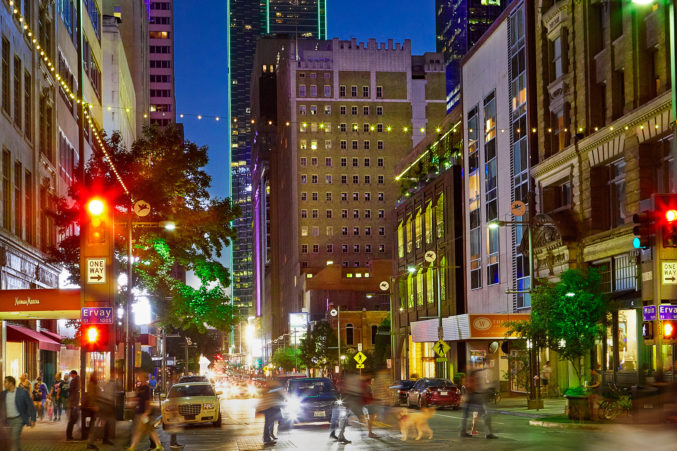 DMN: 260,000 North Texans Want to Live Downtown
Except they didn't quite say that.
UPDATE: So Zillow sent the full study over this afternoon. It's pulled from a dive the company's researchers published in May, looking into the effects of the federal Tax Cuts and Jobs Act and what that could mean for how homebuyers approach the market. What you'll read below isn't too far off, except 26 percent of respondents said they'd like to live near an urban area. Which makes the number in the headline closer to 338,000, indicating more of a demand for urban amenities.
ORIGINAL: There are a few ways to read this Dallas Morning News story about a Zillow study that digs into homeowner preferences. The paper leaned Pleasantville, declaring "those preferences come straight out of [a] 1950s TV spot for what were then America's first master-planned communities." Zillow polled 10,000 adults in 20 American metro areas. About half of the Dallas respondents want to live in the suburbs, and 80 percent want a detached single-family home.
Before we go further, I'm going to note that I'm having a hard time getting Zillow to send the full study over, so I'm going off of what the News says and this broad little summary from Zillow. If half of the respondents want to live in the suburbs, the other half don't. Some you can imagine want something rural or isolated on a lake or whatever, but there's a reasonable expectation that a not insignificant amount of those polled would prefer an urban area.
It's safe to say that it's at least 20 percent. That's the portion of respondents who say they would prefer living in a townhome, condo, or apartment building. About 1.3 million people live in Dallas, so that means 260,000 of those would prefer to live in the urban core. The News quotes UT Dallas' director of real estate programs, noting that tens of thousands of people now live in downtown and Uptown, a major change from just 15 years ago.
According to Downtown Dallas Inc., the city center—which includes downtown, Uptown, Deep Ellum, the Cedars, the Design District, and parts of North Oak Cliff, West Dallas, and Old East Dallas—is now home to 51,000 people. That's a growth of 31 percent since 2011. In contrast, Collin County as a whole grew by about 24 percent between 2010 and 2017, a jump of about 200,000 people. (The Census pegged its population at 969,603 last year.) So you're seeing more people move to the suburbs, but the urban amenities of the inner city are attracting a larger percentage. When you combine the realities of the population shift with the study's findings, there appears to be a real desire from hundreds of thousands of people for something urban. The News' dig that "the findings run counter to a growing narrative that people want access to the amenities of a dense, urban environment" doesn't quite stick. Especially when you note that there are plenty of suburbs that are embracing the tenets of urbanism—walkability, a mix of uses, density.
And while North Texas is a sprawling region with sparse density, we are running out of land for transportation, and we're running out of money to maintain the transportation infrastructure that has already been built. It's not a surprise that the Zillow study found more Dallasites want a nearby freeway than they do public transit. Dallas Area Rapid Transit is the nation's largest rail system and one of its most inefficient. As noted by 2015's American Community Survey, the median commute for a member of the working poor who takes DART was 60 minutes, more than triple than if they drove. If you can afford to live in the suburbs and own two cars, you will use those vehicles. If we had a public transit system that could effectively transport passengers quickly, perhaps those results would look different.
This region is expected to add 4.5 million more people in the next 20 years. Collin County is on pace to double. To meet the demands that come with that sort of growth, the region will need to shift its transit strategy to encourage walkability, effective public transportation, and a smarter street grid for when a drive is necessary. And the way to do that is to build for density.
That Zillow study shows that there are hundreds of thousands of North Texans who want that life, at least five times as many as who currently live it. If anything, it shows the potential and demand for urban development. If the region can do it right, maybe the study's findings look even more different five years from now.