On January 17, Shannon Daves, who is homeless and unemployed, was arrested for allegedly stealing clothes from a Macy's, according to court records. Unable to pay $500 in bail money, she was placed in a solitary cell in the Lew Sterrett Justice Center, also known as Dallas County's jail, that imposing brown compound along the Trinity River. (Her charge is still pending resolution.)
Recalling this period in the Dallas office of the ACLU of Texas about a month after her arrest, she wore combat boots with a business casual outfit, bold eyeshadow, and a sling over her arm for what she described as a chronic and serious shoulder injury. She has a dry wit that emerges as she describes her journey through the byzantine arrest system in Dallas County.
"It's real easy to lose track of the number of days you are in there," she says. "I've seen some people break down within 24 or 48 hours. I was a little bit stouter than that. I got irritated more than I felt I was getting unhinged."
Daves is transgender, so she was placed in that single cell for her own protection. It was a carved-out cinderblock room where water was limited to two flushes a day, plus a 6-ounce cup to drink every few hours.
"It's interesting to know how little water they can give a person and expect them to be okay," she says.
She would be bailed out four days later, and found herself somewhere she didn't expect before she was picked up—as a plaintiff in a lawsuit against the county.
---
So, you've been arrested in Dallas County, and now you're wondering, what happens next? How long will I be in jail? When can I get back to my job? Who will pick up my kids after school?
The answers to these questions, according to a civil lawsuit filed last month by the ACLU, the Texas Fair Defense Project, Civil Rights Corps., the Texas Organizing Project, and Faith in Texas on behalf of Daves and five other individual plaintiffs, depends on how much cash you have access to. This, they argue, violates due process because it unfairly forces people who have no money at their disposal to wait days or weeks behind bars. In contrast, the lawsuit alleges that those with flush bank accounts can get out the same day, regardless of the criminal charges.
About 70 percent of the 5,000 or so people housed on any given day in the Dallas County Jail are there because they cannot afford to pay bail. The county pays tens of millions of dollars annually to warehouse these people, some of whom haven't heard why they are being detained in the first place. At its current population, it costs taxpayers about $70 per prisoner per day, according to the county.
After arrest in Dallas County—after the thorough body search and the bumpy ride to jail—every arrestee must go through the process of making, or failing to make, bail.
The word "bail" actually refers to the conditions of release pretrial, which can include anything from a text message to appear, to an ankle monitor and random drug tests, to requirements to avoid certain people or places.
Over time, "bail" has come to exclusively refer to "money bail," which is the common system in most counties across the U.S. It means an arrested person is assigned a bail amount, ranging anywhere from $500 to millions. In general, the higher the bail, the more serious the alleged crime, or the more active an individual's criminal history. Arrestees don't generally pay the full bail amount; they pay a percentage — usually around 10 percent — to a bail bondsman, who then agrees to cover the rest of the bail amount, so long as you don't abscond. (If you do decide to run away and dodge your day in court, bail bondsmen have the right to track you down and bring you, by force if necessary, to court. If someone else put up your bail, they can also sue your co-signer for the remainder.)
The county could also issue what are known as pre-trial release bonds, which would require the arrestee to pay 3 percent of the bond or a $20 administrative fee, whichever is greater. However, the lawsuit alleges that the Pretrial Services Agency is "chronically understaffed and under-resourced as a matter of county policy" and does not provide the sort of supervision necessary to ensure that the arrestees will show up for court. Too, the screening process requires the individual to reside in Dallas County and have two verifiable references—that, the lawsuit argues, essentially disqualifies people like Daves. Another issue is that these aren't available until after arraignment, meaning that the arrestees wouldn't know whether they qualify until after about three days in jail.
In Dallas County, the hearings where bail is assigned, called arraignments, are held privately in the bowels of the Lew Sterrett Justice Center. These happen in a small courtroom with only one door. Temporary work lights hang from the ceiling by wires. Magistrates preside over arraignments in small groups 24 hours a day. (The Dallas County District Attorney's office declined to comment because of the lawsuit. The Dallas County Sheriff's office did not respond to a request for comment. I went to arraignments with Dallas County Judge Brandon Birmingham, who is among more than two dozen misdemeanor and felony judges named defendants in the ACLU lawsuit.)
Because of the space constraints, and the fact that they are held inside the jail, the hearings are closed to the public. There are no attorneys and no family members. The door has a keypad lock.
Prior to entering the courtroom, arrestees are herded into a large, open room that looks like a small gymnasium. They sign over their belongings and wait in line for a medical check. (While jail staff may deviate from the process in some cases – I heard personal anecdotes to this effect – they are not supposed to allow anyone to enter the courtroom before having their health assessed.) On a recent Thursday afternoon, some people waited here in cuffs. Others shuffled in slippers. A man strapped to a gurney screamed loudly in Spanish. Another tattooed man was stripped to his shorts, barefoot, being patted down against the linoleum wall. About 182 people are run through this process every day, per the ACLU's calculations based on Dallas County arrest records.
As the arrestees undergo this examination, the arresting officers type up their statement of probable cause (jargon for the reason why the arrest occurred). In another office, clerks match names and booking numbers to prior criminal records and attempt to assemble a packet of information for the magistrate and, eventually, the district attorney's office. They also assess whether people need an interpreter.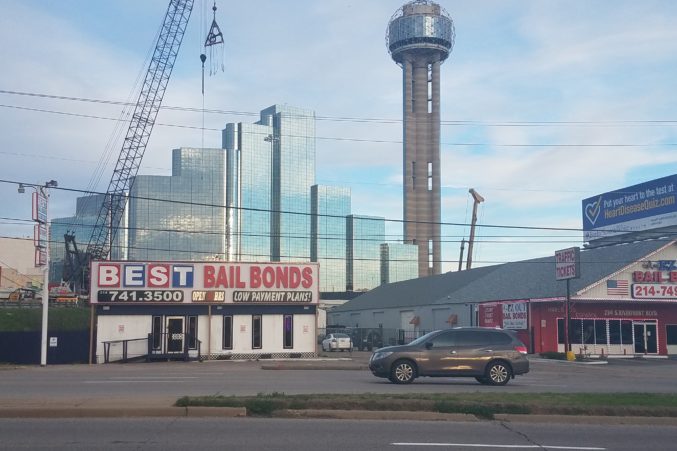 Arrestees are periodically herded in groups of about 20 into the small courtroom where they sit in folding chairs. The magistrate calls each name aloud and asks each individual's nationality. (All arrests and charges can have an effect on immigration status.)
Then, she reads each charge in its broadest terms and sets bail, typically based off a set schedule that ascribes the bail amount to the offense and the individual's criminal history. Most ranged from $500 to $1,500. At least three people were there for violating probation, which meant that they were not eligible for cash bail at all. Another small group of arrestees was going to be transferred to other neighboring county jails, a process that can take up to 10 days.
One woman was told that her bail was set at $25,000 for a felony charge resulting from a June interaction she allegedly had with a man during a marijuana sale. She sat down and wept quietly. Another arrestee asked how long she would be incarcerated; she was there for a $596 speeding ticket out of Lewisville and was awaiting transfer. "How long will I stay until they get me?" she asked, plaintively. She was already wearing green-and-white scrubs, which meant she had already been booked into the county jail.
---
The magistrates make their decisions based, in part, on the research done by clerks, but their information is only as good as the data at their fingertips. Bryan Thompson, another plaintiff in the civil suit against Dallas County, initially had his bail set at $135,000 because the information the clerks accessed was inaccurate. There were even warrants under his name in the computer system that weren't for him at all. Of course, at the time, Thompson wasn't able to see any of this because the process is done quickly and secretly. Arrestees are told to "keep quiet" and to only stand when their name is called. As Daves says, "We're given specific instructions from the time we go in that we are supposed to be quiet … we are supposed to stay seated."
Magistrate judges, among other duties, are permitted some latitude under the statute to set bail with consideration of a person's ability to pay. In reality, however, most of them rely on a
bail schedule
, which sets bail amounts according to the severity of the crime and the arrestee's past criminal history. While, according to the ACLU and other attorneys, the law permits magistrates to consider other factors, like whether someone is unemployed or cares for family members, the reality is that they don't and can't unless there's legal representation available.
As a result, according to advocates, arrestees, and my own observations, the magistrate judges don't ask questions. While the magistrate I observed was very mild-mannered, there was little dialogue and no questions about financial need. Daves says that the judge called her name and told her the bond amount of $500. She wasn't asked if she could pay.
"I think they assume a little bit because if you can afford a lawyer, you can afford the bond," she says. "They're judging the ability to pay based on whether or not I need an attorney."
Thompson recounts the same story and says that the magistrate "doesn't total [the bond amount] up for you, doesn't say why it's so high."
After the magistrate sets bail, everyone files out of the courtroom and sits in another waiting room where there are a few collect-call-only telephones, some open-air toilet stalls, and watchful deputies. On that Thursday evening, a dozen people filled out forms for public defenders. Those who have the cash can visit the Bank of America ATM conveniently located outside the courtroom in order to pay bail and go home. There's also a window where I watched people – almost all women with strollers and small children – wait in line to pay for someone else's release.
About 70 percent of the 5,000 or so people housed on any given day in the Dallas County Jail are there because they cannot afford to pay bail.
If you don't have the cash, then the system overtakes you, triggering a process marked by a lack of information and confusion.
Both Daves and Thompson say that they were never told why they were being arrested during or after their arraignments. They also say they were not informed of how long they might expect to remain in jail pending what is called the "first appearance," the date when arrestees are able to appear before a judge and plead guilty. (According to the complaint, sometimes individual defendants aren't even at their own first appearance, especially if they are opting not to plead guilty.)
The time lag, however, is substantial. For misdemeanors, which include crimes like criminal trespass, marijuana possession, or writing a bad check under $20, you can expect to wait four to 10 business days before you see a judge. If you are accused of a felony, you can expect to wait longer, often at least two or three weeks.
This is how long the prosecutors have to determine whether to try a case. Getting transferred to another city or county can mean a 10-day wait before you even arrive at your final destination. Daves says that the deputies in the jail are supposed to ask people how long they have been locked up periodically to ensure that everyone is getting their case heard. "I've talked to a few people that have been locked up here and some of them had me believing that if you can't bail yourself out, you can be there from 90 days to six months," she says.
According to the ACLU, this long waiting period encourages people to plead guilty to get let out. Ninety-four percent of
criminal charges end in a plea
across all state courts, which makes sense when you consider that, for many people, a plea agreement means immediate release. Challenging your arrest will mean more time in jail.
For further information, arrestees are told to contact their lawyer. Most people who cannot afford bail will be assigned a public defender; Daves included. But, public defenders aren't informed about their clients immediately. The process is entirely analog. Someone walks a piece of paper over to a basket over to another office over to the public defender's office, at which point someone gets assigned to your case. How will you know? Hopefully you have a family member or significant other to call the public defender's office for you.
Thompson's girlfriend says she followed up with dozens of phone calls and was able to clear the errors in the county's paperwork, which eventually reduced his bond substantially. At this point, he had spent about a week in jail. She, along with Thompson's retired and disabled parents, sold his belongings and scraped together enough money to put down a payment with a bond bailsman of $800 for the $1,500 total. Thompson still must pay $125 a week with the bailsman in order to stay out of jail. (Bail bondsmen can revoke your bail for nearly any reason, including the inability to pay.)
"If I didn't have someone, no one would have discovered the clerical error," he says. He was also required to be electronically monitored during his release.
Daves, on the other hand, was locked alone in her solitary cell where she recalls hearing people screaming and kicking the walls of their cells. She says she was not allowed outside to exercise. "It's very, very unnerving," she says. "In my sleep, months later, I could still hear the deputy rattling his keys, walking down the hall … If you are sane when you go in, and you are there long enough, you won't be when you get out."
Otherwise, you will find out the charges when you are brought in on the "jail chain," a line of shackled inmates—all still presumed innocent—who are brought to the courtroom for assembly-line arraignments.
According to the lawsuit, this arrangement violates due process. The Supreme Court long ago established that people could not be held in jail because of their inability to pay fines. But, the bail system gets around this requirement often because it is difficult to challenge. A similar lawsuit was successfully litigated in Harris County, where, in 2017, a federal court held in a nearly 200-page opinion that misdemeanor defendants all needed to be released within 24-hours if they could not afford cash bail. The Dallas County's Board of Supervisors has been contemplating the use of risk-assessment tools that would weigh the prisoner's risk to both public safety and fleeing before their court date. Those findings would inform the magistrate's decision on what kind of bond is most appropriate. These are being used in many counties, including Travis, but Dallas County has yet to implement anything other than the schedule to guide magistrates in setting bail.
While there are costs to changing the process—costs to open up the arraignment hearings, allow people access to lawyers, and provide better risk assessment tools that don't rely on bail bondsmen—there are the costs of taking people out of their lives, the jobs lost, the people uncared for, the rent that goes unpaid. A
study by Stanford Law School
shows that people who are detained pretrial are also at a greater risk of committing another crime, even if that person never committed a crime in the first place.
For people like Daves, who have no home, there's the constant threat of losing everything—literally everything. At the time she was arrested, it was one of those frigid nights when temperatures dipped into the 20s. She was wearing a coat and several layers. She says she never got those items back. (Anything that does not fit in the small bag at arrest is placed in an off-site property room.) Her camping gear and all of her possessions were left in a small lot: "Once I got locked up without any information, I worried what would happen to my stuff, everything I use to live with."
As for Thompson, he still works to make his payments to the bondsman. He's hoping his tax refund helps with the payment. But the stakes remain high. "I don't want to know what happens if they revoke," he said.
Email writer Jessica Pishko at

[email protected]

.
Get the D Brief Newsletter
Dallas' most important news stories of the week, delivered to your inbox each Sunday.