Tonight, the conservative provocateur, comedian, and political commentator Steven Crowder will speak at SMU's McFarlin Auditorium at the invitation of SMU College Republicans, drawing protests from an LGBTQ+ campus group that says Crowder has a history of homophobic views.
Crowder, who has a collective online following of over two million, is known for his use of slurs against LGBTQ+ people, including the words "faggot" and "tranny." He has also claimed that being transgender is a delusion, and has disparaged Muslims and racial minorities, leading many to consider him a hate speaker. In recent weeks, Crowder also became something of a meme after he appeared on the Texas Christian University campus with a sign inviting students to change his mind about his notion that "male privilege is a myth."
SMU's College Republicans defended their decision to invite Crowder to campus. In a statement, the group said that "Some of the things he says and does do push limits, but often times that is the purpose of comedy in that absurdity often brings truth and discussion to the forefront. Mr. Crowder is in line with most conservative/libertarian ideology and has an audience and a platform that allows us the opportunity to bring in a vast audience (particularly a large number of young people) and share conservative belief and thought in an entertaining format."
Many people on campus, however, believe that rather than push boundaries, Crowder crosses lines. They intend to make their objections to his presence known. OUTlaw, an LGBTQ+ group of SMU law students, is set to protest Crowder's appearance tonight, arguing that inviting him undermines the very dialogue that College Republicans claim they are seeking to open.
"While we…respect and value the principle of free speech, we are disappointed in the SMU College Republicans organization for not selecting a more substantive and eloquent speaker to contribute to an intellectual discourse on the issues," said Joanna Pearce, OUTlaw president and associate managing editor of the SMU Law Review.
In an email, Pearce went on to describe Crowder as "an antagonist with an insatiable hunger for provocation. He makes his living by finding ways to 'trigger' others; that is, finding ways to offend and denigrate as many people (or people groups) as possible. In doing so, he freely employs hate speech, including derisive epithets like 'f*ggot,' and he chooses to use these words precisely because of their ability to injure and offend."
OUTlaw emphasized that the group in no way objects to Crowder's legal right to speak on campus, or to College Republicans' right to invite him. Rather, OUTlaw contends that it was irresponsible.
"Our protest is designed to show our displeasure with hate speech and intolerance being disseminated on our campus. Although we respect the SMU College Republicans' right to bring speakers to campus, including speakers of little to no intellectual value, we nevertheless plan to exercise our right to demur and express our disappointment with their choice of speaker in this case. Additionally, we hope that our protest alerts the administration to the presence of its smaller minority student populations, and leads to productive future dialogues regarding measures to be taken in defending both free speech and the interests of minorities on campus. We support speech, but we also reserve our right to engage in respectful counter-speech, which is particularly important where a featured speaker chooses to shun respectful dialogue in favor of using reprehensible insults."
College Republicans are also drawing fire for promoting the event with posters of Crowder wearing a shirt that depicts Che Guevara and reads "socialism is for f*gs" (on the shirt design, the asterisk is a fig). SMU's logo was also visible in a version of the poster that was originally displayed. College Republicans later had Crowder's team replace the poster with a version in which the text on the shirt was blacked out, saying, "We are not looking to simply generate controversy simply for the point of doing so. We did not feel that the language on the shirt was conducive to the message we are trying to promote on campus and so we chose to black out the verbiage." Still, students have reported seeing both versions.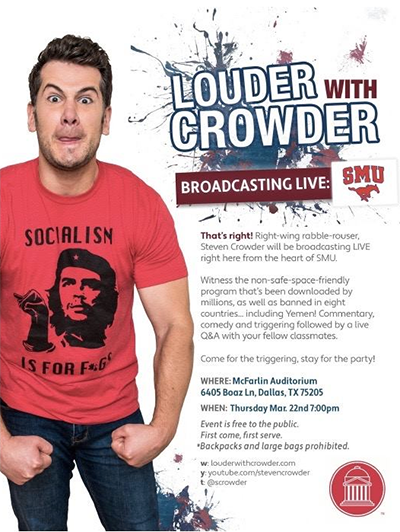 Pearce said that OUTlaw was "disheartened by [SMU administrators'] indifference to the use of SMU's logo and branding on Crowder's flier for the event, which also depicted a homophobic epithet. We hope that our protest and communications with the main campus administration will spark a dialogue regarding SMU's stance on the degree to which it should publicly claim affiliation with guest speakers in the future, in order to prevent inadvertently creating the impression that the university does not value diversity."
In a statement, SMU President R. Gerald Turner's office stated that it did not endorse Crowder, emphasizing that he goes against SMU's policies of diversity and inclusion. But SMU reiterated the right of College Republicans to invite outside speakers who "express objectionable or offensive ideas," as well as the right of OUTlaw and other student organizations' to "join together to demonstrate their concern by orderly means."
Some have pointed out that because Crowder's speaking fee of $15,000 was allocated to the College Republicans from SMU's annual budget by the student senate, students and donors, many of whom belong to the groups that Crowder insults and disparages, are paying for the speaking engagement.
Though Crowder's caustic presence is being met with significant backlash, interaction between the two student groups has remained civil, if somewhat tense. Lines of communication between College Republicans, OUTlaw,  and Young Americans for Freedom (another conservative campus organization planning a counter-protest in support of Crowder's right to speak on campus) have all remained open. All three organizations claim to support a constructive dialogue between people of opposing viewpoints.
Pearce said that OUTlaw believes "the foundation of respectful dialogue is respect. Hateful epithets designed to denigrate historically oppressed minority groups are not used with respectful intention, and their use immediately strips all vestiges of respect from conversations that otherwise could have been productive."
Editor's note: Alec Petsche is a student at SMU and a former intern for D Magazine.
Get the D Brief Newsletter
Dallas' most important news stories of the week, delivered to your inbox each Sunday.