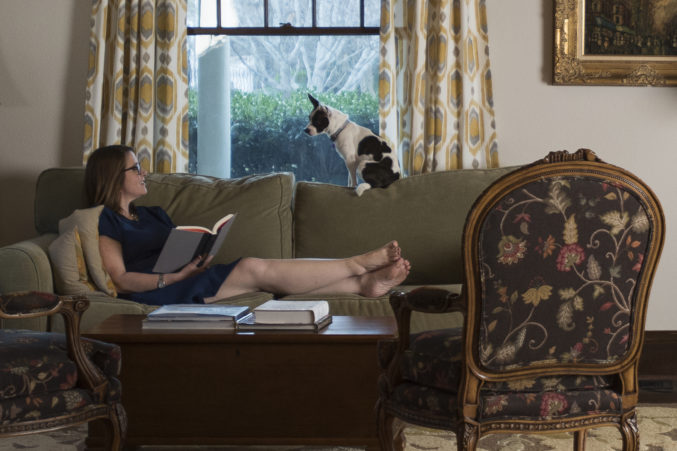 New Podcast: Can KERA's Krys Boyd Be Coaxed Into Cursing?
The inimitable Krys Boyd joined Zac and Tim at the Old Monk to talk about something she rarely does—herself.
If you've found your way here without reading Tim's profile of Krys Boyd in the April issue of D Magazine, click on this link and come back. (It even opens it in another tab—couldn't be any easier.) Boyd, one of the faces of KERA 90.1 FM, has taken her locally renowned interview show, THINK, statewide. Which makes it all the more remarkable that she was graciously willing to slum it at The Old Monk to record a podcast on a recording device that automatically manages the levels of the people speaking into it.
Joking aside, the conversation is illuminating not for Tim's misguided attempts to drag Krys into his orbit (you should've seen his eyes as he tried to get her to utter a swear word), but to hear her on the other side of the table, being questioned about the thing she so rarely talks about—herself.
Listen via the player below, or use your favorite podcatcher. And follow along with the show notes:  

Boyd struggled to find work after graduating in 1992 with a radio-television-film degree from TCU. She eventually managed to land a job at KDBC, then the fourth-ranked station in the city. It's the CBS affiliate, and it's the city's oldest television station.
Yes, studies have indeed shown that those who let the curses fly have a larger vocabulary, a higher pain threshold, and are less likely to be violent.
Tim spent plenty of time at Lounge Here in the beginning of 2017, some of which, believe it or not, involved not stalking Krys Boyd and his wife. For proof, here's his review of the place from the March issue.
Krys is the second radio personality that's been on EarBurner in 2017. Revisit the chat with Gordon Keith of The Ticket after you wrap up this one.
Krys was so kind as to bring Zac and Tim an office copy of Good Birders Still Don't Wear White, which appears to be a sequel of sorts to the 2007 book Good Birders Don't Wear White. Zac, today, would not be a very good birder.
Dyscalculia makes it tough to understand numbers and concepts that have to do with math. It's why Krys says she struggles to process the idea of where "12 o'clock" would be on the physical plane. I owe this link to Adam McGill, who also thought of the headline—perhaps Indiana Jones' father had dyscalculia.
I really wanted to see Krys do her best Sam Baker impression.
KTEP, the NPR affiliate in Krys' hometown of El Paso, doesn't carry THINK. Here's their email, should you wish to demand such a thing.