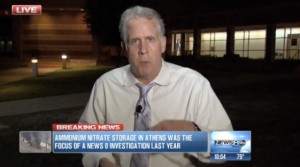 On LearningCurve, I have a post that mentions Schutze once again criticizing Brett Shipp for his willingness to believe anything bad about the DISD administration and Mike Miles. I've written about this many times. But I just thought it would be helpful to let Shipp respond, in his own words, about why he does these things: Because in his mind, Mike Miles is evil.
Okay, I'm exaggerating. But look at the potboiler language he uses and tell me he doesn't at least see Miles as a cartoon villain.
Below is an email response Shipp sent to a 20-plus-year WFAA viewer. This person emailed him and complained about how Shipp bought, hook-line-sinker, bad interpretation of DISD data fed to him by Bill Betzen. (I wrote about this a few weeks ago.) She wrote, in part, "I think your report last night regarding DISD's redistribution of funds from disadvantaged schools was so blatantly inaccurate and biased that it is hard for me to believe WFAA consented to air it."
Shipp responded by basically saying, "Why are you defending such a horrible person?" Understand, I could argue that almost every single controversy he brings up in his response below is either a) not true (example: teacher turnover for large urban districts is always 15 to 20 percent, just as is DISD's); b) caused by destructive trustees whom Shipp ignores; or c) caused by people like Shipp himself (administrators leaving because of trustee leaks to compliant media sources). But more important is the mindset of the supposedly objective reporter who is supposedly just layin' out the facts (as opposed to clearly opinionated columnists like me and Mr. Schutze).
Peace.
From: Shipp, Brett [mailto:[email protected]]
Sent: Thursday, March 26, 2015 6:33 AM
Subject: Re: DISD redistribution of funds story

Is it possible that an administration rife with leadership issues, entrenched in upheaval, constant turnover, policy violations and mismanagement… a Superintendent who has several times been caught misrepresenting the facts and exacting retribution on his adversaries, showering his loyal allies with raises while watching a massive exodus of veteran teachers and talented administrators as the number of low performing schools sky-rockets to record highs…..could possibly be guilty of playing games with classroom finances such as budgeting $2 million to Townview from athletic funds or redirecting high school allotment dollars away from campuses where kids are begging for college preparation? If your answer is "absolutely not" then I thank you for your comments and beg for your patience.

Peace.

Brett
Get the D Brief Newsletter
Dallas' most important news stories of the week, delivered to your inbox each Sunday.