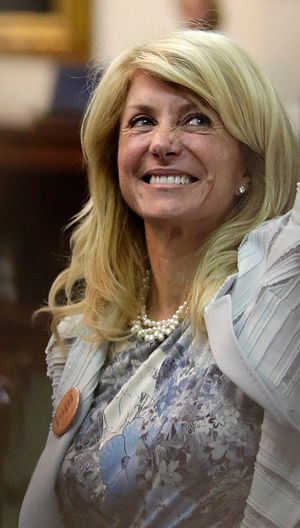 While multiple sources today are reporting that Wendy Davis will next week launch her campaign to be elected governor of Texas, the Democratic state senator spoke this afternoon in Dallas about the challenges of her past rather than her plans for the the future.
Davis was the keynote speaker at the 2013 Creating New Futures Luncheon held at the Park Cities Holiday Inn conference center and benefitting Alley's House, a nonprofit that offers young women child care, educational services, and workforce training.
Shanterrica Piper was among the program's recent graduates attending the luncheon. Out of school at 17, Piper learned about the community center after searching the Internet for someone who could help her take her future into her own hands. She felt she'd hit the jackpot when she read about Alley's House online.
"At first it seemed like it was too good to be true," Piper said. But her experience with the center's staff, tutors, and mentors went above her expectations. Through the services at Alley's House, Piper completed her GED, attended parenting workshops, learned about etiquette for secretarial duties and job interviews, and improved her resume. "They went above and beyond what they said they'd do," she said. "Whenever I needed help, they helped me."
Piper wasn't the only one at the luncheon with first-hand experience about the trials of teen parenthood. When it was Davis' turns to address the audience, she spoke of her personal experience as a teenager mother.
"I was very young when I became pregnant," Davis said. "I was 18." As a single mom working two jobs to keep her young family afloat, Davis looked to the strength she saw in her own mother to keep her situation from limiting her growth as a parent and as a professional. "My mom was an incredible example of work ethic and drive."
Her family's support allowed her to enroll in a paralegal program at Tarrant County College and later earn her bachelor's degree at Texas Christian University, where she became the first person in her family to graduate from college. Davis went on earn her law degree from Harvard Law School, and continued pursuing the career that eventually led her to represent District 10 in the Texas Senate. Clad in a pair of now-famous pink tennis shoes, the Democratic senator staged a filibuster on June 25, 2013, to block Senate Bill 5; the 13-hour event marked Davis as a leading spokesperson for family planning services and women's health.
"I have heels on today," she teased at the luncheon, assuring the audience that she wouldn't speak for 13 hours. In her remarks, Davis attributed many of her professional achievements to her access to health care providers such as Planned Parenthood.
"I had the empowerment of making family planning decisions," she said, adding that such health services allowed her to take advantage of other opportunities for education and professional growth. Concerned with the lack of current funding for these programs in Texas, Davis spoke about the importance of helping young women and their families gain the skills they need to live independently.
Although many were anxious to hear about the senator's possible gubernatorial campaign for 2014, Davis didn't make any official announcements about her future plans. Instead, she focused on the need to overlook partisan lines when serving the state's young women.
"No matter your political affiliation, making a bright future available to everyone is very important. We're investing in our most important resource – Texans themselves," she said. "The leaders who understand this are the leaders who are going to lead Texas to a brighter future."
The shining example of one young woman's brighter future was speaker Keshawn Johnson, the Alley's House 2013 Mother of the Year. Before coming to Alley's House at the age of 18, Johnson had dropped out of school in the 10th grade with no job, no permanent home, no transportation, and a 14-month-old son in tow. Johnson wiped away a tear or two as she expressed her gratitude for the people from Alley's House who gave her the tools she needed to find a steady job and a place of her own. "It felt so good not to be judged," she said.
Currently enrolled as a criminal justice major at Richland College, Johnson served to illustrate the multi-faceted roles that teenage mothers must adopt. They're expected to confront parenthood, academics, and employment with the maturity of an experienced adult, all while they are still shedding off the final layers of adolescence. Johnson's remarks were followed by a standing ovation, in which everybody in the room — including Senator Davis— applauded the futures that the young women of Alley's House have already taken into their own hands.
Paulina Lopez is an intern for DMagazine.com.
Get the D Brief Newsletter
Dallas' most important news stories of the week, delivered to your inbox each Sunday.