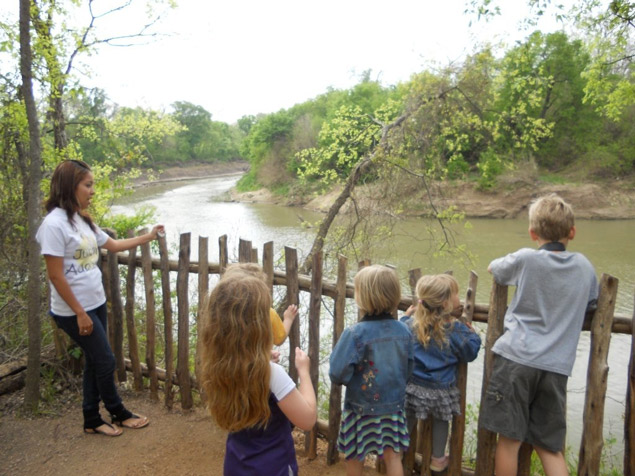 After dining at Jimmy's recently, I've done seven out of the Things Every Dallasite Must Do. This past weekend, I took on the task of completing my eighth: Explore the Trinity River Audubon Center.
Because I was babysitting Sunday afternoon, I thought that bringing the kids to TRAC would be the perfect activity for us to do. And I was right. After some initial confusion about where exactly the place is located, we finally drove down a dirt road into the 120-acre reserve and hopped out of the car.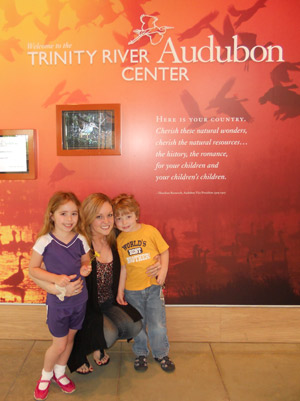 Gracie Cate, 6, and Jeremiah, 4, were very excited about this "nature" field trip I was taking them on. The parking lot was almost empty, and it didn't look like anyone was there. Turns out, Saturday had been the TRAC's "Celebrate Birds Festival" which welcomed more than 1,000 adults and children to enjoy all that the reserve has to offer for free. Needless to say, it was a little slower on Sunday.
We signed up for a 30-minute guided hiking tour and were handed binoculars in case we spotted something exotic (or just a bird). The tour was great, and kid-friendly, offering fun facts about trees and wildlife and even information on how the land was once an illegal dump site before becoming the nature preserve it is today. The birds weren't really out and about, so the most interesting thing we saw was a turtle swimming in the pond.
Inside there were hands-on exhibits, including animal fur samples to touch and a "make your own river" area that had water faucets draining over sand to show how a river can transform an area. The kids particularly enjoyed the sand pit outside, where they could use shovels and rakes to create whatever they wanted. They also liked the "animal encounter," where a wildlife expert let them touch a turtle and a snake. When Jeremiah asked what their names were, he was shocked to learn that they had none. He was allowed to name the snake "Crystal," and Gracie Cate ended up naming the turtle "Jack." It was likely the most prestigious honor of their young lifetimes.