Katie Minchew is looking ahead on construction at The Park.
It's official. The Park being built over the Woodall Rodgers Freeway is not going to remain a mess of concrete box beams and conduit wires forever. There's a plan in place.
On Wednesday I spoke with Jim Burnett, president of the Office of James Burnett, design lead for The Park. Although it is a little quiet at the landscaping office right now, starting in about three or four months "things will start to get geared up," Burnett says. They will begin examining materials and products, signing off on them to be used, approving or disapproving samples, exciting stuff. "Landscape construction will start in a big way toward the end of this year."
Since a year is a long while to wait to see progress, I guess a wannabe hippie environmentalist like myself can cling to the green aspects of the park planning. They are planning to use green roofs that collect stormwater runoff, low-flow light fixtures, plants native to, or well-adapted to, the north Texas climate, reducing their needs for water, and a cool new irrigation system.
The irrigation system being installed at The Park is the latest and greatest. Rather than the typical golf course sprinkler that throws water in the air, or typical suburb sprinkler system that sprays up, out, and into the hot Texas sun's grasp, the team at The Park is using a high-efficiency drip irrigation system.
If you are like me and still interested in the green aspects of the park, here are some cool facts:
Based on the USDA Forest Service, it is estimated that the trees at Woodall Rodgers will provide the following value of environmental services over 50 years:
·         Generate $700,000 worth of oxygen
·         Provide $19,964,000 worth of pollution control
·         Recycle $12,075,000 worth of water
·         Control $10,062,500 of erosion
·         Sequester up to 7 tons of carbon annually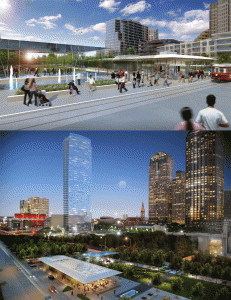 So, if you were driving on Woodall Rodgers thinking, "Geez, that's not a park they're building, that's just a bunch of concrete, steel, and loose wires," hopefully in three or four or maybe nine months Jim Burnett's team will be able to prove you and me wrong. Here are some renderings to prove it.
Until then, I'm clinging to green. –Katie Minchew

Get the D Brief Newsletter
Dallas' most important news stories of the week, delivered to your inbox each Sunday.