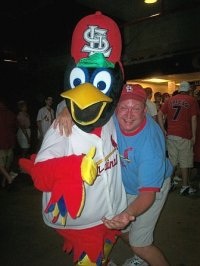 (This is the last of four mini-profiles of the semifinalists of the D Magazine Words With Friends Tournament. Chris Cree will face Rich Goff in one of our two semifinals on June 9. Read to the jump to see this member of our Finally Four answer the same questions as our 10 Most Beautiful Women in Dallas nominees.)
Rich Goff
42, Promotions Manager
Lives in: Lake Highlands area of Dallas
Originally from Joplin, Missouri, Rich Goff has been marketing news, weather, sports and online products for television station WFAA since 1999. He's passionate about three things: the music of Bruce Springsteen and the E Street Band, University of Missouri athletics, and the St. Louis Cardinals.
He got hooked on Scrabble because of semiannual games against his wife's grandmother. They play for hours every Christmas and Thanksgiving. Usually Goff wins, but not always. He's been playing WWF since he first discovered it, in March. He calls it "a gift from the iPhone gods."
It was a difficult path to the final four for Goff, and he considers himself most fortunate to have survived his bout with D Magazine senior editor Zac Crain. He really doesn't think he had any business winning that match. I imagine that Zac would agree.
The D Magazine Words With Friends Tournament Finally Four Answer the 10 Most Beautiful Women in Dallas Questionnaire:
People say your best feature is your:
My wife likes my eyes.
Friends would describe you as "The _______ One." (The Funny One, the Smart
One, the Flirty One, etc.)
The funny one.
In the movie of your life, you would be played by which actor?
Randy Quaid.  I mean, look at my photo.
When you have downtime, you're most likely to spend it:
Playing Words With Friends, or looking at classic cars on eBay.
It's happy hour during the week. You're at _________ drinking a _________.
My own back porch, or we're over at some friends' house drinking a Dewar's on the rocks.
It's a typical Saturday night. What are you doing?
We're usually either grilling out back, watching movies, or having friends over.
What charitable organization is closest to your heart?
My wife's employer: Operation Kindness, North Texas' oldest and largest no-kill animal shelter.
Get the D Brief Newsletter
Dallas' most important news stories of the week, delivered to your inbox each Sunday.