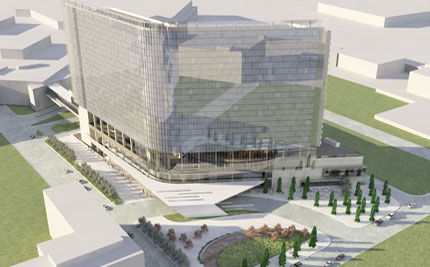 This morning, Scott Cantrell in the News cast a critical eye at the already-dated- looking  new convention hotel. Scott's critcisms are mostly architectural, and I don't think there are many professionals who would disagree with the point he makes.
 But his point is not big enough. Yes, the facade of this building may be a problem, but the setting is a disaster.
Here we go again, plunking down big, multi-story buildings without giving the slightest thought to how humans interact, without regard to human scale, and without any concern for visual pleasure. Our own City Hall is our most famous example, a large, tilting pile sitting alone in its plaza, as isolated as a leper at an orgy. The Convention Center is even worse, a gigantic curse of concrete strung along for whole city blocks.
Imagine standing outside this planned hotel on those wide  swaths of concrete in July (hello, Mary Kay conventioneers! Are the glass and concrete making you hotter than you already were?). The deserted feel, if not the architecture, would be eerily similar to Victory Park on a Sunday afternoon.
 Developer Matthews Southwest says it intends to fill in all the now-empty space with mixed-use buildings over time. Good luck with that. It seems Victory has taught them and the city's planners nothing. So let me try to make this plain as day. There is no time. Make a site unfriendly to humans, and no humans will come.  If you have to start big, as a convention hotel necessarily has to do, make sure the smaller, more intimate, more human-friendly buildings are there at the start to give your hotel some cover and context. Otherwise, we're going to end up with another beached Dallas behemoth.
Get the D Brief Newsletter
Dallas' most important news stories of the week, delivered to your inbox each Sunday.