May is gone, and now summer is so close we can almost taste it. Though in May, we did plenty of tasting: We ate nachos, sweet desserts, and a delicious veggie sandwich. A lot of restaurants opened and reopened last month, and more are on the way. It will be a busy summer.
The highlights
Rye's Sauerkraut Cake is on point.
Neighborhood Services has locations at three Omni Hotels across the country.
Two restaurants reopened after suffering damages from storms or fires.
Two ice cream shops have opened in Dallas and Fort Worth.
Our Favorite Dishes We Ate in May
Tilefish Moqueca at Meridian: Meridian's fixed-price menu is a four-course meal with your choice of an appetizer, pasta, entrée, and dessert. I stopped by and had the tilefish, which sat seared on top of a bed of rice next to plantain slices, a dried pepper, crushed peanuts, and a few sprigs of cilantro. Our server poured coconut broth over the dish, and it formed a savory pool around the rice and fish island. The salty, juicy fish dipped into the sweet broth was one of the best dishes I'd had in a long time. (Another reason I loved this visit: I recognized a few staff members from Homewood, including one gentleman who served our very last meal there, which nearly made me explode with happiness.) – Nataly Keomoungkhoun
Nopales and Sauerkraut Cake at Rye: Everything Nataly wrote about the sauerkraut cake is right. Wait. Did she say it's perfect? That sauerkraut is an amazing way to counterbalance the sweetness of a slice of chocolate cake with toasted meringue? That the brandied cherries add just the right touch? OK, good, because I agree with all of that. But while we were at Rye, we were also blown away by a small dish of glazed nopales, crispy hominy, and tiny corn cake puffs, all plated on a salsa verde. Fabulous, focused cooking. – Brian Reinhart
Rhubarb Crisp with Amaretti at Lucia: What can I say? I was in a dessert mood this month. Lucia was in a rhubarb mood this month. It was a perfect match. – B.R.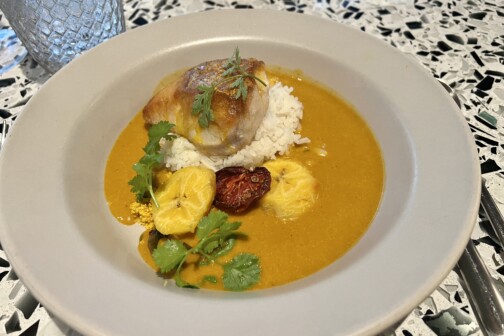 Sabich at Sachet: Brian in October wrote about Sachet's sabich, an Israeli sandwich made with egg, eggplant, and a bunch of fresh vegetables tucked into a pita. At a recent lunch I tried the sabich and it checked off all right boxes. What I loved in particular were the crunchy radish bits and the oh-so-warm eggplant. Also: it was not soggy! A win in my book. – N.K.
Street Nachos at Ruins: When I put together our new 50 Best Restaurants list at the start of this year, my worst nightmare was that I would accidentally omit a delicious, long-established Dallas restaurant that obviously merited a spot. Readers have asked about Town Hearth, Cafe Momentum, Salum, and a few others, but right now my biggest regret is Ruins, a Deep Ellum bar that serves unapologetically big-flavored Mexican food. Need an introduction to what Ruins is about? Order a bag of street nachos, and, yes, they'll tear open a bag of chips, dump all the toppings inside, mix it around, and serve the whole bag on a tray. It's obscenely good. I'm going to find room for Ruins on our next list. – B.R.
Tum Thai at Too Thai Street Eats: The Tum Thai, a papaya salad made with shredded unripe green papaya, tomatoes, green beans, carrots, and peanuts that's been tossed in fish sauce, lime, chiles, and other sauces. (Papaya salad is usually associated with Laos and has variations throughout Southeast Asia.) One bite of this cold salad is tart, spicy, and crunchy—perfect for a hot summer coming up. – N.K.
Food News
Neighborhood Services: We recently discovered that Neighborhood Services at Omni Frisco Hotel at the Star, the popular Dallas concept created by restaurateur Nick Badovinus, is of three locations at Omni hotels in Louisville, Kentucky, and Tempe, Arizona.
FlavorHook, the hospitality group that owns Neighborhood Services, Brass Ram, National Anthem, and more, said in an email that the group has a partnership with Omni Hotels to license out restaurant concepts. Those restaurants—three Neighborhood Services in Frisco, Louisville, and Tempe, and one National Anthem at the Omni at the Battery Atlanta—are all operated by their respective hotels and not by FlavorHook.
Blue Goose's Replacement on Greenville Avenue: Goodwin's is a new restaurant and cocktail bar that will replace the old Blue Goose Cantina location at 2905 Greenville Avenue. Goodwin's comes from three East Dallas restaurateurs who plan to make the restaurant neighborhood-friendly, but "sexy at night." 2905 Greenville Ave.
AAPI Spotlight series: Last month, SideDish ran a weekly Q&A highlighting people of AAPI heritage in the food industry. You can read them here:
Openings, Reopenings, & Closings
Bar & Garden: The oasis-like plant shop with organic and sustainable spirits, beers, and wines has packed up its bags to move into a new space at 1900 N. Haskell Ave., across the street from Loro and E Bar. The shop and bar's last day at its Ross Avenue location was May 31. A new open date has not been announced. 1900 N. Haskell Ave.
BigDash: The ice cream and pastry shop with middle eastern influences opened its third location in Garland. The shop is known for its pistachio-coated logs and confections. You can also find them in Frisco and Richardson. 4280 Lavon Dr., Ste. 242, Garland.; 2693 Preston Rd., Ste. 1090, Frisco.; 888 S. Greenville Ave., Ste. 140, Richardson.
Brooklyn Dumpling Shop: A concept from New York City has made its way to Deep Ellum to serve dumplings of all sorts. The quick-serve restaurant opened May 15 and allows customers to order online or through the in-store kiosk and pick up their food from the lockers inside the restaurant. Dumplings range from traditional, like pork and chive or vegetable, to unconventional, like mac and cheese or pepperoni pizza. 2548 Elm St.
Colette: The team behind Namo is opening a European-inspired concept in West Village later this summer, according to a press release. Colette will serve small bites and a rotating menu of cocktails made with in-house chartreuse, vermouth, and bitters. The cocktail bar will open in the former Pok the Raw Bar space. 3699 McKinney Ave.
Dreamboat Donuts & Scoops: The founders of Spiral Diner & Bakery opened a vegan ice cream and doughnut shop May 10 in Fort Worth. The ice cream is all dairy-free and vegan, and the doughnuts are vegan, yeast-raised, and gluten-free. 1204 6th Ave., Fort Worth.
Komodo Lounge: Komodo, the Asian-inspired eatery from Miami, recently opened a lounge as the nightclub addition to the glitzy restaurant. The lounge has indoor and outdoor spaces and features a DJ booth, a full bar, and prints by artist Mari Kim. 2550 Pacific Ave.
The Finch: A second location of The Finch opened in Grand Prairie May 4. The restaurant serves modern American cuisine for brunch, lunch, and dinner. 2955 S. State Hwy 161, Grand Prairie.
Meow Wolf Grapevine: The interactive art installation is opening its fourth permanent psychedelic exhibit July 14, according to a press release. It will debut with more than 15 Texas food and drink vendors when it opens. 3000 Grapevine Mills Pkwy., Ste. 253., Grapevine.
Postino Wine Café: After abruptly closing its Deep Ellum location in March, the restaurant and wine bar will pop up a new location in Addison and Southlake later this summer and early fall. The Phoenix-based wine bar offers lunch, dinner, brunch, and a massive wine menu by the glass and bottle. The Addison location will be located at 5290 Belt Line Rd., and at 1440 Main St. in Southlake.
The Saint: The Italian-inspired steakhouse that took over the Two Sisters location on Gaston Avenue opened May 11. The decor is a play on the "saints and sinners" motif: dark and moody, but playful. The menu includes an array of appetizers like whipped ricotta, steak tartare, pappardelle bolognese, and an array of steaks for the choosing. Its drink menu includes 12 craft cocktails and Italian and Texas spirits. 2633 Gaston Ave.
Saaya Lounge: A new restaurant and cocktail lounge is opening June 2 next to the nightclub Citizen as a "Mediterranean oasis." The menu spans items like spicy feta dip, shawarma and kebabs, and Lebanese-style pizzas. Cocktails take an interesting turn: one of them, the Not Your Habibi, is vodka based and made with St. Germain and Dill Yogurt. 2511 Swiss Ave.
Salum: The seasonal American cuisine restaurant reopened May 15 after suffering severe February storm damage. 4152 Cole Ave., Ste. 103.
Sandbar Cantina: Popular sand volleyball bar Sandbar Cantina closed May 26 after 11 years. It was a popular spot for social volleyball teams, like Sallas Sport & Social Club, to play and compete throughout the week. 317 S. Second Ave.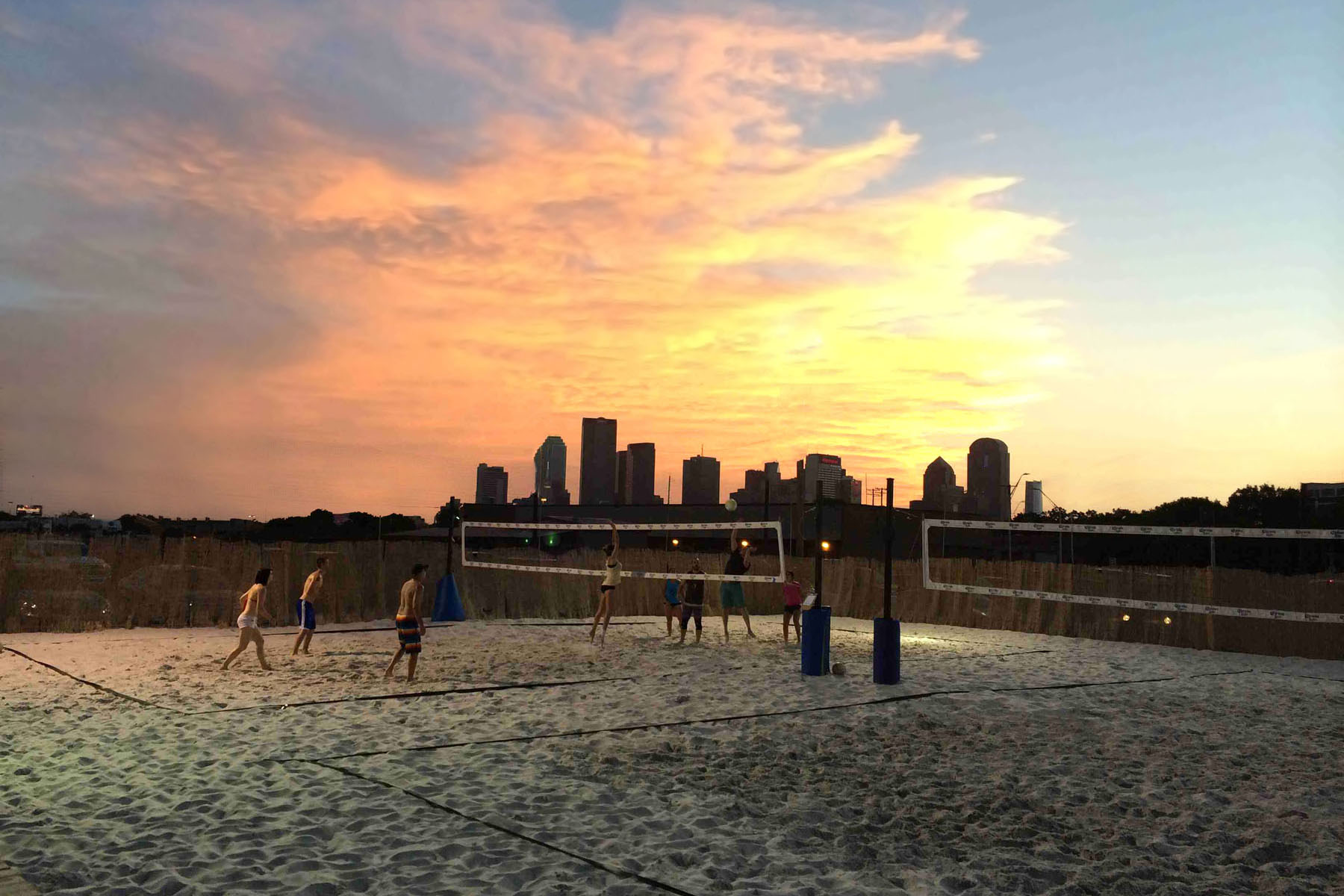 Selda Mediterranean Grill: The Turkish restaurant reopened in May after suffering fire damage in February. 6006 Belt Line Rd.
St. Martin's Wine Bistro: The restaurant on Greenville Avenue closed May 20 after more than 40 years. It was one of the few places in Dallas that offered live piano. 3020 Greenville Ave.
Toastique: A toast and juice bar concept is opening in Addison this fall in the Work/Shop development on Belt Line Road (near Mesero). Toastique will sell fancied-up toasts with avocado, tuna, cheese, spicy crab, and more. The bar will also have juices, smoothies, and acai bowls with plenty of healthy options. 5455 Belt Line Rd.
Turan Uyghur Kitchen: A new restaurant serving Uyghur cuisine (Uyghurs are a Turkic ethnic group usually affiliated with central and east Asia) recently opened in Plano, and it looks divine. The menu doesn't seem expansive, but from what we can tell, the lamb shank, stews, and hand-pulled noodles are popular. 2001 Coit Rd., Ste. 163, Plano.
WOB Bar & Kitchen: The World of Beer Bar & Kitchen is opening its latest location at Grandscape in The Colony on June 20. WOB will have 300 domestic and international beers, 40 rotating taps, a full bar of wine and spirits, and a menu with pretzels and burgers to match. 5774 Grandscape Blvd., Ste. 110, The Colony.
New Menu Items & Specials
Blue Goose Cantina: The monthly margarita is a Blood Orange Margarita made with Casa del Sol Blanco tequila, agave, lime juice, and blood orange puree. July and August's monthly margarita, the Coco Piña, is made with Dulce Vida Blanco tequila, pineapple juice, coconut puree, agave, and lime juice. Multiple locations.
Isla & Co.: The all-day Australian-style cafe is introducing happy hour from 9 a.m. to 6 p.m. on Thursdays and Fridays all summer long.
Loro: There's a slew of new menu items at both Loro locations in Dallas and Addison, including the sake can half chicken, Texas sweet corn, and boozy slushee flights. (The mango sake slushee is my favorite. – N.K.)
Silver Fox: Through September 11, Silver Fox will serve three summer cocktails: Classic Sidecar, made with Remy Martin, Cointreau, and lemon juice ($15); Strawberry Rose Sidecar, made with Remy Martin, Cointreau, strawberry rose syrup, lemon juice, and prosecco ($16); and the Grand Sidecar, made with Grand Marnier, bourbon, lemon juice, and simple syrup ($17).
Correction June 5, 2023: A previous version of this story listed the Neighborhood Services at Omni PGA Frisco Resort, not the Omni Frisco Hotel.
Get the SideDish Newsletter
Dallas' hottest dining news, recipes, and reviews served up fresh to your inbox each week.
Author
Nataly Keomoungkhoun joined D Magazine as the online dining editor in 2022. She previously worked at the Dallas Morning News,…