It's time to indulge in every way before the year is out, and that means eating until our bellies are full and clinking glasses of whatever we want with our friends.
If you outdid yourself for Thanksgiving, don't fret: there are plenty of options for breakfast, brunch, lunch, dinner, dessert, and drinks for the rest of the holidays. We've included food options for Christmas and Hanukkah. Tamales, too!
Breakfast
LAW
On Saturday mornings from Dec. 3 to 17 and Sunday, Dec. 11, kiddos and adults can have breakfast with good ole Saint Nick with an a la carte breakfast menu featuring pastrami hash, apple cobbler waffles, and a vegan-friendly omelet. Santa will be in the hotel lobby, and little ones can bring in a wish list or letter explaining why they've been extremely nice this year (because why would we tell Santa we've been naughty?). Reservations are recommended and can be made by calling 972-717-2420. Four Seasons Resort and Club Dallas at Las Colinas, 4150 N. MacArthur Blvd., Irving.
Magnolias Sous Le Pont
Start Christmas with a coffee from Magnolias. Rather than a regular brew (which is also good) satisfy your sweet tooth with a toffee crunch affogato or a Mexican hot chocolate. Prices vary. Magnolias Sous Le Pont, 2727 N. Harwood St.
Brunch & Lunch
Bacchus Kitchen + Bar
Brunch with Santa every Saturday in December—including Christmas Eve—and try some blueberry pancakes or salt-roasted beets. Reservations are strongly recommended. Bacchus Kitchen + Bar, 215 E. Dallas Rd., Grapevine.
City Hall Bistro
On Christmas Day, the Bistro will serve a pre-fixe menu with squash and kale salad, honey-baked ham, cornbread dressing, candied yams, and pumpkin pie. Meals will be served from 12 p.m. to 8 p.m. $70 per person. Reservation recommended: 214-651-3686. City Hall Bistro (inside the Adolphus Hotel), 1321 Commerce St.
Electric Shuffle
Celebrate the holidays with a Santa Brunch on Dec. 17 and 18 at Deep Ellum's Electric Shuffle. From 10 a.m. to 4 p.m., brunch your heart out in your best holiday gear. There will be mimosas, brunch boards, music, and prizes for best-dressed patrons. Reservations required. Electric Shuffle, 2615 Elm St.
LAW
On Christmas day, LAW will serve brunch from 10 a.m. to 3 p.m. with a buffet spread curated by sous chef Eric Sakai that features lobster bisque, fresh oysters, and a carving table with ham and prime rib. Wrap up your meal with a sweet treat at the hot chocolate bar, s'mores or doughnut balls. $130 for adults, $50 for children under 12. Reservations are recommended and can be made by calling 972-717-2420. Four Seasons Resort and Club Dallas at Las Colinas, 4150 N. MacArthur Blvd., Irving.
Mercat Bistro
Brunch with a three-course menu at the European-inspired restaurant in Dallas' Harwood District from 10 a.m. to 3 p.m. Christmas Day. $68 per person. Call 214-953-0917 for reservations. Mercat Bistro, 2501 N. Harwood St. Ste. 225.
Sea Breeze Fish Market & Grill
Those celebrating Hanukkah can enjoy a Vespe—a vodka cocktail—alongside a latke for $14 at the Plano restaurant. If you miss it for lunch, you can snag the same deal for dinner. Latkes are available without drinks for $4. Available Dec. 18 and Dec. 20-23. Sea Breeze Fish Market & Grill, 4017 Preston Rd. Ste. 530, Plano.
Dinner
Dragonfly at Hotel Zaza
From Dec. 22 to Jan. 1, holiday menu items at Dragonfly will include eight new additions, including lobster bisque, mushroom bruschetta, and a French almond cake. Reservations recommended. Hotel ZaZa, 2332 Leonard St.
Gorgi
For a holiday dinner with a Mediterranean flair, Gorgi will have three or four-course meals available for dining in or for takeaway on Christmas Eve and Christmas Day. Turkey, fish, and beef all come served with a Mediterranean twist. Meals start at $99 for dining in and $83 for takeaway. Prepayment is required. Call 972-503-7080 for reservations. Gorgi Restaurant, 5100 Belt Line Rd., Ste. 402.
LAW
The restaurant at Four Seasons Resort and Club Dallas at Las Colinas will host a Christmas Eve and Christmas Day dinner from 5 p.m. to 10 p.m. each day with a four-course menu curated by chef Chris Dikovics. Start with an endive salad followed by sheep's milk tortellini and zucchini carpaccio. Then choose from veal chop, striped bass, or a cauliflower steak piccata. Finish up with a chocolate bar decorated in 24-carat gold. $125 for adults, children under 12 can choose from an a la carte menu. Reservations are recommended and can be made by calling 972-717-2420. Four Seasons Resort and Club Dallas at Las Colinas, 4150 N. MacArthur Blvd., Irving.
Takeaway
Bread Winners
For $25 per person, Bread Winners' family-style packages will come stuffed with turkey or ham, stuffing, mashed potatoes, gravy, cranberry orange sauce, and rolls. There are also plenty of a la carte options to add, ranging from pints to pans of food for the whole family. Catering orders must be placed by Dec. 22 and bakery orders must be placed by Dec. 23. All orders must be picked up Dec. 24. Bread Winners, multiple locations.
Blue Mesa Grill
Through the end of the year, celebrate with a fajita meal fit for eight people. This one comes with queso, guacamole, chicken taquitos, chicken and steak fajitas, adobe pie (like tamales), and more. Don't forget the margaritas! $195. Order online. Blue Mesa Grill, 14866 Montfort Dr., Addison; 612 Carroll St., Fort Worth; 8200 Dallas Pkwy., Plano.
DIVE Coastal Cuisine
Supplement your holiday dinner with mini potato latkes, bruschetta ciabatta crostinis, brined chicken or whipped or whole sweet potatoes from DIVE's holiday menu. The regular menu, which has crab cakes and grilled artichokes, is also available for pick-up. Orders should be placed at least 48 hours in advance for pickup on December 21. Call 214-891-1700 to order. DIVE Coastal Cuisine, 3404 Rankin St.
Eatzi's
Eatzi's to-go holiday menu includes options for grazing appetizers like fried mac and cheese, crab cakes, and sundried tomato and garlic and herb spread. Mains include turkey, ham, and salmon, and loads of sides are available, too. For Hanukkah, Eatzi's has matzo ball soup, latke, challah, and plenty of sides. Order here for Christmas and here for Hanukkah. Menus are available for ordering through Dec. 23. Eatzi's, multiple locations.
Lockhart Smokehouse
Feed the fam some 'cue for dinner with your choice of smoked hams, turkeys, brisket, and prime rib with sides like green bean casserole. Sweeten it up with bread pudding or a peach cobbler. All meals will be vacuum sealed and will come with instructions for heating. Deadline to order is Dec. 17 for pick-up on Dec. 21, 22 and 23. Lockhart Smokehouse, 400 W. Davis St.; 1026 East 15th St., Plano; 1650 E. Randoll Mill Rd., Ste. 130, Arlington.
OAK'D Handcrafted BBQ
Pick up one of two packages of heaping and delicious barbecue from OAK'D for the family this holiday season, both of which serve up to a dozen people. Package A has smoked turkey, two sides, cranberry relish, gravy, rolls, and your choice of dessert, while package B has all the above plus ham, two more sides, and an extra dessert. A la carte items are also available. Orders must be placed online by Dec. 17 for pickup on Dec. 23. OAK'D Handcrafted BBQ, 5500 Greenville Ave. Ste. 1300.
Postino WineCafe
A huge gathering calls for a huge meal: Postino's holiday menu feeds up to 15 people, which includes two starters, a bruschetta platter, and a salad. Pickup and delivery are available through Dec. 23. $285. Postino WineCafe, 2639 Main St. Ste. 130, Dallas.
Refined Hospitality Concepts
The company that runs Primo's MX Kitchen & Lounge, Sfereco, and Overeasy is offering three to-go meals that can be baked at home. The herb-crusted prime rib dinner ($375) includes rib roast, rosemary fingerling potatoes, Brussels sprouts, rolls, and horseradish sauce. The hickory-smoked ham ($165) meal has ham with ginger apricot glaze, cornbread dressing, green beans with almonds, sweet potatoes, cranberry orange sauce and rolls. And the seafood tower ($225) includes shrimp, snow crab legs, two lobster tails, remoulade, crab dip, and cocktail sauce. Place orders online by Dec. 22 for pickup at Primo's MX Kitchen & Lounge in downtown Dallas or Uptown or at Sfereco in Plano on Dec. 23-24. Pickups for Christmas Day will be at the downtown Dallas location only. Multiple locations.
Ten50 BBQ
The holiday menu boasts smoked meats, gallon-sized sides, and homemade desserts for the taking. Preorder through Dec. 21 by calling 1-855-QUE-1050 or emailing [email protected]. Ten50 BBQ, 1050 N. Central Expy.,
Richardson.
TJ's Seafood Market
To-go items include holiday party platters with seared tuna or shrimp, a dozen shucked or unshucked oysters, and plenty of holiday side dishes for all. Order online by Dec. 23 for pickup on Christmas Eve. TJ's Seafood Market, 6025 Royal Ln., Ste. 110; 4212 Oak Lawn Ave.
Tamales
Becerra's Tex-Mex Tamales: Order online or visit the business at the Jesuit Women's Auxiliary Christmas Bazaar on Dec. 3 or the Saint Michael's Holiday Market at Klyde Warren Park on Dec. 10 for a taste of one of their eight tamale flavors. You can place your orders at two different times: Dec. 11-16 for pickup on the 17th, or Dec. 18-23 for pickup on Christmas Eve. Becerra's Tex-Mex Tamales, 4344 Colgate Ave.
Cantina Laredo: Chicken and beef Tamales will be available at $19.99 a dozen and come frozen with reheating instructions. Order online between Dec. 16 and Dec. 23 for pickup by Dec. 23. Cantina Laredo, multiple locations.
Dallas Tamales Cafe: The restaurant typically offers a variety of pork and beef tamales for the holiday season. Call 972-262-0850 to order. Dallas Tamales Cafe, 1702 Small St., Grand Prairie.
La Popular Tamale House: Order fresh and hot tamales Monday through Wednesday by calling 214-824-7617 or emailing lapopular.tama[email protected] (their website is currently down for pre-orders). La Popular Tamale House, 5310 Junius St.
Muchacho Tex Mex: As part of its holiday menu, the restaurant will offer ancho chile beef barbacoa, poblano chile braised pork, or roasted green chile and Oaxaca cheese tamales. Each order comes with a minimum of two dozen and chips and salsa. Muchacho Tex Mex, 4011 Villanova St.; 431 Grand Avenue East, Southlake.
Tia Dora's Bakery: Tamales include chicken and pepper, beans, and beef. Place orders over the phone (214-333-4254) or via email ([email protected]) for pickup. Tia Dora's Bakery, 2478 W. Illinois Ave.
Seasonal Drinks
Another Round
Play a few rounds of mini golf in West Dallas while sipping on limited edition holiday cocktails, like the sweet and spicy Gingerbread Man, or the Mistletoe, a pomegranate margarita. Both are $12. Another Round, 660 Fort Worth Ave. Ste. 100.
Electric Shuffle
Head to Deep Ellum for seasonal cocktails like the gingerbread espresso martini (made with vanilla vodka, espresso, gingerbread, and a gingerbread-encrusted rim) or the mistletoe mule (cranberry vodka, lime, and ginger beer with cranberries and mint). Available through Dec. 25. Electric Shuffle, 2615 Elm St.
Ellie's Restaurant and Lounge
Try out the peppermint espresso martini, a holiday twist on the cult favorite cocktail, or warm up with the Ketel One, a hot apple cider with apple syrup, bitters, and a rim adorned with graham crackers. The Holiday Cheer mixes vodka, cranberry syrup, ginger beer, lemon, cranberries, and rosemary for festive feels in every sip. HALL Arts Hotel Dallas, 1717 Leonard St.
Salt Tequila Bar
Two festive cocktails will be available through Dec. 30: the Candy Cane Rush—a vodka, peppermint schnapps concoction with cranberry juice and a peppermint candy rim—and the Merry Mint Vanilla—vodka, watermelon puckers, a sweet and sour mix with peppermint candy. Texican Court Hotel, 501 W. Las Colinas Blvd., Irving.
Whistle Britches
Get festive with the frozen caramel apple sangria, made with caramel vodka, cider, lemon, and white wine; the harvest mule made with hard cider, vodka, lime, ginger beer, and cinnamon; or the brunchy white cranberry mimosa, a mix of vodka, bubbles, and white cranberry juice. Whistle Britches, 2405 Dallas Pkwy., Plano; 6110 Frankford Rd.; 1230 Main St., Southlake.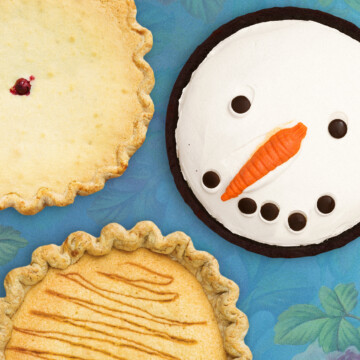 Desserts
SusieCakes
Treat the family (and yourself) to holiday-themed dessert from SusieCakes. There are chocolate candy cakes and cupcakes for holiday parties, and decorating kits for family gatherings. Order for Christmas, Hanukkah, or New Year's Eve. Pre-orders required. Susicakes, multiple locations.
Emporium Pies
It isn't the holidays without pie, so scoop up a seasonal one from Dallas' local pie purveyor. Choose from the peppermint-y Father Christmas (available through Dec. 31), the cranberry Merry Berry, buttermilk and salted maple caramel Hot Cake, coconut custard Snowball, and the cookies and cream Melted Snowman (available all January). Order online for delivery or in-store pickup. Also available for nationwide delivery via Goldbelly. Emporium Pies, multiple locations.
La Casita Bakeshop
The Richardson bakery is overflowing with beautiful breads and holiday pastries this year. From the tiramisu log cake to the sticky toffee pudding to the chocolate citrus ginger panettone, you're guaranteed to find something here. Orders must be placed between Wednesday and Friday for Saturday pickup. La Casita Bakeshop, 580 W. Arapaho Rd. Ste. 230, Richardson.
Get the SideDish Newsletter
Dallas' hottest dining news, recipes, and reviews served up fresh to your inbox each week.
Author
Nataly Keomoungkhoun joined D Magazine as the online dining editor in 2022. She previously worked at the Dallas Morning News,…