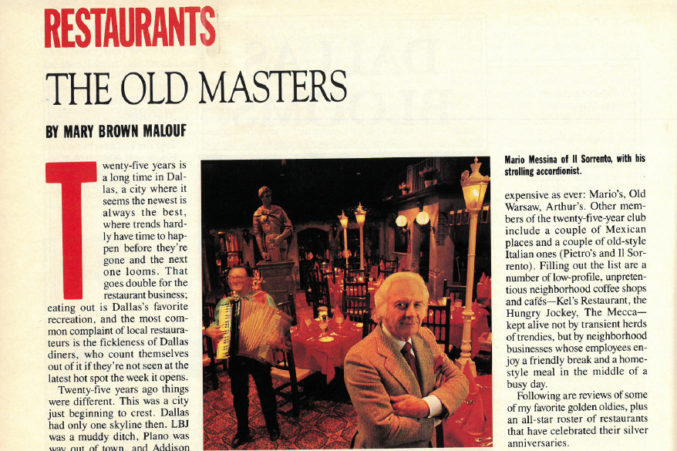 Flashback Friday: The Old Masters
Take a step back in Dallas dining history.
In her March, 1989 restaurant feature titled "The Old Masters," Mary Brown Malouf gets nostalgic. She recalls a time, 25 years prior to '89, when there were no known Thai, Korean, or Ethiopian restaurants in Dallas. A time when Italian food was strictly limited to red-sauce-covered noodles. A time when "New American" referred to somebody who was new to town, and not fusion cuisine.
The piece touches on the fickle nature of the Dallas diner. How, in a trend-seeking era, people gravitated toward shiny and new, leaving less-shiny but consistent options in the dust. But even through the glitz of the modern, there was still a niche demand for the old school. And, at the time, many of these longstanding restaurants were bringing in a steady stream of clientele.
It's fun to read about these places nearly 30 years after Malouf's story was published. I enjoy the imagery of the accordionist at Il Sorrento strolling the red and gold carpet, serenading diners over cheesy mounds of lasagna. It's romantic.
As to be expected, most of these restaurants have vanished and solely live on through memories and the yellowed pages of the D Magazine archives. Yet, some are still alive and breathing. Wheezing, perhaps. But cognizant.
I held my 30th birthday party at Arthur's. The steakhouse, which opened on McKinney Avenue in 1948, is one of Dallas' oldest restaurants. In 1980 it was purchased by the Heidari family and was moved to Campbell Centre on Central Expressway. And then, in 2001, it relocated once more, to Addison. Two years ago my downtown dwelling friends graciously trekked up the Dallas North Tollway to meet me in the dining room, under the obnoxiously gaudy chandelier. We washed crab cakes and filet mignon down with dirty vodka martinis. And then slow-danced in the bar to a subpar live rendition of Henry Mancini's "Moon River." We were the youngest people in there by at least 30 years. But it was fun.
Arthur's is unapologetically—probably unawarely—kitschy. And the other restaurants mentioned in Malouf's piece sound similar in stature. But there's charm in that.
The Dallas dining scene has come a long way since 1989, and an especially long way since 25 years prior to then. (You do the math, I don't have a calculator handy.) I'm glad that there is now an abundance of Thai, Korean, and Ethiopian restaurants to choose from; elated that ricotta cavatelli swirled with broccoli rabe is even an option; thrilled that New American cuisine is a thing. But there is an allure to the oddity which is the longstanding Dallas restaurant.
Click the images below and take step back in Dallas dining history.