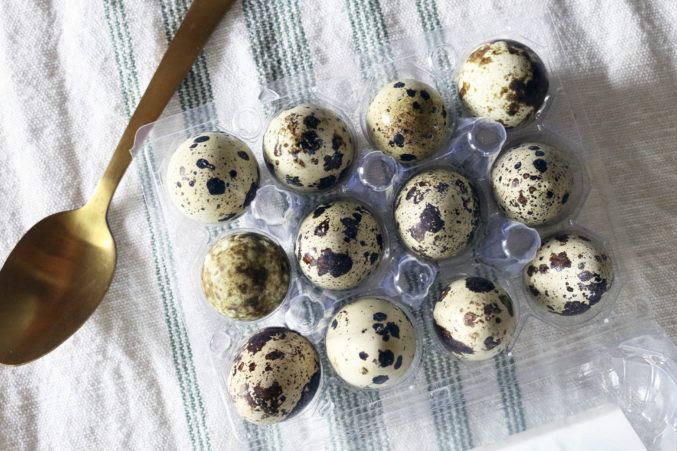 The Localist: Fruth Farms Quail Eggs
These adorable eggs are a must.
By Melissa Tate
Published in Food & Drink
July 17, 2018
11:30 am
Quail eggs are not what Fruth Farms Southwest in Caddo Mills, Texas are known for, but they're certainly cutest thing they're known for. Fruth Farms is a family business with a motto that pretty much says it all: "Bred, Born and Fed in Texas!"
They raise grass-fed and finished beef, which they sell every cut of. They also sell pastured goats of which whole carcass all-natural cabrito can be purchased for $9 per pound. Their other products include ungraded farm fresh chicken eggs for $6 a dozen, duck eggs for $7 a dozen, and the cute little quail eggs $7 for two dozen. They are part of the Grazed Beef Co-op which also includes Rockin' E Ranch and Running N Cattle Company.The co-op allows the farms to pull their resources together and essentially be "stronger together than apart."
I purchased my quail eggs from Market Provisions at the Dallas Farmers Market. All eggs are, of course, hormone, antibiotic and stimulant free. If you wanted to make yourself an omelet, you would probably choose a chicken egg. But if you wanted to make a fun dish to warrant social media worthy photos, you would win with a quail egg. Quail eggs make the perfect miniature deviled eggs for a fancy brunch. They also make amazing Scotch Eggs seeing as the difficulty with making Scotch eggs can come from getting a larger egg cooked all the way through. They are also commonly pickled and used on charcuterie boards or eaten alone.
One of my favorite uses of a quail egg was executed by Chef Steve McHugh of Cured in San Antonio. I met Chef McHugh at Hot Luck, Aaron Franklin's music and barbecue festival back in May. To cap off the weekend, Hot Luck hosted a Sunday brunch at Austin Speed Shop full of the best brunch bites Texas has to offer. Chef McHugh created miniature pork pâté melts topped with pickled quail eggs. The flavor combo of the buttery toast, savory pâté, cheese, and pickled egg was perfection. Again, quail eggs really add an extra element to any dish and are incredibly easy to prepare. Add these to your must-try list.