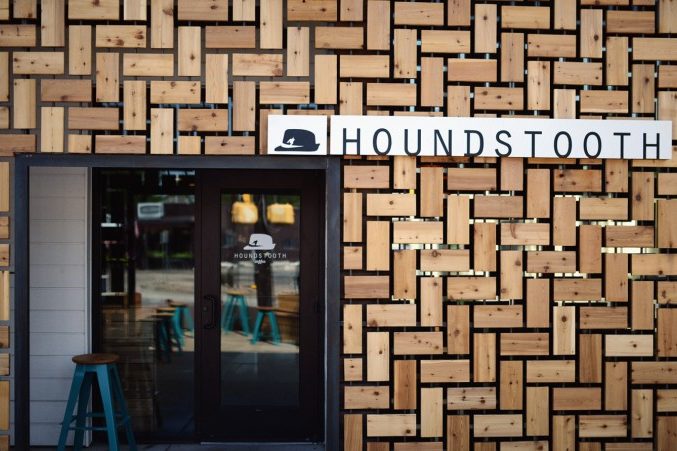 Houndstooth Coffee to Open Third Dallas Location
Lattes, under-counter espresso machines, and solar panels.
Austin-based coffee shop Houndstooth Coffee is slated to open its third Dallas location in The Hill Shopping Center at Walnut Hill and US-75 this fall. The new location, the fifth for the chain, will be oh-so-perfect neighbors with chic, eco-friendly, sustainable home improvement store TreeHouse (also Austin-based) and will, according to a press release, run on solar energy and use sustainable building materials and practices.
From the press release:
The cafe will also be the first in Texas to be equipped with a Mavam Espresso machine, an under-counter espresso machine that features a low profile interface, offering guests greater visibility into the drink preparation process and a better platform for barista-to-guest interaction.
For all the tiny house fiends out there, it hits that trend, too:
Situated in two Lake Flato-designed tiny porch houses along the N. Central Expressway frontage road, the new cafe will offer plenty of seating and a large parking area right on the TreeHouse lot.

"When curating the businesses that surround our Dallas flagship location, we sought to work with like-minded operators and are excited to be partnering with another Austin-based business that has found success in Dallas," says Jason Ballard, CEO of TreeHouse. "Having Houndstooth Coffee as a neighbor enhances the TreeHouse customer experience and we look forward to the upcoming opening."

"We are excited to be part of the growth at Walnut Hill and look forward to serving folks from around the neighborhood and community," says Sean Henry, founder and owner of Houndstooth Coffee. "This cafe, located right on US-75, will certainly be more accessible for our friends and fans in the Richardson and Plano communities, and we look forward to inviting new guests into 'the Pattern of Coffee and People."