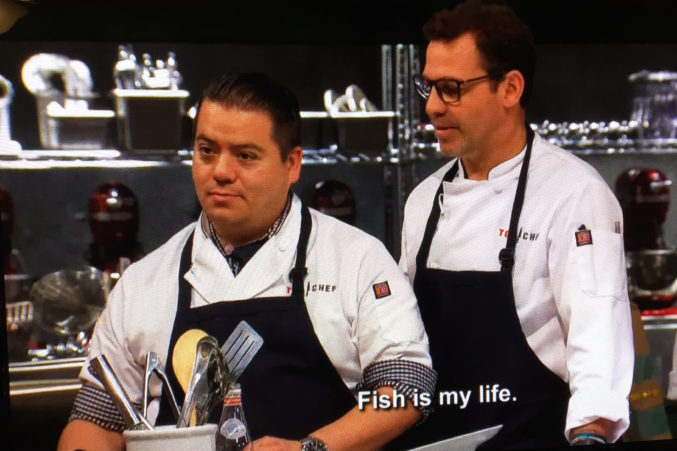 BREAKING: John Tesar Remains Calm on Television.
That's it. You know that's news.
I'm just going to rip this band-aid off right now: Teddy Bear Tesar looks like he's sticking around Top Chef a little longer. He did not catch on fire and yell at everyone, Anger-from-Inside-Out-style. He did not punch anyone in the mixed greens, and he did not, in fact, throw up rage-filled fennel rainbow buckets all over his competitors.
But at least I know why now: It's not a change of heart, it's not a personality flip—it's strategy.
And it's all Katsuji Tanabe's fault. Katsuji is being such a geoduck to everyone on the show that Tesar can just sit back, relax, and watch everyone get all pissed. Tesar doesn't have to deliver even one dig to anyone on the show right now, because Katsuji is doing all the work for him.
I finally caught on after a Tesar patio moment, when he was hanging out with some of the other chefs. He said about Katsuji, "He gets a hall pass for being an asshole. He's the biggest pot-stirrer I've ever met." UH… OKAY. One question for you, Tesar: have you ever met John Tesar? Pot-stirrer, meet kettle-stirrer.
During the QuickFire challenge, Katsuji takes swigs of tequila and some girl falls on her ass. Tesar sits back and quietly makes pan-seared squab with mole. He turns on the sweaty-nervousness about the results of his dish, but it turns out fine. The judges like it, but he doesn't win the challenge. He's right in that middle, nobody-pay-attention-to-the-man-behind-the-curtain zone.
Then, Bravo tries to make me feel connected to these chefs by showing me their family photos. When we get to Tesar with his family, it's apparent that he is a vampire. He says he's 58, but I think he might be 24 or 236. I mean, look at this photo of him Tesar-ing. It could be from 1982 or from 2029. Dude doesn't age. Only his angst for people who can't use pressure-cookers grows deeper and deeper.
When he is paired up with Katsuji for the "Feast of the Seven Trash Fishes" Elimination Challenge, Tesar whispers longingly in Katsuji's ear "Fish is my life." It's clearly a verbal tick Tesar just can't not say every time a fish challenge comes up, just like I can't not say "Whiskey is my life" every time I see a Spec's.
Upon realizing that he'll be paired with Tesar for this challenge, Katsuji says, "Ugh. God. I end up with the only person I didn't want to work with: John Tesar."
In the interview, Katsuji literally says, "I hate John. I really really hate him a lot."
Tesar smiles, then says, "I think at this point, we're friends."
Katsuji just says, "No."
Tesar's strategy is obviously to inappropriately invade Katsuji's space with kindness. At every turn, he's hugging Katsuji's, giving him a kiss, smiling at him, brushing up against him—Tesar has figured out that being super flirty with Katsuji might make Katsuji's head pop right off.
We won't get Hulk Tesar until Katsuji is kicked off of the show. And Katsuji just won the Elimination Challenge, so we're likely to have another couple buddy comedy episodes with Tesar & 'Suj before the shrimp vein hits the fan.
I'll leave you with this gleeful image of Tesar & 'Suj. They're either finding out that they just won the challenge, or looking at a bunch of boobs. Choose your own adventure.