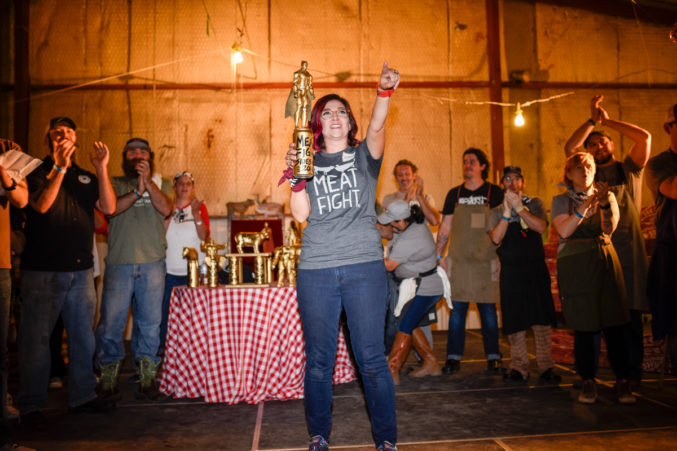 Meat Fight 2016 Raises $175,000 to Fight MS
Sunday's Meat Flight was a glorious day to raise money for a worthy cause.
Over 1,000 meat enthusiasts packed The Big Green Warehouse at Trinity Groves yesterday to eat meat and drink whiskey and beer. And raise money for fight MS.
Organizers Alice and Michael Laussade have grown this event from a keg party in their backyard in 2010 to an amazing gathering of chefs, barbecue lovers, and philanthropic food lovers. Yesterday the event, with ticket sales and live auction items, raised $175,000 (so far!). All the money goes to the National Multiple Sclerosis Society.
Chefs competed individually and in team. The indy winners included Omar Flores (Brisket), Anastacia Quinones (sausage), Oliver Sitrin (pork ribs), : Patton Robertson (beef ribs). The People's Choice was given to Andrew Dilda.
Meat Sweats—Tiffany Derry, Jeana Johnson, Patton Robertson, Eric Dreyer–won best team. The VIP area hosted the Sideshow awards. Trophies went to Travis & Emma Heim for their bacon tower, Sarah Green and Brian Zenner for Meatlennium Falcon, to Janice Provost for her Wagyu Frito Pie.