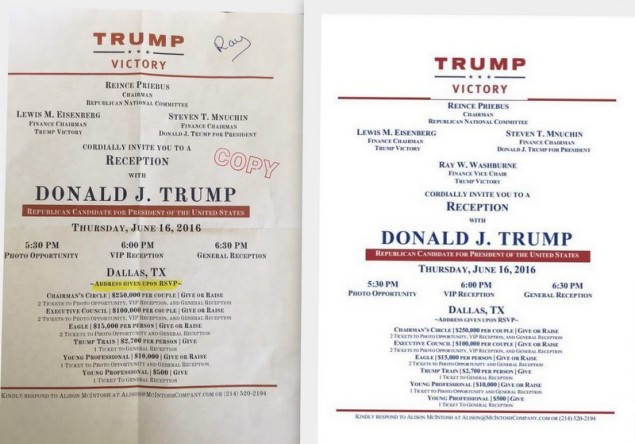 Update: Saturday 4:18PM
Boy, I'm glad I'm not a political beat writer. I've been trying to run down the story behind the alleged "fake" invitation to Trump's fundraiser next week and I didn't like (or appreciate) what I found at the bottom of the barrel.
Earlier today I contacted Alison McIntosh, the public relations contact listed on the invitation. I sent her a copy of the document on the right and wrote:
I am trying to locate the original invitation to the Trump fundraiser next week. Someone is circulating a doctored version of the invite. It lists Ray Washburne as the host, which he has denied publicly. Obviously someone is trying to dishonor him and call for a boycott of his restaurants. I've attached the one sent to me. If you could send me the original that would help.
She replied:
Hi Nancy, that invite does not say the event is at Ray's house. It is not. It looks to be the correct invite though. Thanks so much.
I replied:
It lists Ray as a host. The original does not.
She replied:
No it just has him added as one of the 4 finance leaders. Often local names are added. He's not the host.
I called Washburne. He had never seen the "new" version. I asked for a statement and here is what I got from Alison McIntosh:
Nancy, I spoke with Ray. He had not seen the updated invitation as you can imagine so many things are coming his way quickly! This is common practice in fundraising that an initial invite is sent from DC then more local names are added and an updated invite will be sent out on the local level. Hope this clarifies things. One was initial invite, second is updated invite. Both are legitimate.
Really? I'm more than a little upset by the fact that she could have set the record straight by answering the first question I asked her. I will now fall on my sword.
Update: Saturday 2:00PM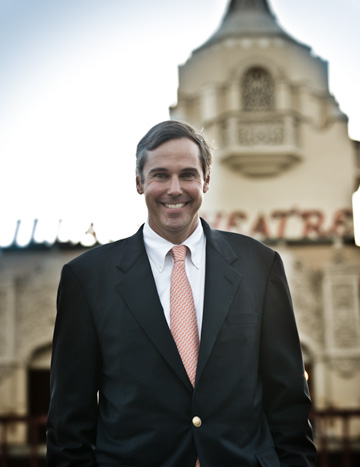 It looks like somebody really has it in for Ray Washburne. Several people have posted pictures of an invitation to next Thursday's Trump fundraiser which is doctored to list Ray as the host. I texted a copy to Washburne and he was not happy. "It's a fake," Washburne told me on the phone. "Somebody doctored it up. There is no way I would be the host. They list the entire Trump leadership members on that invite. I am not a host." Washburne emailed me the invite that sits on his desk. Here they are (above) for your inspection. The original invite received by Washburne on the left. The doctored version on the right.
Vote for your candidate. Boycott if it's what you want to do. Just make sure you have the facts of the situation before you decide.
Update Friday 11:49AM:
I reached Ray Washburne and asked him to comment on the situation developing around the boycott of Mi Cocina and Taco Diner. (Full disclosure: I am a friend of Ray's. Years ago, I dated his older brother.) Washburne has been targeted by Carlos Quintanilla, leader of the group Accion American. Earlier in the week, Quintanilla contacted several television stations and told them Washburne "may" host a fundraiser for Donald Trump when he comes to Dallas next Thursday. Quintanilla, in an effort to draw attention to Trump's anit-Latino statements, urged people to boycott his restaurants. Both Channel 8 and Channel 5 ran with the story. Neither station contacted Washburne.
"Don't you people fact check stories," Washburne says. "I am a contributor and a volunteer for the Trump campaign. I'm not hosting any dinner."
Washburne said the story got twisted after a story in the Texas Tribune reported Dallas was "the home" to many Trump supporters and listed Washburne as one of them. Somehow that got turned into Washburne hosting a dinner at his home. He called both TV stations and asked for a retraction and a clarification of the report.
"Look up this Carlos guy," Washburne says. "He's got a rap sheet a mile long and has warrants out for his arrest. I had my marketing people call him and tell him I am not doing a dinner. He is only hurting the 2,000 people, most of them Hispanics, that work in my restaurants, but he didn't care."
Since Mi Cocina opened 25 years ago this week, MCrowd has employed over 30,000 Hispanics. "I am all about free speech," Washburne says. "I'm a private citizen. I'm a good Republican. I believe in free enterprise. But this guy is doing nothing but hurting my employees. We live in this country because we have the right of free speech. He [Quintanilla] doesn't care that he is causing people to lose income because of this."
Washburne has received death threats and currently has full-time security at his home. It's a hot mess for sure. Washburne is right about the fact checking. Too many of us in the media pick up the story with making a call.
Original post:
Carlos Quintanilla, leader of the group Accion American has a taco to pick with Mi Cocina and Taco Diner co-owner Ray Washburne. According to a report on NBCDFW, Washburne, who is the national vice chairman of the Trump Victory Committee, "may" host a fundraiser at Mi Cocina when The Donald comes to Dallas next Thursday. "We have called for a massive mobilization," Quintanilla told NBCDFW. "We cannot permit Donald Trump to simply come into Dallas, which is a majority Latino city, and collect money and continue to attack our community."
Get the SideDish Newsletter
Dallas' hottest dining news, recipes, and reviews served up fresh to your inbox each week.