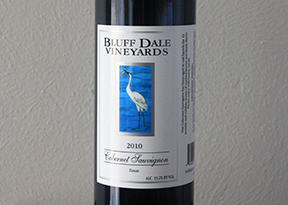 The Localist: Bluff Dale Vineyards
You'll want to sip this local wine.
You may not think of Dallas as having any local wineries but just 70 miles southwest of town you'll find Bluff Dale Vineyards. Owned and operated by David and Theresa Hayes, Bluff Dale Vineyards is a tiny oasis. They have a beautiful patio that overlooks the vineyard, wine tastings everyday, and a menu of complimentary snacks. A great little tip about the vineyard is that they also welcome outside food so you can pack a picnic and enjoy it with your wine.
If you aren't looking to make a trip and would rather just grab a bottle at your local grocer, no problem. Bluff Dale Vineyards offers four red wines; Paragon, Cabarnet Sauvignon, Nexus and Vintage Port. As well as five white wines; White Cliff, Dulcet, Chardonnay, Sweet Caramella, and Cream Sherry.
The more popular products are found at Central Market locations and Total Wine in Dallas. The bottles range from $13 to $20.