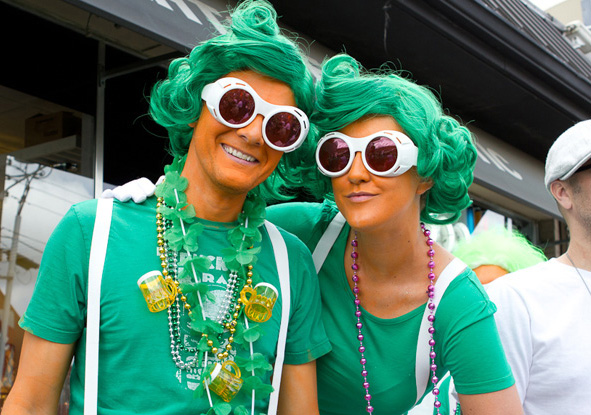 Where to Celebrate St. Patrick's Day in Dallas
Put on some green and head to these bars and pubs on Thursday.
With so many different holiday specials and local events happening, it may be tad overwhelming finding a St. Paddy's party to attend this Thursday. So we've listed a few local St. Patrick's Day celebrations that will surely make for a good time. No matter where you chose to drink and be merry come Thursday, just remember to wear some green so you don't get pinched while celebrating.
The Dubliner
What better place to celebrate St. Patrick's Day than Dallas' longest running Irish pub? The Irish pub will open at 11 a.m. Thursday and will have different entertainment performances throughout the day such as musical guests and Irish dancers.
Specials: Live music and entertainment, $10 Shepherd's Pi, $12 corned beef and cabbage, $10 Guinness beef stew
Flying Saucer
If you are looking to try out a new Irish beer this Thursday, check out Flying Saucer's St. Paddy's Bash. This two-day St. Patrick's Day event kicks off at 7 p.m. Wednesday with St. Pat's Glass. The party continues with all-day drink specials on Thursday.
Specials: Green Flash Tap Takeover, $3 Irish beer
The Ginger Man
With a wide selection of beers, The Ginger Man might be the best place to have a relaxing drink while listening to some great music. For a calmer start to the holiday weekend, you will want to visit this Uptown pub on Thursday for its St. Patrick's Day Tradition celebration.
Specials: Live music
Henderson Tap House
If you're looking to bring your St. Patrick's Day celebrations all the way into the weekend, Henderson Tap House's three-day party is for you. With leprechauns, bagpipers, a trip giveaway, and green bikini contest, there will never be a dull moment at this Knox-Henderson bar. Paired with food and drink specials and no cover, you will not want to leave come Saturday.
Specials: Live music and entertainment, $3 green beer, $6 Guinness, $8 Irish Car Bombs
Idle Rich Pub
For another three-day celebration, stop by The Idle Rich Pub (or any of it's sister pubs – The Old Monk, Blackfriar Pub, and The Skellig) one day this long weekend to enjoy live music and delicious Irish food and drinks. At The Idle Rich, musical guests include The Killdares and The O's, and bagpipers will play at 5:45 p.m. Thursday. You can also stop by on Friday or Saturday for a genuine Irish brunch featuring Irish dishes like corned beef and cabbage.
Specials: Live music and entertainment
J. Gilligan's Bar & Grill
Known for its bar food and love of St. Paddy's Day, J. Gilligan's Bar & Grill will be full of Arlington locals celebrating the holiday in style. J. Gilligan's will host its 37th annual St. Patrick's Day Celebration featuring green favorites like Irish nachos and beer and musical acts like Deryl Dodd and Stringray. The party starts at 11 a.m. and continues into the night with a $6 cover starting at 6 p.m.
Specials: Live music
Stop by this Henderson Avenue staple for live music from Homespun Remedies and The O's, as well as bagpipers. The celebration continues into the weekend with the bar opening at 10 a.m. Saturday (parade day!) for brunch and drink specials until 3 p.m. You can get traditional corned beef and cabbage Thursday through Sunday.
Ashley Madonna is a D Magazine intern.