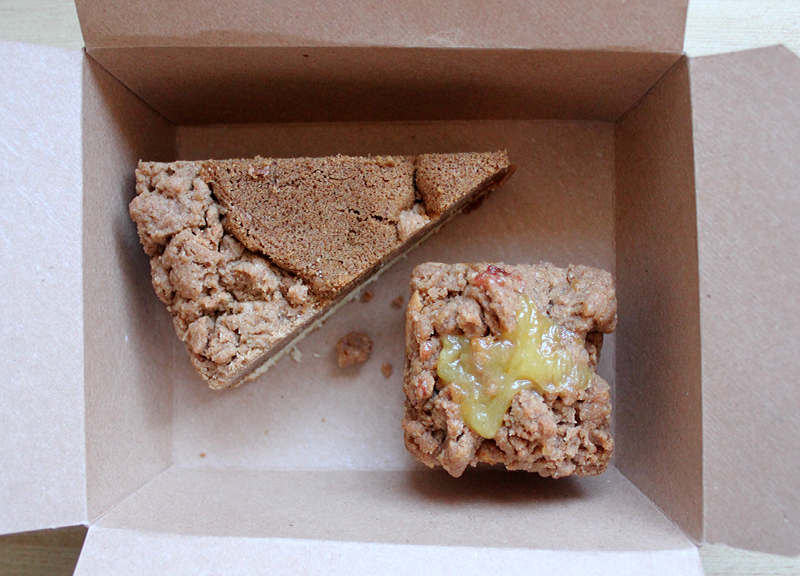 The Localist: Crumbzz Crumb Cake
These sweet treats are perfect for breakfast, dessert and gifts.
I discovered Crumbzz Crumb Cake while thumbing through the most recent copy of Texas Highways Magazine. One of the writers had recently moved to Forney, a small suburb about 20 minutes east of Dallas. She had been trying out some new restaurants and just happened upon Crumbzz European Bistro. Living on the far east side of the Dallas area, Forney happens to be just a few minutes from my doorstep. I literally put the magazine down and drove to Crumbzz. I'm so glad I did.
The restaurant itself is cool and I've heard the food is great, but I had come for one thing: the crumb cake. They sell the crumb cake by slice, as a whole or in mini cakes called Minizz Snack Cakes. The restaurant has three daily flavors: Cinnamon Streusel, Caramel Sea Salt, and Chocolate. They also offer a variety of fruit flavors. The day I stopped in they had lemon, apricot, and raspberry Minizz, and chocolate raspberry slices (this was the flavor of the month).
I ordered one of every flavor they had, slices and Minizz. Every single cake was delicious. The slices and the Minizz both had the same texture and flavor. It is hard at times to replicate a smaller version of a food while preserving the taste.
The thing that sets Crumbzz Cakes apart from any other crumb cake I've eaten is the amount of "crumb" on the cake. It takes up almost half of the entire slice. These sweet treats are perfect for breakfast, dessert and even gifts. Their gift packaging is great and they ship. To find out more about Crumbzz Crumb Cake or to order one of your own visit their website.