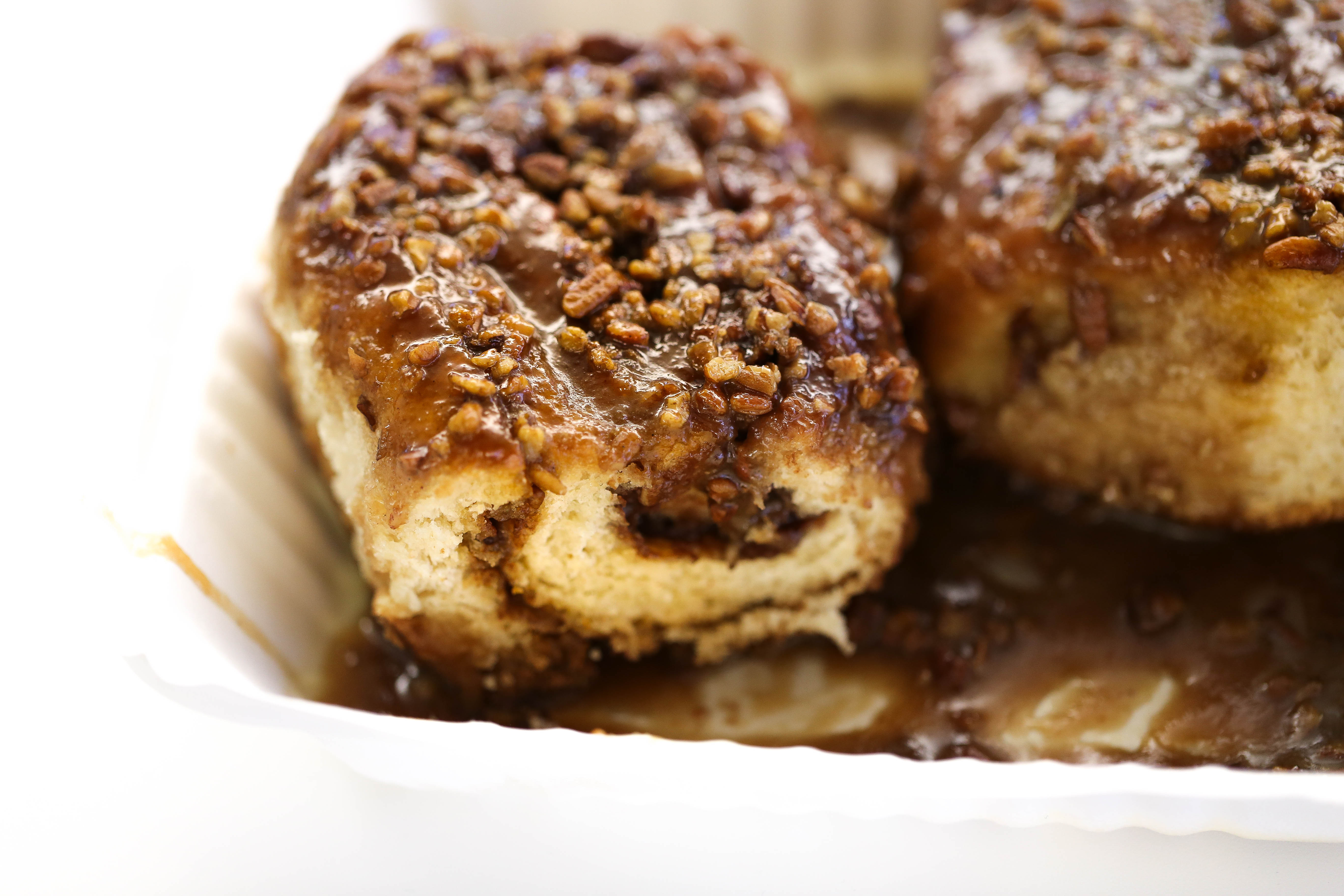 Eat This Now: Cinnamon Sticky Buns from Crossroads Diner
Another reason to get up in the morning.
Rise and shine! At Crossroads Diner, the morning's first cinnamon sticky buns have already been out of the oven for hours. Did you snag one? Chef and owner Tom Fleming has breakfast down. His croissants are buttery and pull-apart in all the right ways. But the cinnamon sticky buns should be calling to you this time of year with their oozy, sticky extravagance of cinnamon-spice coziness.
These monster-sized sticky buns are not to be confused with a cinnamon roll. The dough is a stout, bready coil topped not with white icing, but a lava of caramel, erupting with buttery, brown-sugar goodness and studded all over with chopped pecans.
They're made using the same inversion principle as a pineapple-upside-down cake or flan: all that caramel goodness goes in the bottom of the pan with the pecans, then the dough on top. Bake, invert, and voila! Sticky bun glory.
When I asked Fleming about the genesis of the item that's become his signature at Crossroads, he said, "I've always had a love affair with cinnamon, pecans, and caramel. I like it in apple tarts. I like it in apple turnovers. I like it in pecan pie. It all has that caramel-pecan flavor." Plus, he says, "I grew up with my mother's baking. She loved cinnamon and she would made lots of things with cinnamon and nuts." Of which these behemoths have plenty.
Fleming's comment about their fabulous heft got right to the point: "Oh, yeah, you gotta commit to the sticky bun. If you're gonna commit, commit big or go home."
I love that there's correct parlance for sticky buns in the Crossroads kitchen, too. The caramel on top? That's "sticky love." The cinnamon sauce nudged between the layers of the dough coils? That's "sticky shmear." And I can only imagine what the kitchen starts to smell like around six in the morning. It makes me want to make cinnamon-bun variations at home from now until New Year. Chelsea buns, monkey bread  … 
And now to buy ten pounds of butter … and sugar … and spice.