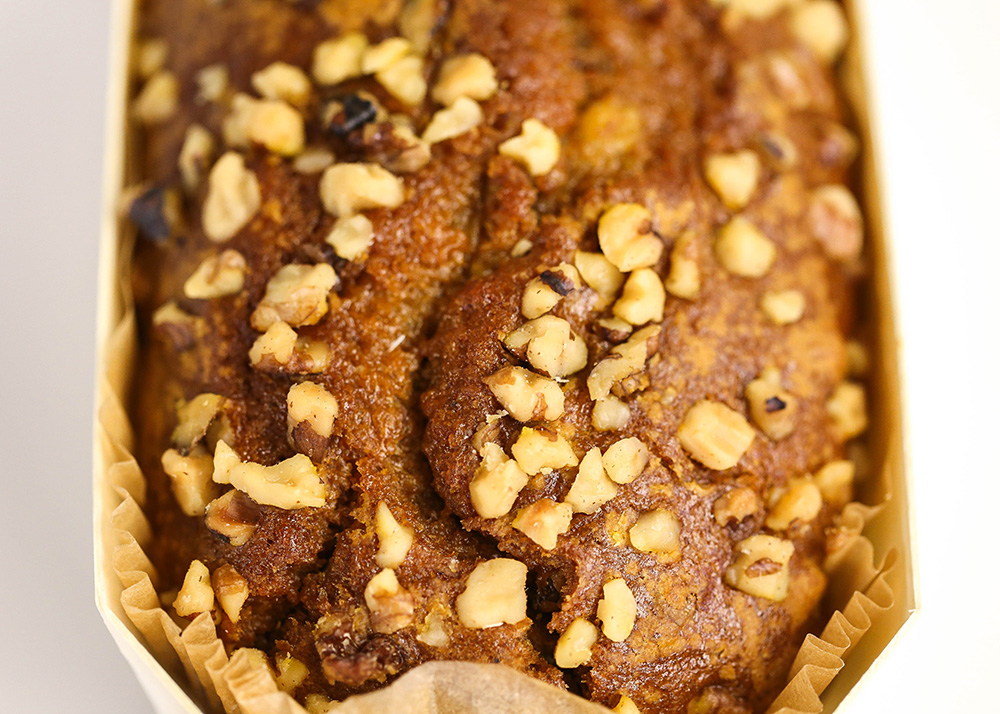 Taste Test Thursday: Pumpkin Bread
Which gourd-infused bread is the best?
A handful of D Magazine staffers tasted a variety of pumpkin bread. Here's what happened.
The bread:
A. Whole Foods
B. Empire Baking Company
C. Starbucks
D. eatZi's
E. Central Market
Tasting notes:
Kind of bland but I like the texture.
Love the look of the pumpkin seeds. Love the crunch but I wish it was a little sweeter.
A little ginger, a little sugar. Tastes like October.
Subtle pumpkin flavor and not enough spice. But I like the crunch on top.
Gingerbread-y, not much flavor. Blah. Dry.
Mild flavor, but good.
A little dry, but the pumpkin seeds on top are a nice touch.
I love the crunchiness of the pumpkin seeds on top and that streusel. It's gently spicy and not too sweet. I wish it were just a touch less dry.
Light on flavor but in a good way. Not too much pumpkin, a little dry though.
Not overwhelmingly pumpkin-y. It's actually not even that pumpkin-y. But it's moist and good and I'd eat the whole thing if no one judged me.
The seeds are a nice touch, giving it a good texture.
Not sweet enough.
There's a little something in this one that takes away from the pumpkin flavor. Not sure what I'm tasting.
The most dense of the bunch. Instant images of the gingerbread man and grandma's house.
Too dry and not flavorful enough.
OK, not great.
Soft texture. Can feel the spice in my nose. Pretty dry.
OK, perfectly average.
The texture is odd, almost gummy. Not a fan.
Tastes almost a little smoky. Which doesn't fit.
It's so dense, but again, not a lot of pumpkin. More pumpkin!
Sturdy and simple. The hardly humble work horse of a pumpkin bread.
Extremely soft. Kind of too mushy. Tastes like fake pumpkin.
This one is super pumpkin-y! The taste lingers and I don't hate it.
Like ooey-gooey cake, but pumpkin flavored. Super moist and pumpkin-y.
Moist, soft with a good seedy topping. But almost too sweet.
Like the pumpkin seeds on crust, nice fall flavor.
Very moist. Almost mushy.
Nice and moist. A little mushy.
It has that squishy, super-moist consistency that some people love. It reminds me of batter.
Very good flavor. Uber-moist, but in a stick-to-the-roof-of-your-mouth kind of way. A little heavy, too.
I love how moist it is. It's so moist and awesome, in fact, that I almost forgot that it doesn't taste that pumpkin-y. Give me the pumpkin!
Moist and also rocking the seeds. A good combo.
I like the addition of the cream cheese. Not so much the cinnamon sugar on the crust.
I saw the cream cheese filling and was pumped, it really added something extra to the bread.
Cream cheese is a nice touch, sugary crust is even better.
Whoa, I love the cream cheese filling. Interesting remix.
Cream cheese filling is so delish. I could eat this all day.
Love the cheese in this one!
I hate crunchy sugar in my teeth.
The cream cheese in the center is fun and the cake is moist.
Sugar and crumb topping makes this one stand out. Tastes like dessert. Very gummy, but maybe a little too sweet.
I mean, I like the cream cheese filling but is that all I like? Is this filling just a tasty distraction from the mediocre surroundings?
The cream cheese feels a little like cheating, but all is fair in love and pumpkin bread.
I don't really like nuts in general, but this is good.
So nutty! Too nutty, but blend is good. The nuts just overpower.
Meh.
Good amount of spice and pumpkin flavor. Walnuts are a great topping.
Walnuts are a great addition, yum.
The nuttiest one. Gives it a totally different texture than the others.
Best balance of any of them. Moist, nice texture from the nuts.
It falls apart but with those walnuts and great balance of spices it's so cozy and comforting.
Bonus points for the nuts. Adds the perfect amount of flavor. My favorite!
I like this one. It's got texture. It's got a mild amount of pumpkin. Maybe my over consumption of pumpkin spice lattes has made me jaded. Maybe nothing will every be pumpkin-y enough for me!
I would eat this three times a day even if it turned me orange and made my hair fall out. I have no reason to believe it does that. Delicious.
Tally up:
Whole Foods 0
Empire Baking Company 0
Starbucks 0
eatZi's 5
Central Market 6
The winner is:
Central Market's overly nutty rendition of pumpkin bread was the winner of this week's taste test challenge. So how do you feel about pumpkin bread? Do you have a favorite? Let's talk about it.