On days like National Doughnut Day (think Thanksgiving and the entire Christmas-cookie-season) calories don't count. Since it's such a momentous occasion, you might wonder why the government isn't establishing a three-day weekend. I had the same thought. Alas, let's head off to work — only this time wielding a doughnut in hand and two dozen in the passenger's seat for co-workers. Or just yourself. It's also No Judgment Day.
To take some edge off finding the exact place to pick up the perfect pastry, here's a list of doughnut shops and caterers recognizing this day (Friday, June 5) for what it is: heaven on earth.
Hypnotic Donuts
Garland Rd, Dallas, TX 75218, with an additional location in Denton
This longstanding Dallas favorite is serving up its regular slew of decadence on Friday. Owner James St. Peter said they'll be cranking up production in anticipation for the holiday. They're even conjuring a new (and secret) doughnut for the DMA, which will be on display at the Dallas bakery. At the same time, the shop will be donating some of the batch to Austin Street Shelter, a nonprofit in downtown Dallas serving the homeless community.
Most Popular Doughnut: The Evil Elvis. Fit for the king himself, this doughnut contains peanut butter, bacon, banana, and honey.
Staff Favorite: Pistachio.
Friday Hours: 6:30 a.m. to Noon
Website
Glazed Donut Works
2644 Elm Street, Dallas, TX 75226
If you're looking for a swanky shop complete with pink adornments and an industrial flare, you'll end up at Glazed Donut Works. This shop displays each flavor of doughnut through a glass case as if they were precious engagement rings. A little sweeter and a lot softer, these rings are made in-house each morning. On Friday, they'll be giving away their old-fashioned buttermilk and old-fashioned chocolate doughnuts (while supplies last).
Most Popular Doghnut & Staff Favorite: Grilled cheese doughnut: Their glazed doughnut is sliced, inverted and grilled with mild cheddar. Oh, and there's an option to add bacon. Pardon my drool.
Friday Hours: 7 a.m. to Noon; 10:30 p.m. to 2 a.m.
Website
Krispy Kreme
5118 Greenville Ave, Dallas, TX 75206
Sometimes you just can't help but stare at the Wall O' Glaze for an ungodly amount of time. We've all been there. This Friday, the notorious national brand is giving away one free doughnut to each customer. And even though you can pick any doughnut you want, can you really resist the "Hot Now" signifier for the unending line of glazed rings passing by? Consider that a challenge.
Most Popular Doughnut & Staff Favorite: The classic ("hot now") glazed.
Friday Hours: 5:30 a.m. to 10 p.m.
Yummy Donuts
4355 Lovers Ln, Dallas, TX 75225
Dressed up in pink and orange, this mod shop serves doughnuts just as sweet as its décor. In their display, unique pastries topped with M&M's and Oreos are showcased alongside the classic glazed and chocolate sprinkle. Manager Rena Kim said their donuts aren't on special for the day, but she always has fluffy donut holes perched on the counter for waiting customers.
Most Popular Doughnut: Glazed.
Staff Favorite: Apple fritter.
Friday Hours: 6 a.m. to Noon
Jerry's Doughnuts
12895 Josey Ln, Farmers Branch, TX 75234
Like anything worth searching for, Jerry's Donuts blends in well with its strip mall digs. This well kept secret warrants a visit to experience the small-town charm alone. If the locals love the scratch-made yeast doughnuts, then I do too. When in Farmer's Branch….
Most Popular Doughnut: Chocolate frosted
Staff Favorite: Apple fritter
Friday Hours: 6 a.m. to 11 a.m.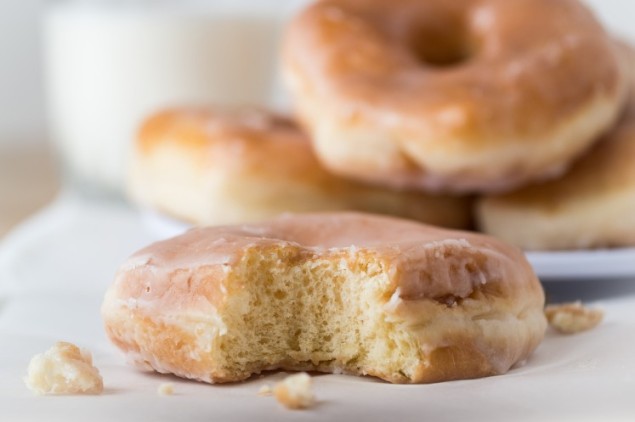 Shipley Do-Nuts
10332 Ferguson Rd, Dallas, TX 75228 (with multiple locations around town)
We can't talk Texas doughnuts if we don't talk Shipley's. This southern-bred shop takes pride in producing a wide variety of pastries and kolaches to satisfy everyone. Whether it's one of the several filled doughnuts or the array of glazes they use with their sprinkles, you could go back each time and find something you hadn't tried before. And because they're giving away one free doughnut to all customers on Friday, you can get started on that bucket list of yours. Praises.
Most Popular Doughnut: Glazed & chocolate frosted.
Staff Favorite: Kolaches.
Friday Hours: 5 a.m. to 1 p.m.
Top Pot Doughnuts
8611 Hillcrest Rd, Dallas, TX 75225 (with an additional location on Greenville Ave)
One year old in the Dallas scene, Seattle-based Top Pot Doughnuts is quickly becoming the shop to watch out for. And like any hole-y matrimony, coffee is just as important to the business as their doughnuts are.
Chairman Alex Sharma said instead of diminishing Doughnut Day to a singular event, both Friday and Saturday will be celebrated by offering free doughnut holes to customers. Additionally, the entire weekend provides opportunity for customers to bring canned food to both locations to benefit the North Texas Food Bank. Finally, at 3 p.m. on Sunday, the Hillcrest location is hosting a doughnut-eating contest. You know where I'll be.
Most Popular Doughnut: Chocolate/chocolate and old-fashioned buttermilk.
Staff Favorite: Maple bar and blueberry.
Weekend Hours:
Hillcrest – F/Sat: 6:30 a.m. to 6 p.m.
Sun: 7 a.m. to 6 p.m.
Greenville – F/Sat: 6:30 a.m. to 6 p.m.
Sun: 7 a.m. to 5 p.m.
Jarams Donuts
17459 Preston Rd, Dallas, TX 75252
OK folks, this is the big leagues — you just haven't seen donut toppings like these. Fresh berries, Nutella, cream cheese, bacon, gummy bears and marshmallows are piled high on donuts churned out fresh daily. Doughnuts, cronuts, kolaches and cinnamon twists are in the repertoire for the six hours they operate. There's simply not enough time.
For Donut Day, Jarams planned a contest. Check out their Instagram and Facebook for the details.
Most Popular Doughnut: Croissant doughnut with maple glaze and bacon.
Staff Favorite: Cream cheese and fresh strawberries doughnut.
Friday Hours: 6 a.m. to Noon