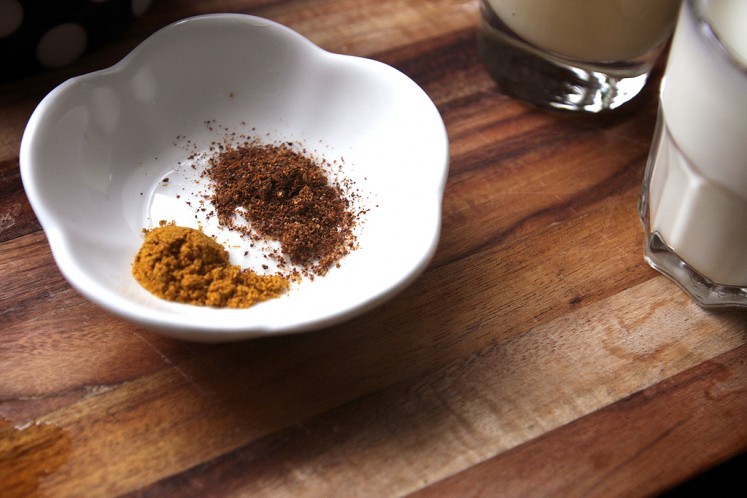 Q&A with Spice in the City Owner, Navin Hariprasad
The health-conscious restaurant in downtown Dallas celebrates its grand opening on April 6.
Navin Hariprasad worked as a dietician at Parkland Hospital before teaching food service management in the Clinical Dietetic Internship Master's Program at UT Southwestern, and becoming a restaurant owner of Spice in the City. He sought a solution for not only his patients but members of the Dallas community. What Hariprasad envisioned, was a restaurant that would enable him to create healthier food that's also flavorful. I sat down with Hariprasad last week to discuss his journey.
Spice in the City will celebrate its grand opening with a "Fashion and Spice" event featuring menu samplings, a Indian-inspired fashion show, raffle prizes and more. The event takes place next Saturday, April 4 at 8 p.m. with proceeds benefiting Dallas Children's Advocacy Center.
Tell us about the location…
NH: So this is the historic Dallas Power & Light building. It was originally built in the early 1900s. And, you could actually pay your electricity bill up until 2001. And then, they converted them into high-end lofts in 2005. And so, it's a really unique building.
The restaurant concept used to be Fuse. And Fuse was definitely a happening place. And then, they left after about a year. And then, it didn't have anybody for a while, and then Fuse Japan came in, which was a sushi restaurant, and then Fuse Hookah Bar & Lounge. And that also didn't last very long so. We, they weren't actually going to do anything with this particular space.
We just felt like there was so much opportunity to utilize the space for what it was. We pretty much presented it to the building and they jumped on board. I was able to get the commercial kitchen as a to-go concept. Since there's not an Indian, Pakistani, Malaysian restaurant or really any ethnic restaurant that's affordable in downtown Dallas, it's been a big hit.
What inspired you to become a restaurant owner?
NH: My background, I come from Parkman Hospital, as a patient's food services manager. And so, I am a register dietitian and a public health practitioner. And part of my issue in the hospital was that I really noticed the discrepancies with the patients that were coming in, and having to be on a dietary restriction. So what I would notice is, they'd come in and they'll complain that the diet food didn't have a lot off taste, a lot flavor. And it was hard for me as a dietician and as a manger to be able to incorporate a lot of spicier foods because you have a large spectrum of people, right? You have some patients that come in and say 'black pepper is too spicy for me I can't do more than that.' And then, you have other people that are like 'give me ghost pepper or habanero.'
So it's hard to find like a happy medium, especially in a hospital setting. Plus, if you're not feeling well, just having a lot of really rich foods may not be the most settling for you versus once you're post-discharge. So part of my initiative was really trying to help the patient demographic that has dietary restrictions like low sodium or diabetic, to be able to come to an establishment where you can have healthier foods that are more appropriate for you, and more portion centric, and be able to still enjoy life, and still have a good quality of life. And so, a lot of my patients have actually really never had Indian food, which is really interesting and they love the flavor of the foods. I think they've realized there's not so much of an aversion to typical Indian food. And on top of that, they've been coming back over and over again which has been such an amazing gift especially because we've only been open for five weeks and it's our soft opening.
How did you come up with the concept for Spice in the City?
NH: Our concept is Indian, Pakistani, and Malaysian influences. And part of that is because I love all of those cuisines. My background is Indian but my dad actually was born and raised in Malaysia so that's where the Malaysian influence comes in. Malaysian food is like a happy medium between Thai and Indian food. So, that's why I love that. Pakistani food typically concentrates on meat dishes so you can get a really awesome flavorful dish with a lot of Pakistani food. So that's why I felt like a medley of all three really made a lot of sense. Plus on top of that, we felt like it was a great opportunity to do fusion foods.
The restaurant offers a healthy approach to Indian, Pakistani, Malaysian fare. Can you elaborate?
NH: Our biggest initiative is cooking everything from scratch. We don't use any kind of packaged spices or box spices. Also, all of our meats are organic or grass-fed. I really try to do local as much as possible and we're trying to support other small businesses as well. We have a chocolatier in Houston, Annie Rupani, who owns Cacao and Cardamom and so we have high end Indian chocolates that are spectacular – only one to three grams of sugar, five ingredients or less dark chocolate. Then, we have egg-less mini cupcakes from Deelish Cupcakes because a lot of Indians don't eat egg. This cupcake actually doesn't taste like it doesn't have egg, which is surprising. They're Indian desserts that have been converted into mini cupcakes so they're a lot healthier for you. That's why I love them so much.
We also just started featuring mini cheesecakes. So, we have mango cheesecake with mango chutney, chai cheesecake and a grand marnia cheesecake with candied orange peel. Those are doing really well. All of our desserts are doing really well because they're mini. As a dietician, I'm not a big proponent of pushing desserts on people but the fact that they're mini makes me feel less guilty about it. I think in a well-balanced meal someone wants to have sweets sometime at the end, so if you can have a really rich, quality product that's portioned controlled you're less likely to overindulge in a bigger piece of cake or so much food.
We're curious what the response was like from the community as you were plating up dishes during the first week. What have been some of your most popular dishes so far?
NH: My most popular dish is, of course, the organic chicken tikka masala. A lot of people love that. You can make it vegetarian by doing paneer but we also have chicken curry tacos. My curry chicken salad has been really popular. I have organic turkey burger sliders that are curry aoili on it. Our appetizers are really popular too. We have cheese pakroas that gluten-free and they're amazing. They're served with a mint and mango or coconut chutney. We also have handmade garlic and ginger turkey dumplings that are really popular too so I always cater those for our events.
What were the least popular?
NH: I think probably like our Saag Paneer but that's because typical saag in an Indian restaurant is pureed. A lot of Indian restaurants have a lot of salt, a lot of fat, and a lot of calories in their food that's hidden. So, that's the perception that Indian food is supposed to taste that way but as a dietician that's been kind of my challenge is: 'okay, how am I going to make this food still taste good and still somewhat traditional but make sure that I have a balance of flavors that you can really taste all the ingredients that are in there?'
How do you help customers with their nutritional needs?
NH: It's been interesting because we had several complaints, in regards to portion but that's the issue here. We've adapted a little bit by adding like a side salad with all of our main entrees and a smaller with our thali which is kind of your sampler platter and that has definitely helped but I have not gotten to the point where I've over portioned a lot of the food. I still want to make sure people are eating in moderation. You know in a restaurant it's hard to get every single demographic covered. I might have a 6'6" person coming through and then I might have a really petite person like you coming through that doesn't eat as much food so that's the hard thing sometimes in regards to how much to serve. I feel like now our proportion sizes are definitely appropriate. In fact, some people feel like they can take a little bit to go home. We haven't had any more complaints about that.
I think in a retail, service based industry, one of the biggest things you have to learn is you can't satisfy 100 percent of people, it's just not realistic but I think it's important as an owner that you're open to constructive feedback and criticism and people have an outlet to let you know what they're thoughts are. As long as you have that, we are more than happy to adapt to the customers' needs because we want them to come back. That's the most important thing.
The grand opening is set for April. What can we expect then? Do you have more plans for Spice in the City?
NH: We are doing meal plans pretty soon. We have myself and three other dieticians as Spice RDs. We have a created a four-week meal that doesn't repeat any dish for four weeks. So, you could technically sign up for a month and have a different dish every single day for breakfast, lunch and dinner which it's really great, especially if you're under dietary restrictions and don't want things to be repetitive. The cool thing is were taking a lot of ethnic comfort foods, and making them healthy so you're getting a lot of variety. We have poolside service starting in May, and that's going to be sliders, truffle fries, roasted beet and goat cheese salad.
How did this happen?
NH: We're actually residents [partner Andrew Pettke] of the building. We have been resident coordinators of the building for three and a half years so we plan events for the building. We did that on the side and we still do. We also have an event venue upstairs. We can rent out residents as well as outside patrons for wedding rehearsals, intimate dinner parties, and birthday parties, whatever it is. We've introduced those two other amenities: room service and pool service. That's all in encompassing in regards to Spice in the City.
I partnered up with all the dietary internships in the city because I'm a public health practitioner too. I teach at UT Southwestern too. We've been able to partner with them to do research-based studies to bring interns in here. I've been super fortunate with all the resources that I've had to able to operate this particular location.
How do you manage it all?
NH: That's just from experience. I'm a crazy multitasker. I've been able to handle a lot on my plate all at once. I think the other thing is if you if you're passionate about what you do, and you really care about what your outcome is, you're going to be successful. You're going to want to do it versus someone that just says 'oh gosh I have to go to work again today and deal with complaining customers.' You're not really doing your job the right way. That's what I think a lot of people lack and why restaurants and retails suffer and end up closing down. They just don't understand the basic components. They also need understand sanitation, basic expectations of the customer, listening to their customers, talking to them, being present. Luckily, I teach food service management at UT Southwestern. I get all of these principles, and it comes very natural for me. That's been great. It's been my vision and dream for so long that so many things have fallen into place without having to really try hard. I feel like this is what I was meant to do in life.