Breakfast food is as essential as concrete and sports in a man's life. For all sexes, the equivalent necessity is coffee. When the two are combined, something cosmic breaks open one's spirit animal and everything begins to make sense. Dallas has no shortage of coffee shops. But for this particular experiment, I decided to dip a little deeper into our coffee scene and find some awesome food coming out of their kitchens. First of all, they must possess a kitchen, and the aforementioned food must come out of it. The food we're going for here is relegated to the breakfast world.
That being said, here are some tasty plates from around town to order alongside that cup of joe.
Mudsmith
The Breakfast Sandwich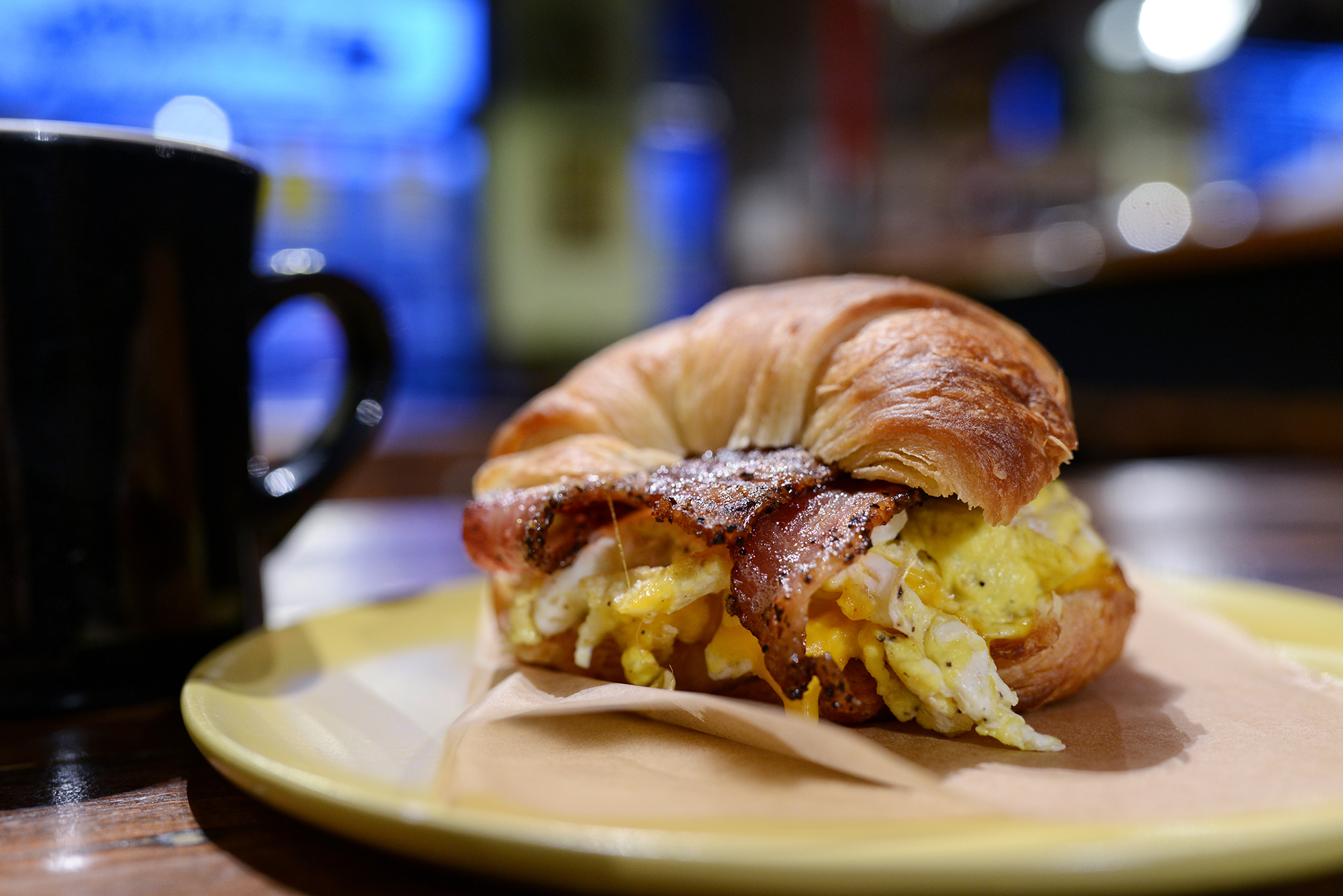 The beauty of this hearty sandwich is in its restraint. It's made with bacon, cheese and eggs on a buttery croissant. That's it. The eggs are fluffy and well-seasoned. The bacon is cooked to perfection. And I needn't mention that cheese is awesome. This is elementary stuff elevated by quality and the hands that craft it. If you decide to grab one of these during the busy hours, you may just wait 30 minutes. And for all the crowded frustration that builds while you battle for a seat or just stand awkwardly near the bar, once the sandwich hits your mouth, all is forgiven.
Weekend
The Belgian Street Waffle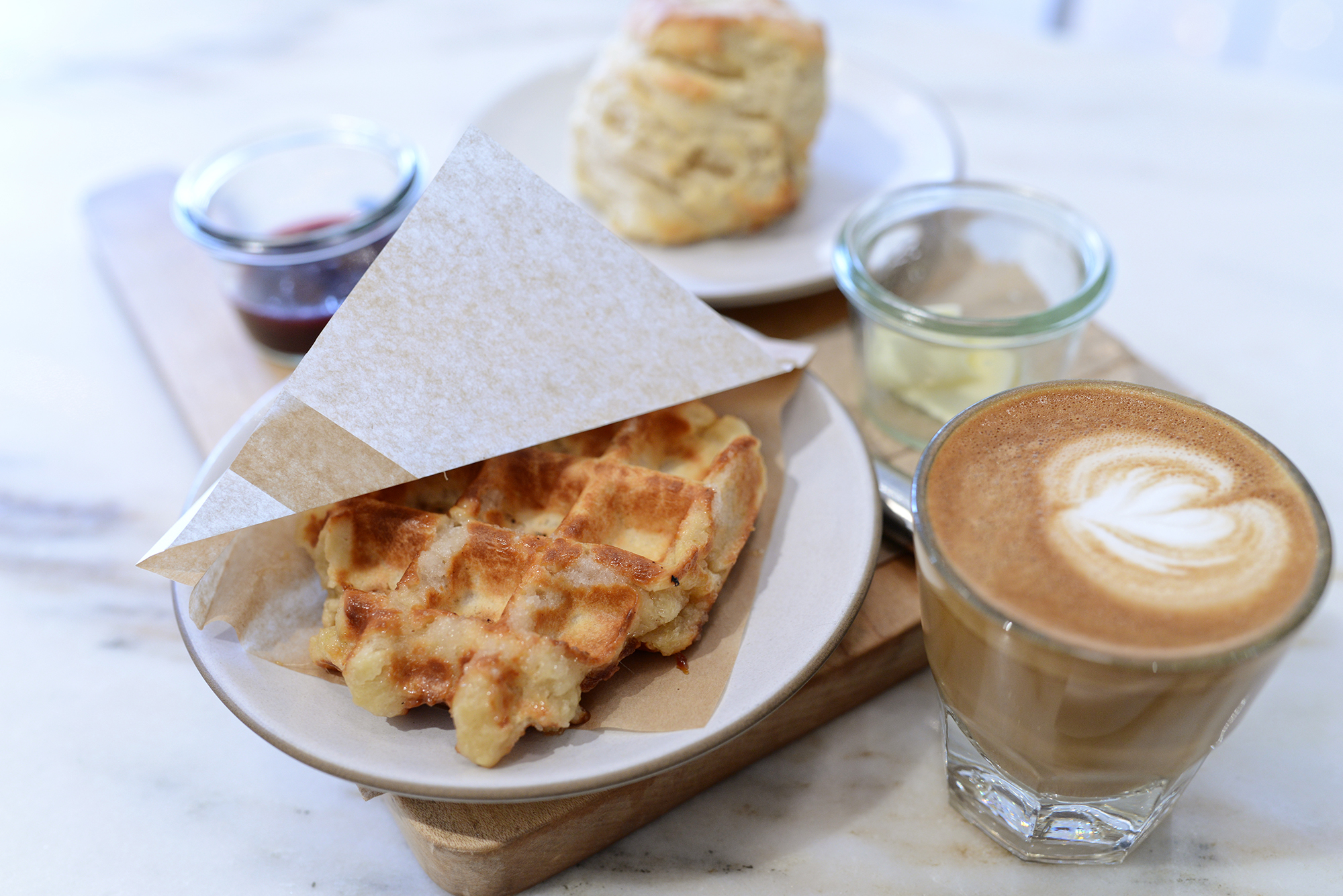 The quaint shop inside the Joule is easy to miss. The Belgian Street Waffle on the menu shares the same predicament. However, the case for both is that once you partake in them, you won't soon forget. The Belgian Street Waffle is made to be handheld. You can walk with it. Just pay attention to where you're going for goodness sake. Sugar pearls are cooked inside the dough so there is no need for syrup. The little gems of sweetness crystalize inside the dough and turn each bite into a treasure hunt. The waffle itself is light and savory with just enough density to please your hunger. Lastly, here's an insider's tip: ask for some of their house-made blackberry/blueberry jam and put it on your waffle. You're welcome.
Legal Grounds
The Diane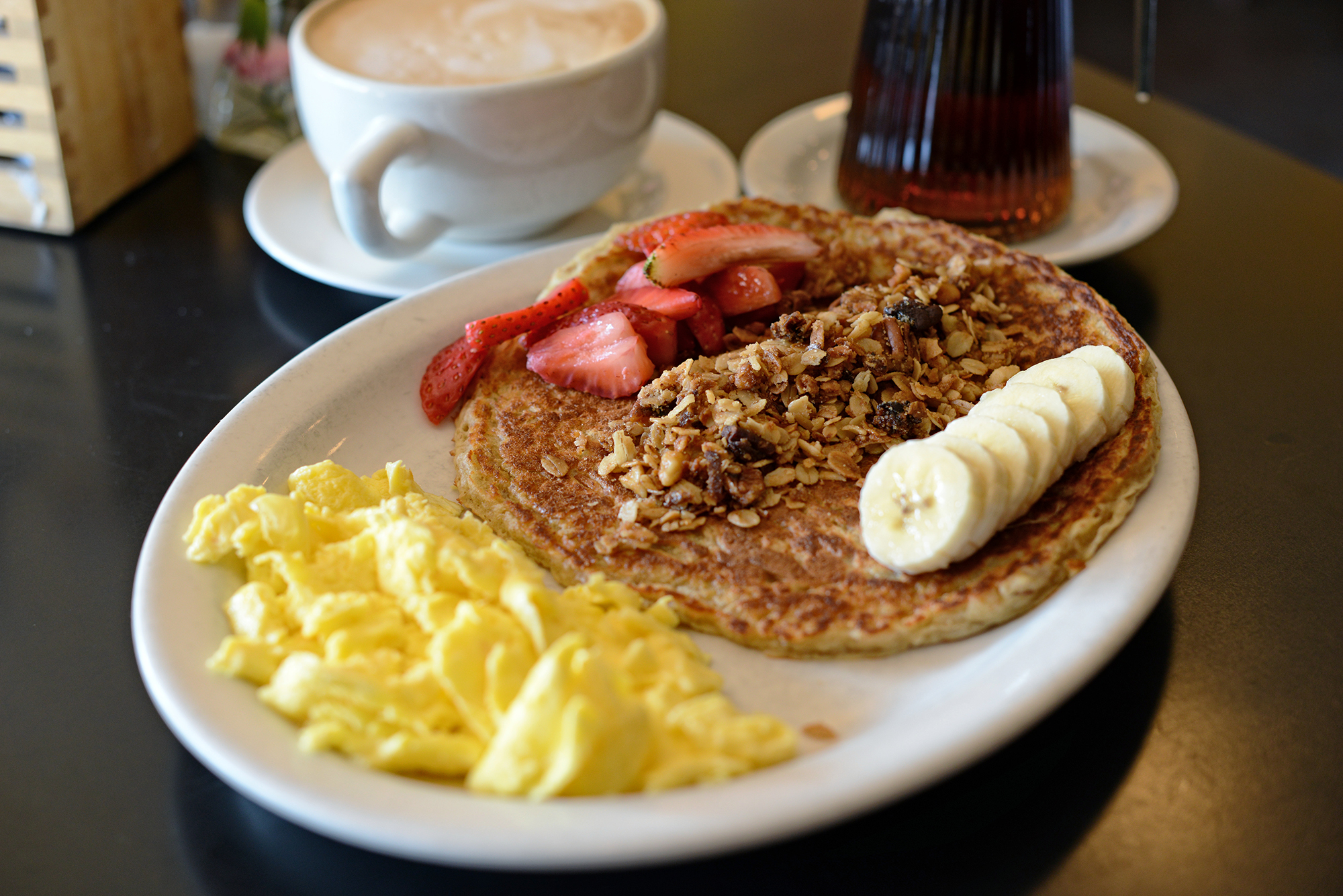 Good coffee shop food is spread all over town. In Lakewood, the law themed Legal Grounds is always busy. They have an extensive menu and are best known for their Cory Cakes (oatmeal pancakes made in house). The Diane is a perfect example of breakfast food gone right. It includes one of the famous Cory Cakes topped with homemade granola, strawberries and bananas and is served with two scrambled eggs. It's a happy family of flavors, textures and tastes all on one plate.
Method Caffeination & Fare
Challah French Toast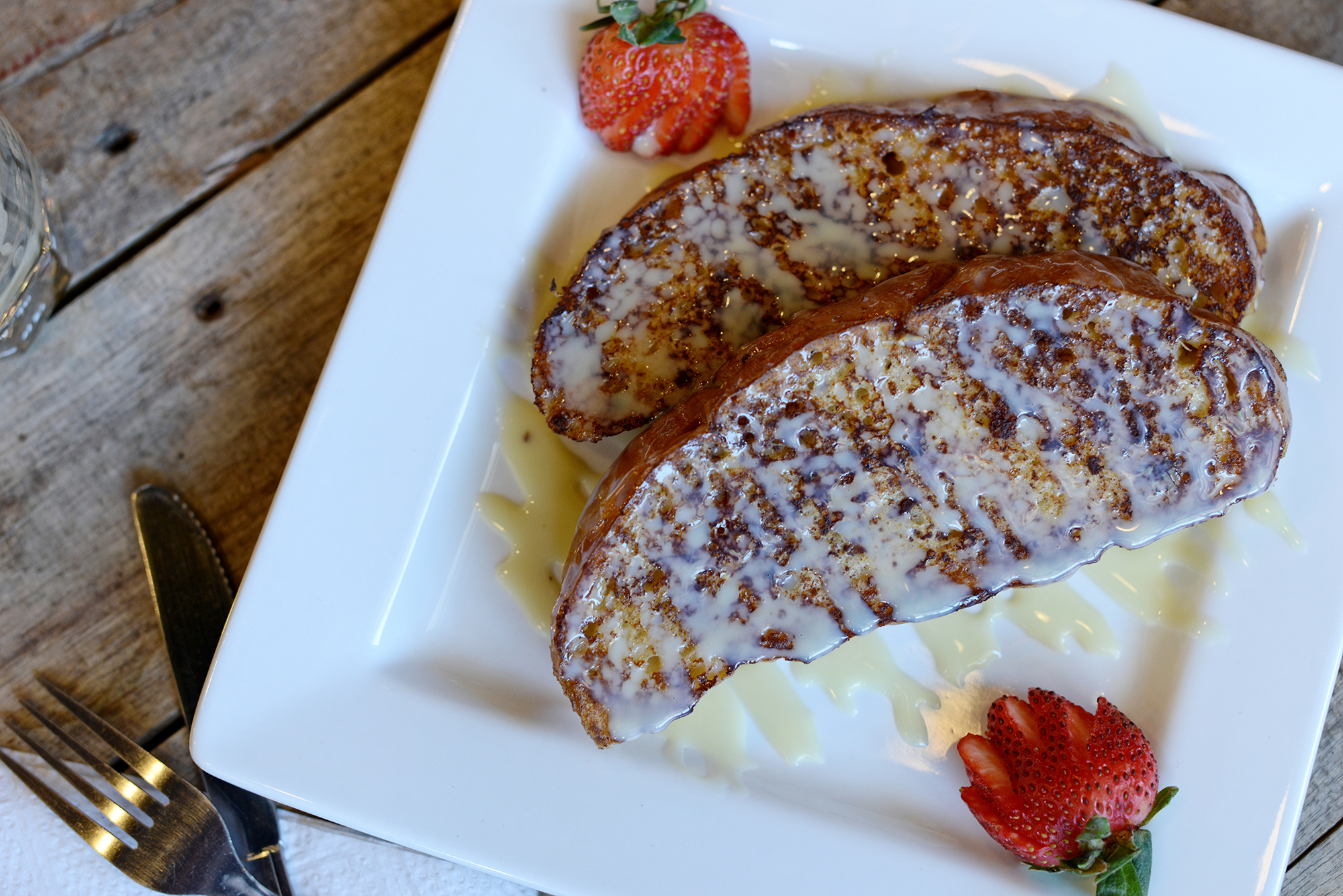 The baristas at Method are like mad scientists. This happy little coffee shop on Ross is home to some of the best caffeinated drinks in town. Yeah, I said it. Aside from the balanced and delicious cups they serve, they also keep their kitchen busy with delicate plates of South American inspired food. The challah French toast is a stand out star in a family of delicious items. Instead of syrup, shop owner Louie Corwin drizzles sweetened, condensed milk on the hefty slices of challah. However this magic potion happens is unimportant. The fact is, the stuff is mucho good and there will never be too much French toast in the world.
Ascension
Granola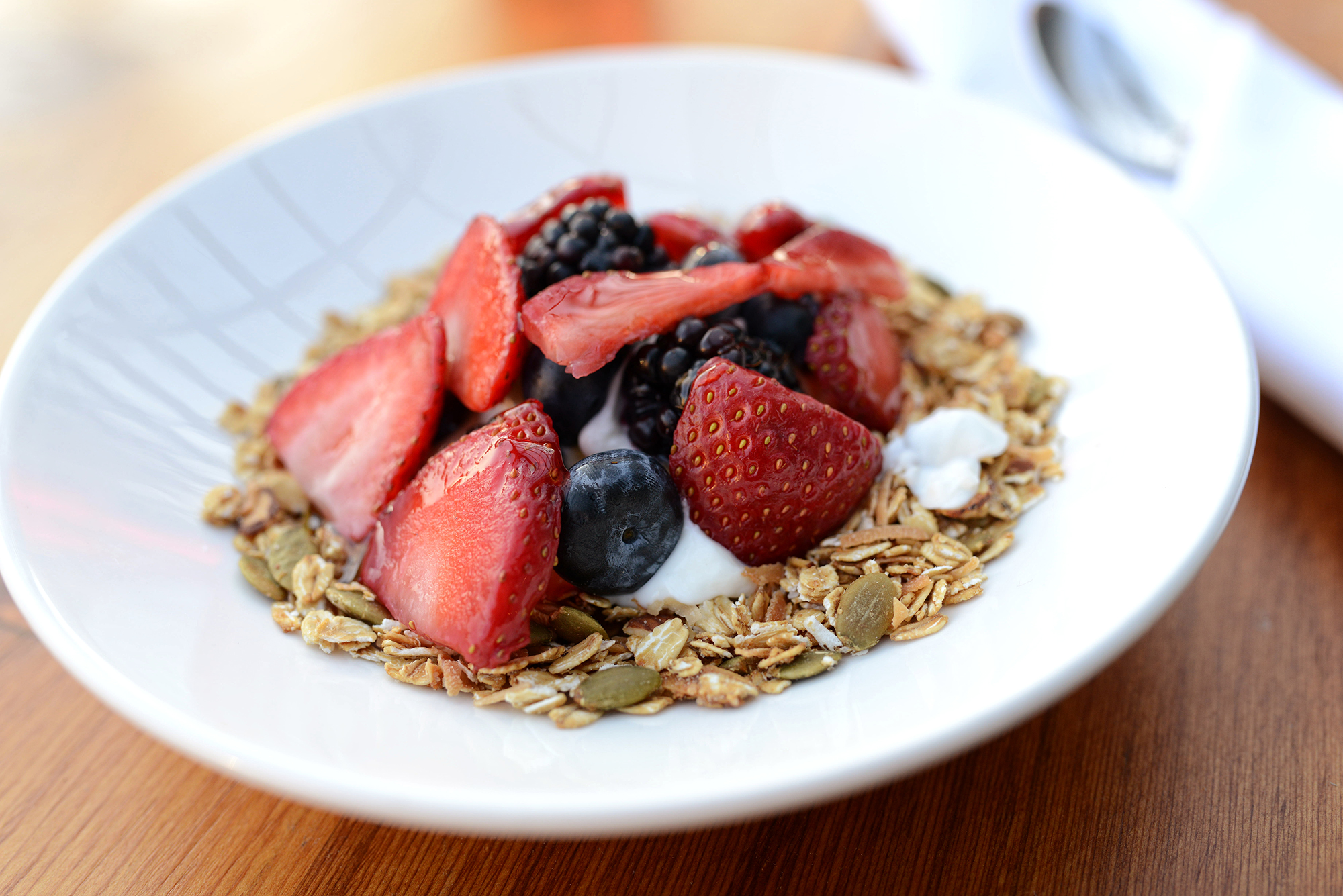 Ascension has become a cornerstone of the craft coffee scene in Dallas. They're always evolving their methods and the dials on those barista's hands are tuned to the right station. I feel hideously nerdy for saying that. Let's move on together. Aside from the coffee menu, the breakfast menu is no chump. The striking theme with all of these great dishes we're talking about is simplicity. That's why I chose to include the Ascension granola. It's light and flaky, baked just right, and topped with fresh berries, yogurt and honey. In the granola itself are pepitas, toasted coconut, oats and slices of toasted almond. This is a healthy option with plenty of flavor. We're looking out for you.
OK, so that's it. Go out and eat. Also, if I missed anything, please report. You've been wonderful.
Get the SideDish Newsletter
Dallas' hottest dining news, recipes, and reviews served up fresh to your inbox each week.