Popcorn: bits of puffed kernels one shovels down by the handful like a bear cub who hasn't eaten in days; serving size comes by the bucketful; most often found stashed down one's shirt or hidden in one's hair for a quick snack later on; deemed as a movie necessity; best paired with butter, salt, m&m's, or all the above.
It's a nostalgic treat associated with family movie night and state fairs. Whether it come plain jane out of the stove-top popper or dripping with extra butter, tossed with parmesan, or rolled in chocolate and peanut butter, it offers something for just about everyone. Popcorn starts out as that innocent, non-guilty pleasure, but soon becomes an addiction you just can't kick once you're five bowls deep and reaching for another. Over the past year, the nation has seen a boom in popcorn obsession and Dallas has taken to the scene with specialty shops and local products.
Get your fix: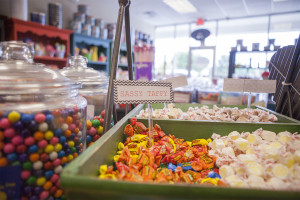 Sassy Popcorn
From personal bags to specialized gifts, the women behind Sassy Popcorn offer fun flavors alongside your favorite novelty sodas and candies. Buy in the store or get it shipped across the country for affordable, low prices. Go for the Twisted Peanut Butter, Puppy Chow, or any of their signature "Just Say Cheese" collection. If you can't decide, then ask to sample, because there's no limit to how much you can try.
Uptown Popcorn
With a four locations across the area and over 50 flavors, this shop will cater to your popcorn needs. Embrace that sweet Texan pride with the Jalapeño Ranch, Southwest Jalapeño, and Jackson's Dallas blend, or get adventurous with the Dill Pickle flavor. Sounds like a pregnancy craving, but I hear it's a Dallas food must-have.
The MOM and POPcorn Company
This place will remind you of the good ol' days with its vintage candies, homemade fudge, and "made from scratch" caramel popcorn. With flavors like caramel espresso, watermelon, and Texas bumpy road, the owners get creative here. Don't leave without an old-fashioned glass bottle of soda pop.
The Popcorn Shack
You may have received a tin from this place as a holiday gift or company white elephant present. Choose from the designer, sports, birthday, and thank-you tins, or go big with one of their gift baskets to find something for any occasion. I'm not sure how I feel about the Tutti-Frutti flavor line, but the Papa's Crunch and Heath Toffee Almond seem deadly.
Live Love Pop
A brand of popcorn from brains of Dallas native Lauren Brundage, celebrities like Martha Stewart are buzzing about this new kid on the block. Tired of tasteless snacking and wanting more flavor, the Live Love Pop CEO started cooking in the kitchen with her mom and quickly founded the basis of her now-poppin' business. Live Love Pop is vegan, non-GMO and gluten-free with three flavors: truffle salt, lime fresco, and sea salt. Find the 2.5 and 4.4 ounce bags around the city at places like Green Grocer, Roots Juices, BEYOND Studios and Southpaws Organic Grill or online at Artizone and the company site.
479° Popcorn
This selection of corn may not boast local roots, but is a personal favorite of mine. Having recently discovered this line at Green Grocer, I love the funky flavor options of Farmers Market Herbs, Toasted Sesame & Seaweed, and Chipotle Caramel & Pumpkin seed to name a few. Jean Arnold graduated from Le Cordon Bleu of London and settled into the role of mom, but after experimenting with organic recipes in her San Francisco kitchen, she discovered 479° was the optimal temperature to pop corn. Find the bags at local groceries or online.
Get the SideDish Newsletter
Dallas' hottest dining news, recipes, and reviews served up fresh to your inbox each week.