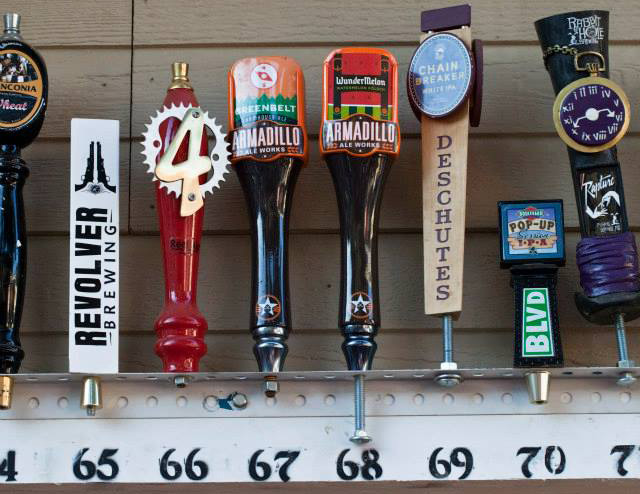 Tipsy Tuesday: Dallas Booze News
Continually surprised by the mixologists, brew masters and food industry of Dallas, I love how menus across the city are constantly changing to push us to try new spirits and boozy concoctions. This week reveals unique brews and drinks to wipe away our summer blues.
For the Beer Lovers:
Watermelon and beer seem like an odd pairing to me, but I'm always up for new concepts. Armadillo Ale Works released a new summer beer dubbed ABV WunderMelon Watermelon Kölsch brewed with fresh watermelon juice. The 5.2% limited release is available at places like the Meddlesome Moth or stores such as Central Market, Spec's and Whole Foods.
This Thursday at 6:30 pm, Del Frisco's Grille, Fort Worth will team up with popular local brewery Rahr & Sons for a 3-course meal with passed appetizers. The $69 dinner comes paired with an ale, IPA, doppelbock or lager from Rahr & Sons. Passed appetizers include Pan-Seared Bay Scallops, with Pineapple Minted Herb Vinaigrette, Toasted Plantain and Serrano Guacamole paired with the "Blonde" Munich-Style Helles Lager. Courses consist of Beer Battered Grouper Tacos with Roasted Jicama Slaw and Spicy Chipotle Tartar Sauce, Braised "Lollipop" Lamb Chops with Beer Glazed Carrots, Root Vegetables and Cherry Demi-Glaze and Nutella & Peanut Butter Bread Pudding with Macerated Berries and Vanilla Chantilly Cream. Interested guests can call 817-887-9900 to snag a seat.
For Wine Lovers:
On Tuesday September 2, Mi Sueño Winery from Napa Valley will takeover Hibiscus for a unique dining experience alongside Chef Graham Dodds. The winery's Jaime Orozco will co-host the $85 evening to discuss the balance of wines with dishes like Diver Scallop Crudo, Crispy Sweetbreads with Frisee and Fig Mostarda, Muscovy Duck Cassoulet with Sausage, Rillettes and Wagyu Bavette with Potato Puree. Dinner begins at 6:30 pm and you can call 214-827-2927 to make reservations.
For Cocktail Lovers:
It's clear the people of Dallas are in denial. Soon fall will take over our sunny pool days and summer will come to a close. But until then, mixologists will continue to celebrate the seasonal fruits and staple cocktails of this time of the year. Hard Rock Café Dallas concocted three sweet lemonade press cocktails served in coffee-press vessels that infuse fruit into the cocktail throughout the entire drinking process. These include a Tropical Pineapple Press (fresh pineapple chunks and lemon pressed together with BACARDI Mango Fusion Rum), Watermelon Wave Press (BACARDI Dragonberry Rum, Cointreau Orange Liqueur and Call Watermelon Puree) and Blues Berry Press (BACARDI Wolfberry Rum, homemade lemonade and fresh blueberries). On the other side of town, Sangria Mediterranean Tapas and Bar will offer $5 Mojitos and Pisco Cocktails on Wednesday nights.
Go here: The Grape
I may still be on a high from my latest interview with Brian and Courtney Luscher, but I currently have a love affair with their restaurant, and I want a reserved spot at the bar with a never-ending charcuterie board. Brian makes all the meat in-house and even dares to dabble in the realm of cheese making, while Courtney serves as the queen of wines in the house. Go on Mondays for extended happy hour from 4:30 – 8 pm with $2 select domestic beers, $3 premium wells, 1/2 off any wine by the glass, and a small plates menu (most under $6) sure to please. Whether you manage to snag a Luscher or strike up conversation with any member of the staff, you will stay well into the night as you delve deep into food conversation and boozy bliss.