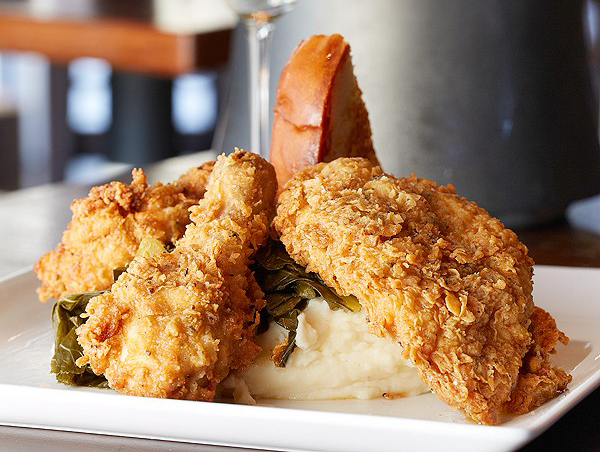 Ways to Celebrate National Fried Chicken Day in Dallas
Fried Chicken is a American restaurant staple that's here for the long haul. Whether it comes atop bacon-studded waffles or pinned between country biscuits, Dallas can't get enough of this Southern cooking classic. In honor of National Fried Chicken Day (July 6th), I compiled a juicy, crispy list of different local ways to celebrate one of America's guiltiest pleasures.
Straight Up: I couldn't choose just one, so here are some of my favorites around town…
Sissy's Southern Kitchen: Sissy's is seriously Southern and their fried chicken is no exception. Serving up chicken by the bucketful, guests can split a selection of white or mixed meat, but you may find it hard to share. To achieve its crispy exterior, owner Lisa Garza and chef Chris Ostlund brine the bird for 24 hours, dredge it in flour and a secret mix of spices, soak it in a combination of buttermilk and regular milk, and coat it once again in flour. Gnaw away at a drumstick with one hand and shovel Sissy's extra cheesy mac with the other for the best eating experience.
Pecan Lodge: With some of the best 'cue in town, these guys sure know a thing or two about frying up a good bird. Though the burnt ends will always hold a special place in my heart, this is an obvious choice when the meats run out. The process for this chicken involves brining overnight, single coating it in a flour mixture with just a pinch of onion power and black pepper and frying it at a high temperature for optimal moisture and texture.
Stampede 66: Stephan Pyles works his magic once again, making this version of fried chicken one to surprise and delight. Pyles double-coats with seasoned flour and buttermilk, and then fries it up like any normal recipe, but he doesn't stop there. He takes it to the next level, using a syringe to inject the bird with sweet Texas Wildflower Honey. The housemade pickles and biscuits are a perfect complement to the honeyed meat.
Max's Wine Dive: At Max's, champagne and fried chicken go hand in hand. Seriously – their slogan is "Fried Chicken and Champagne…Why the Hell Not?!" I like mine at Sunday brunch with a heavy hand of honey-chipotle sauce, home fries, collard greens and endless mimosas. Soaking the bird in a jalapeño-buttermilk marinade and cooking it for 15 to 30 minutes, the deep-fried, single-breaded chicken is coated in a secret blend of herbs and spices. However, most claim the gluten-free version is better than the traditional.
Fearing's: Shake what yo mamma gave you! Dean Fearing likes to do just that with his fried chicken. A recipe passed down from Granny Fearing, this "paper bag shook" version comes only during Sunday brunch because it's just that special. How much of a difference does the paper bag method make? Try it and find out for yourself.
Henderson Chicken: An establishment that does little else, Henderson keeps it simple and authentic when it comes to their chicken. The skin stays attached and grease doesn't run down your hands upon each bite. The menu includes various chicken parts, baskets with fries and pickled jalapeños that add the perfect kick and flavor to each mouthful.
But if you like to mix things up and enjoy fried chicken in other ways, there are definitely other options to choose from in the Dallas area.
On a Waffle:
Brunch hot-spot Oddfellows' Fried Chicken comes on the bone and extremely juicy. Marry the chicken and waffle together with a good dousing of syrup or dunk the two separately. Make the most of the day and order a bowl of their famous Buffalo fried chicken mac and cheese as well.
Between Bread:
Classic Sandwich:
Noted among the most elite sandwich shops among the nation, East Hampton's Fried Chicken and Jack Sandwich does the business justice. A combination of Southern fried chicken, pepper jack, green, cured bacon, avocado mash and jalapeño cream sauce, Hunter Pond and his team craft a dish worthy of a National Fried Chicken Day mention.
Biscuit:
Listed by Food and Wine amongst the best fried chicken in the nation, Bubba's breakfast sandwich takes you back to grandma's house with its combination of buttery, flaky biscuit and crispy chicken. There truly is no better feeling than waking up in time to enjoy the chicken biscuit sandwich before rushing off to work.
Donuts:
A place known for its donuts and chicken biscuit sandwiches, Hypnotic Donuts definitely mixes things up with their Jim biscuit, featuring a special blend of chicken breading and spices sandwiched in a toasted glazed donut. The makers behind this creation even turn the donut upside down, so the glaze melts into the hot chicken. Add a bit of sriracha and you have a work of art.
On Greens:
You may feel it subpar to indulge in a salad on this great day, but then you probably haven't tried The Porch's Buttermilk Fried Chicken Cobb. Featuring a mix of tomato, avocado, applewood smoked bacon, blue cheese, toasted honey mustard dressing and a large offering of tender nuggets, you won't leave hungry.
Rolled in a Tortilla:
The Hotlanta from Good 2 Go Tacos is a complete Southern Sunday dinner in one bite. Waffle-battered and nestled with sweet potatoes and honey butter in a flour tortilla, this bird offers a sweeter version of the classic chicken taco. Another mention is the Spicy Fried Chicken Tacos from Taco Joint, but these are served strictly on Thursdays. More reason to celebrate a little early, right?
A little Foreign:
Venture over to Tto Tto Wa Bistro in Carrollton for sticky, sweet, spicy and crisp fried chicken. Get a little adventurous with the spicy chicken paws, chewy, fried chicken gizzards and chrysalis, small silkworm pupae stir-fried with peppers, carrots and onions. Prominent ingredients in Janie Bae's recipe are honey and gojujag, a Korean chili paste.
Everything but the meat:
We all know the flaky skin is the not only the best part, but one of the keys to fried chicken perfection. For those of us that see the actual meat as an afterthought, you can find solace in Meddlesome Moth's Chicken Skin Chips with a sweet-spicy glaze and crumbled blue cheese.