Refreshing, flavorful, light and interesting cocktails are sure to elevate your happy hour this season. If you are looking for a few new creations these are sure to satisfy.  A few spirit selections were sent for editorial consideration.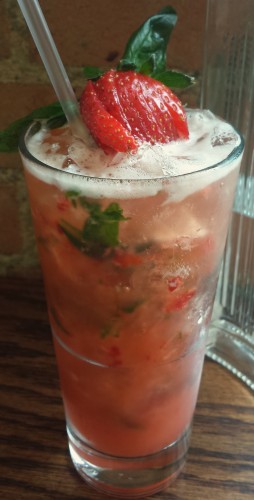 Boxwood Tap and Grill has become a go to spot for both lively cocktails and food (like their stellar sweet potato hummus dip,) but also a great patio to relax on a spring afternoon. Their Strawberry-Basil Lemonade includes herbaceous gin from Aviation, created in Portland, OR from a mix of juniper based botanicals, that also includes lavender, cardamom, anise seed and dried orange peel for a gin that has layers of herbal, floral and spice notes. Mixed with fresh strawberry and basil this refreshing cocktail will please any palate this spring. Available now at Boxwood T&G, Aviation gin is available throughout Dallas at fine spirits stores for about $30 a bottle.
Strawberry-Basil Lemonade
5-6 Fresh basil leaves
2 Fresh Strawberry
1 Part Fresh Squeezed Lemonade
1 Part Aviation Gin
1/4 Part Strawberry Cordial (For Color)
Top with splash of soda
Preparation: "Wake" the basil leaves and Muddle with 1 fresh strawberry and a splash of simple syrup. Shake and lightly strain so that some of the strawberry and basil comes through. Top with soda garnish with a basil sprig and a sliced strawberry.
---
Belvedere just introduced their latest vodka creation, this time Mango-Passion. There are a lot of flavored vodkas on the market, but one thing I like about Belvedere is that they have true fruit flavor without being syrupy sweet, made by distilling with fresh mangoes and passion fruit, along with tangerine and lime. These simple cocktail is ideal for sipping throughout the afternoon on a patio or poolside. It is available at liquor stores throughout Dallas now for about $35 a bottle.
Mango Cosmopolitan
1.5 oz Belvedere Mango Passion
1/2 oz Ginger Liqueur, like Domaine de Canton
1/4 oz fresh lime juice
1 oz cranberry juice
Preparation: Shake/strain into a cocktail glass and garnish with a slice of mango.
Mango Passion Caiprioska
2 ounces Belvedere Mango Passion
½ ounce Simple Syrup
3 wedges of lime
Preparation: Place lime wedges in base of rocks glass and muddle with simple syrup. Add Belvedere Mango Passion and a small scoop of crushed ice. Gently stir before topping with more crushed ice and a slice of mango.
---
Italy is known for their aperitifs, sipping them from afternoon into early evening, preparing the palate for an evening of great wine and food. Aperol, one of Italy's favorites, blends both sweet and bitter flavors of orange peel, fresh herbs, rhubarb and spice for a unique, fresh low alcohol spirit (about 11%.)
Aperol Spritz
3 Parts Cinzano Prosecco
2 Parts Aperol
1 Dash Soda
Ice and a slice of Orange
Preparation: Add ice and a slice of orange, pour in the Prosecco, the Aperol and add a dash of soda. This avoids the Aperol settling at the bottom.
---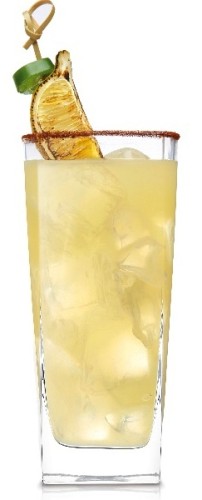 If you like a clean, fresh tequila, try Avion Silver, especially mixed with a bit of muddled habenero or jalapeno peppers. Made with 100% blue Weber agave with fresh herbal notes highlighting the floral notes of the roasted agave, this tequila is an ideal pairing with grapefruit, my favorite tequila mixer. $40 available at fine spirits stores throughout Dallas.
Avión (PO) Loma
1.5 oz. Avión Silver
½ oz. Lime Juice
¼ oz. Lemon Juice
3 oz. Grapefruit Juice
2 Slivers Muddled Jalapeño
Soda Water
Ancho Chile Salt, Jalapeño, and Grilled Lemon Wedge for garnish
Preparation: Combine all ingredients and shake. Salt rim of glass with chile salt. Pour contents of shaker into glass and top with soda. Garnish with grilled lemon and jalapeño.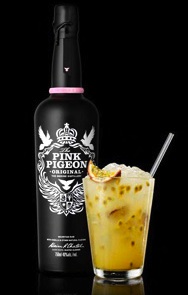 ---
Artisan spirits thrive in Dallas as we are constantly on the look out for something unique, distinct and flavorful made with high quality ingredients in small batches, maintaining the excellence in every bottle. Pink Pigeon Rum from Mauritius blends Bourbon vanilla from Madagascar and the Reunion Islands into their molasses based spirit for a liquor accentuated with touches of orange and sweet spice named for the pink pigeons that fly high above the island symbolizing peace, freedom and harmony. $35 a bottle, available at fine spirits stores throughout Dallas.
Passionate Pigeon
1.5 oz ml Pink Pigeon Rum
1.5 oz Lychee Juice
1/2 pressed lime
1 passion fruit
Ginger Beer to Top
Preparation: In a mixing glass, combine Pink Pigeon Rum, Lychee Juice and the juice from 1/2 lime. Add the pulp of one passion fruit (to prep passion fruit: cut in half, setting aside a small slice for garnish and scoop out the pulp and drop both the pulp and peel into the glass). Add ice and shake vigorously. Pour in a tall glass over ice, top with ginger beer. Garnish with the passion fruit wedge to serve.
---
I am a sucker for great tequila, loving the layers of smoky, spiced notes in an Anejo, sipped on its own, maybe with a Sangrita on the side, or a great Reposado filled with caramel, floral and dried orange notes, delicious mixed with slightly bitter ingredients in the recipe below. Herradura Tequila makes both very well, made with 100% blue Weber agave that has been made in Jalisco, Mexico for over 130 years. Herradura Anejo ($50) and Reposado ($40) are both available at spirits stores throughout Dallas.
Rosita Cocktail
1 1/2 oz. Herradura Reposado tequila
1/2 oz. sweet vermouth
1/2 oz. dry vermouth
1/2 oz. Campari
1 dash Angostura bitters
Cracked and cubed ice
Preparation: Stir ingredients in shaker with ice cubes, strain into a rocks glass filled with cracked ice and garnish with a lemon twist.
---
A new gin is set to hit the Dallas market in June and I can not wait!  The London No. 1 Gin is one of the cleanest, freshest and smoothest gin I have tried. I enjoyed several Gin and Tonics, Spain's favorite cocktail these days while traveling in the country with its creator, Gonzalez Byass. The company created this premium gin as a nod to a full-flavored, classic version of the spirit that London became known for creating. Four times distilled in small batches from a botanical blend of juniper, coriander, angelica, lemon peel, anise, cinnamon, almond, savory, orris root, orange root, gardenia and bergamot, this surprisingly subtle, smooth and elegant gin is complimented by quality quinine tonic water, like from Fever Tree, and enhanced with sliced cucumbers, mint leaves or lime. Today is National Gin and Tonic Day, and though this one isn't on the market now, get ready as it is one bottle that should be in your liquor cabinet this summer. Will retail for about $40 a bottle.
Get the SideDish Newsletter
Dallas' hottest dining news, recipes, and reviews served up fresh to your inbox each week.