Cheese, cheese, cheese, cheese.
I love cheese.
In fact, I'm inhaling it right now. As a hardcore Southern-Asian-American gal, one of my favorite snacks is a tub of pimento cheese with a pile of crackers. Who doesn't love mayo, cheddar, and veggie bits all smushed up together? One of my favorites in Dallas is made by We Me Dallas, but I didn't exactly have the time to visit her at the farmers market this weekend. Instead, I went out and got these five other ones.



A. Empire Baking Co.'s pimento cheese – Dallas, TX

B. Festive Kitchen's pimento cheese – Dallas, TX

C. Kuby's pimento cheese – Dallas, TX

D. Palmetto's pimento cheese – Pawleys Island, SC

E. Central Market's pimento cheese – Dallas, TX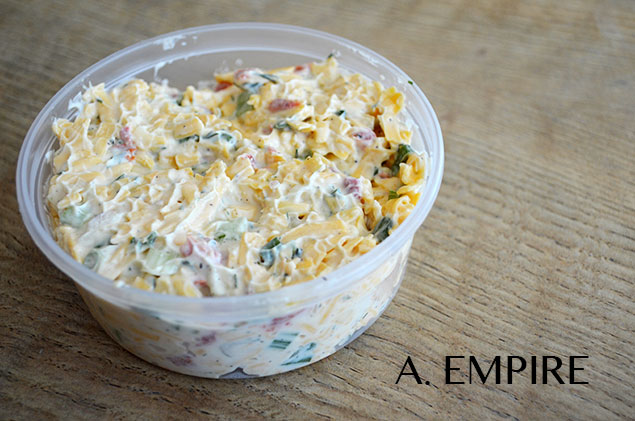 Ingredients: Cheddar cheese, pimento, onion, red onion, black pepper, salt, fresh dill, mayo
"Looks like tuna helper. Green onions are over-powering"
"Dilly and delicious. Nice onion finish."
"Veggies are good, but cheese isn't sharp enough to even take it."
"Colorful, but a little too much mayo flavor. Cheese has a sharp finish, though."
"Tastes like a loaded baked potato that's taken a few spins in a food processor."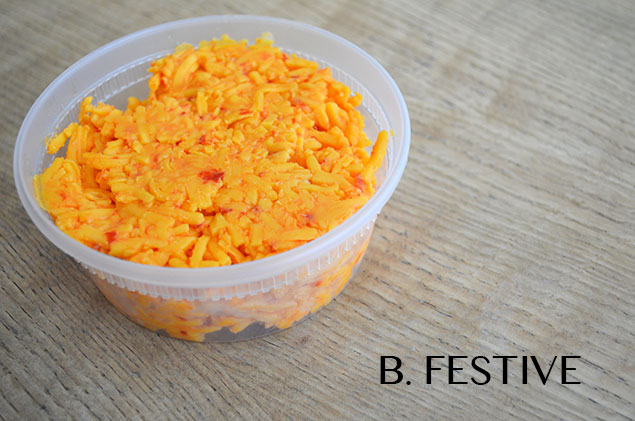 Ingredients: sharp cheddar cheese, pimientos, mayo, white pepper. Contains dairy and soy.
"Neon orange color is a turn off."
"It's like someone emptired a 5-lb bag of Sam's Club shredded cheddar into a bucket"
"Looks like Spanish rice. Toxic orange color, straight up."
"Looks like melted cheetohs. Tastes like a ball of stale cheddar and not much else."
"This is more like the pimento I grew up with."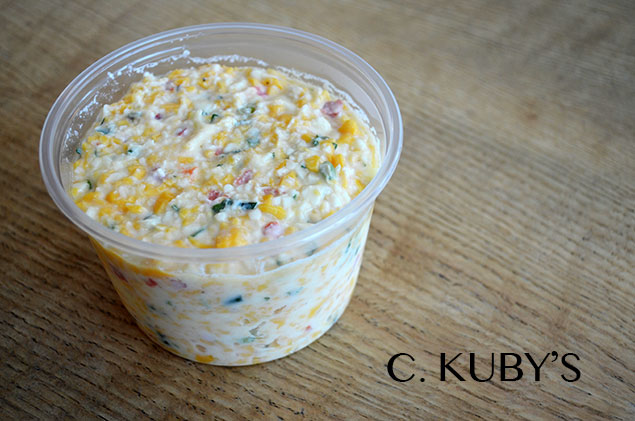 Ingredients: cheese, mayo, oil, water, egg yolks, green onion, vinegar, corn syrup, salt, pimentos, parsley, black pepper, granulated garlic

"Tastes like someone put a block of white cheddar and a jar of mayo in the food processor."
"Smoky, tastes like gouda. Or maybe someone got crazy with liquid smoke. Maybe would get overwhelming."
"Odd onion powder taste; kind of tastes like fried rice?"
"Sick. Tastes like feet."
"Nice mix of cheeses. Fresh."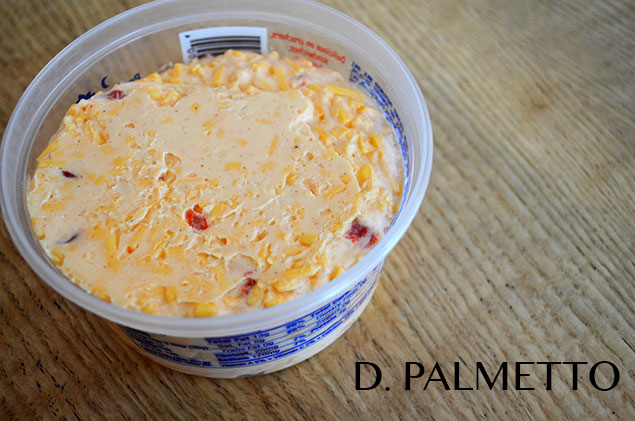 Ingredients: sharp cheddar cheese, cream cheese, mayo, sugar, lemon juice, natural flavors, pimentos, onions, spices, novagard, potassium sorbate.
"Here we go. Sharp on the end with a healthy kick."
"Like cold mac 'n' cheese. Not the worst thing. But not what I would want."
"Too sweet and slimy."
"Very creamy. Has a kick to it, which is nice. Pretty delicious."
"I think I just ate a tablespoon of mayo with onion and garlic powder."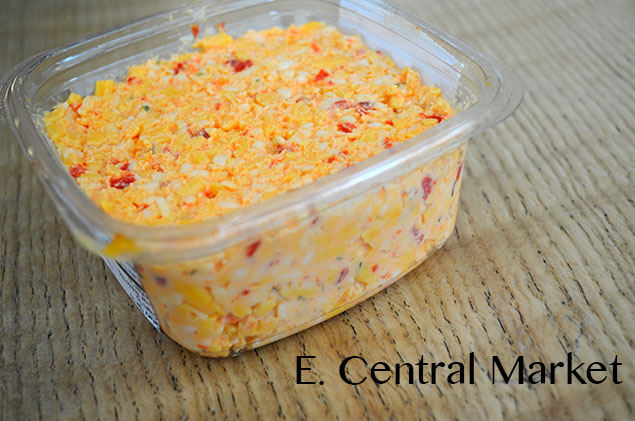 Ingredients: mozz cheese, cheddar, salt, calcium, chloride, powdered cellulose, mayo, pimentos, sugar, garlic, dill
"Way better taste than looks"
"Loads of red pepper, yet not enough cheese flavor"
"Man, this just tastes like cheese."
"Pretty neutral piment cheese, but it's at least not heavy on mayo"
"Really sharp tasting. Too much cheese, not enough everything else. Kind of pasty, also."

4 votes for (D) Palmetto
2 votes for (A) Empire Baking Co.
1 vote for (C) Kuby's
1 vote for (E) Central Market


Well, national brand Palmetto took the cake on this one. It definitely had the sharpest cheddary taste, the best mayo to cheese ratio, and no weirdness about it. Everyone immediately dismissed Festive Kitchen's pimento cheese, because it looked like it could actually glow in the dark. (To be tested later.) "That one's been dosed with some radiation!" cried Nancy, as soon as she saw it.
Empire Baking Co.'s had lots of dill and lots of… stuff. It was almost like a pimento cheese salad. Kuby's, on the other hand, had this big 'ole chunk of cheese still in there, that hadn't been processed. It was mild, heavy on the mayo, and a little too wet. My personal favorite was Central Market. It had a mix of mozzarella and cheddar chopped into small pieces. It was just the right amount of sharpness.
All caps recap:
THE SHARPEST CHEDDARY CHEESE: Palmetto
THE WETTEST: Kuby's
THE MOST RADIOACTIVE: Festive Kitchen
THE ONE WITH LOTS OF DILL: Empire Baking Co.
THE BEST MIX OF MOZZ AND CHEDDAR: Central Market
Get the SideDish Newsletter
Dallas' hottest dining news, recipes, and reviews served up fresh to your inbox each week.