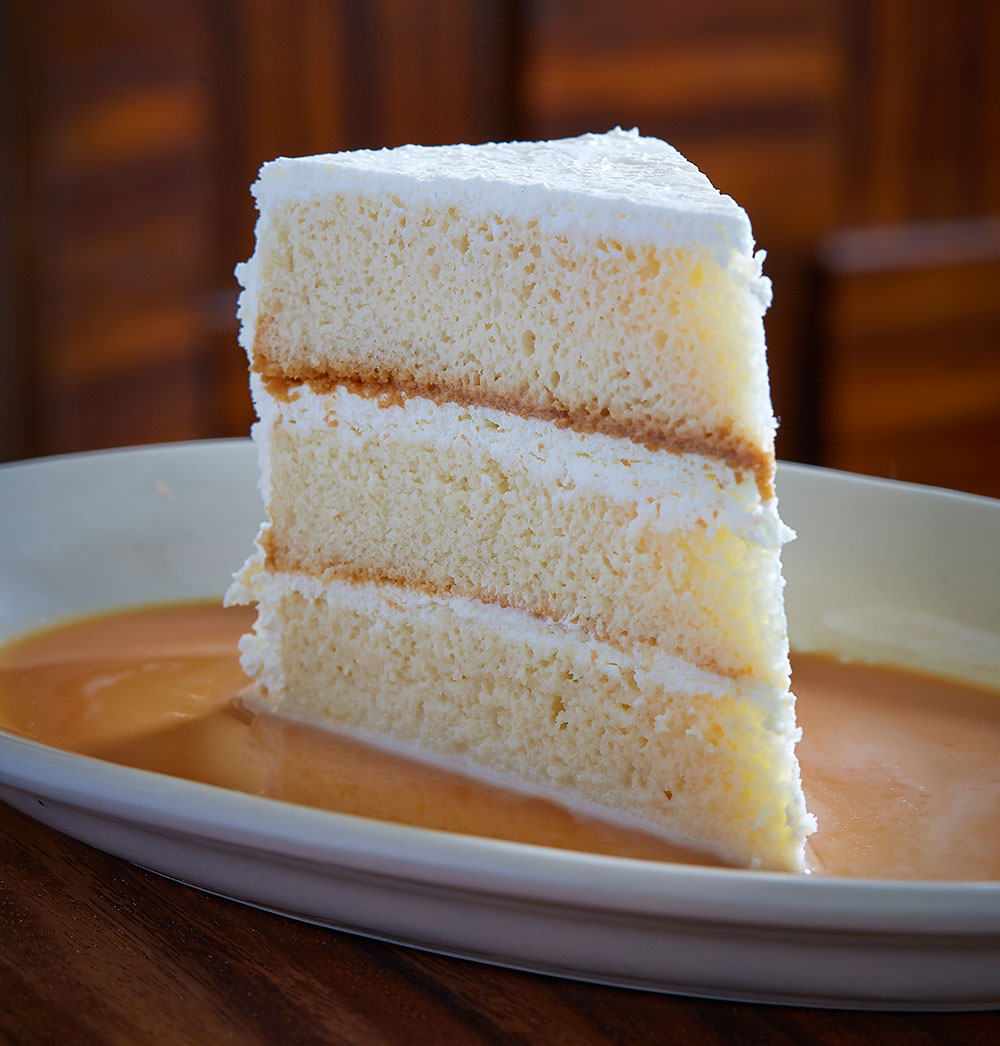 Bite Fight: The Best Tres Leches Cake in Dallas
We're looking for the best cake in town.
Every month, we compare multiple renditions of a single dish served at different restaurants and pit them head-to-head to find the winner.
A fine tres leches cake is a beautiful thing. When there's creamy vanilla sweetness coupled with a curious balance struck between light and rich, that's when you know you've hit the jackpot. Pastel de tres leches is a dessert with a history soaked in Latin American cross-culturalism, burgeoned by canned milk production in the 1940s, and widely popularized in Texas by the 1990s. Dallas is rife with restaurants offering their own take on this ubiquitous, fluffy dessert, often upping the ante by changing its nomenclature. To find out how many milks it really takes to exemplify this cake, I tasted the tres leches at the health-conscious Kozy Kitchen, the cuatro leches at the trendy La Duni Latin Cafe, and the cinco leches at 2013's Tex-Mex newcomer Mesero Miguel.
Kozy Kitchen
4433 McKinney Ave.
Although offering organic and local-sourced ingredients is a point of pride in Dallas' restaurant scene, Kozy Kitchen holds the unique distinction of composing a nearly complete gluten-free menu. Its tres leches cake, described lovingly to me by a friend as one of the best in the city, is no exception. The cake mix flour is an amalgamation of gluten-free sources: white rice, tapioca, arrowroot, and potato. And though my slice arrives before me with no fanfare or accoutrements—still chilly from refrigeration—it is texturally perfect. The dusting of cocoa on top functions as an afterthought; it does nothing to slow the sweetness of this monolith: a slice of sponge cake that retains moisture yet showcases texture. This is not a consolation prize for celiac patients, and there is no compromise in its construction that lends itself to the reluctant health-food dessert category. It is indulgent and creamy—a rice pudding dressed as a great tres leches cake.
La Duni
Multiple locations
Dining at La Duni has never been a favorite experience, but this Latin concept kitchen boasts a reputable bakery offering up a litany of award-winning cakes. Among them is the cuatro leches, an attractive confection that arrives at our table baptized in a pool of sauce, decorated with ribbons of Arequipe reduction and powdered sugar. Curiously, however, it is not technically a tres leches cake. "The cake itself is only made with one milk- regular," the waiter tells me. "The sauce is made with three milks." Although the generously poured puddle features evaporated milk, condensed milk, and Arequipe, it functions poorly as the pièce de résistance. One bite and it's clear the cake's languid bath in the sauce is purely ornamental. It is dry—painfully dry—like a manager's special pound cake decorated in expensive accessories. La Duni would've been better off investing all four milks into the cake itself, to produce a dessert that could live up to its looks.
Mesero Miguel
2822 N. Henderson Ave.
Mesero Miguel, Mico Rodriguez' latest venture at Knox-Henderson, boasts a cinco leches cake on its menu. Eager to discover the extra ingredients, I was disappointed to learn that it truly is a traditional tres leches cake that advertises its whipped cream topping and dulce de leche decoration as the additional milks. It feels similar to when stores mark up their merchandise before putting it on sale. A cheap marketing tactic. But Mesero Miguel didn't need to rebrand its cake to help it stand out. From the moment it arrives, it promises the next level of leches, quivering and jiggling at the slightest provocation. My friends jostled the plate obscenely, mesmerized by a cake so aerated and wet that its very structural integrity seems miraculous. Tasting it is a lesson in states of matter; a barely solid cake that dissolves into liquid immediately gives you the curious sensation of eating milk. "It's like ice cream," my friend marveled. If Mesero Miguel intended to advertise the moistest tres leches cake in town, they succeeded with ease.
Winner
It may not break records for ingenuity, but Mesero Miguel's cinco leches takes the cake this round. For gluten-free diners, Kozy Kitchen's tres leches is a solid choice.
Mimi Hoshut is an aspiring fiction writer and disorganized home cook.  When not scouring Dallas for the best Sichuan dry-fried green beans, she podcasts about fantasy novels and manages a healthcare practice to fund her love of dining.