Tomorrow is National Margarita Day…yes, a day to celebrate the classic combination of tequila, Cointreau (if you are a traditionalist) and lime, served on the rocks or frozen, with salt or without, simple with the classic combination or with a plethora of additions, from blood orange liqueur to pineapple juice, to muddling in jalapeno, cilantro, basil or mint, or adding mango or tamarind puree. If you are in the mood to celebrate this Margarita Day holiday here are a few cocktails to try.  A few spirit samples were given for editorial consideration.
There are many stories about who created the first margarita in history, but one of the most popular is from right here in Dallas. The story goes that Dallas socialite, Margarita Sames, was in Acapulco for the Christmas holiday and needed a cocktail to sip poolside with her friends in the late 1940's. She mixed tequila with Cointreau and a splash of fresh lime juice, pouring it over a salt rimmed, ice filled glass. Today the original version is still one of the best. Though typically made with clean floral and herb filled silver tequila, I often substitute Reposado, preferring a little bit more of an aged, slightly spicy, citrus tequila flavor.
The Original Margarita
2 oz. Blanco tequila, like Cabo Wabo Blanco
1 oz. Cointreau
1 oz. Lime juice
Preparation: Combine all ingredients in a mixing glass and add ice. Shake and strain into a Margarita glass. Garnish with a lime wheel and salt.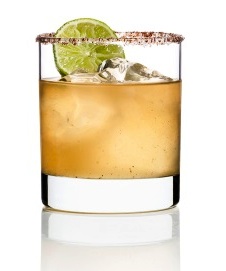 One of Margarita Sames dear friends was John Wayne, so a cocktail in his honor as we prep for the John Wayne Film Festival taking place in Dallas April 24-27
Rio Bravo
1 oz. Reposado Tequila, I love Herradura Reposado
1 oz. Bourbon, like Garrison Brothers Texas Straight Bourbon Whiskey
1 oz. Cointreau Noir
1 oz. Lime Juice
Preparation: Shake all ingredients with ice.  Strain over ice into a chile salt rimmed rocks glass. Garnish with chile salt and a lime.
I am a huge fan of Tamarind Margaritas, celebrating all that is Mexico in this slightly bitter, slightly sweet, slightly savory cocktail makes the tequila infused margarita an incredibly local drink of Mexico.  I had an incredible one recently while in Cancun, Mexico as a guest of the JW Marriott, Cancun.  Tamarind spice is used throughout the world, usually in Indian cuisines, but when the tree fruit is made into a paste or puree the ingredient gives richness, depth and wonderful flavor to Mexican favorites, like this south of the boarder cocktail. Mix it up with a batch of fresh guacamole and pico de gallo and enjoy.
Tamarind Margarita 
Recipe courtesy of JW Marriott Cancun Resort & Spa's Lobby Bar
1 ½ oz. silver tequila, like Cruz Del Sol
1 ½ oz. Triple Sec, like Cointreau
Juice of 1/2 fresh lime
Splash of tamarind pulp, available at specialty and Latin foods markets
Splash of simple syrup
Preparation: Put all ingredients in a shaker half-filled with ice and firmly 30 times. Pour the contents into a short glass that's been rimmed with salt, adding a few fresh ice cubes. Garnish with a slice of lime.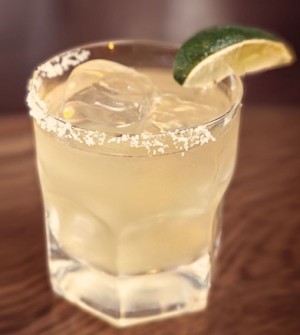 If you like a little spice in your margarita, William Grant &  Sons (the owners of such brands as Hendrix Gin, Milagro Tequila, Monkey Shoulder) just introduced a new spirit made with ancho chile, Ancho Reyes. Created by macerating ancho chiles with a neutral spirit made from sugar cane in very small batches for 6 months to create a heat filled, yet also somewhat floral, citrus, tamarind and herb filled liqueur, incredible when mixed with tequila and lime.
Anchorita
3/4 part Ancho Reyes
1 1/2 parts Milagro Silver Tequila
1 part Fresh Lime Juice
1/2 part Agave Nectar
Preparation: Using a lime wedge, wet the rim of an old fashioned glass, salt it, and set aside. Combine all ingredients in a cocktail shaker. Add ice, shake, and double strain over fresh ice into the glass. Garnish with a lime wedge
If you want something that is both sweet and spicy, with a light hint of floral and herbal notes try this one including clean Avion tequila mixed with spicy jalapeno infused St Germain.
Spicy Sage Margarita
2 oz. Avión Silver
3/4 oz. *Jalapeño-Infused Elderflower Liqueur, like St. Germain
1/2 oz. Orange Juice
1/4 oz. Lemon Juice
1/2 oz. Lime Juice
3/4 oz. Simple Syrup
3 Sage Leaves
1 Sage Leaf and Salt for garnish
Preparation: Muddle sage in a shaker. Add all ingredients. Shake. Double strain. Pour over ice in salt-rimmed glass. Garnish with sage leaf.  *Marinate one seedless jalapeño in a 750ml bottle of Elderflower liqueur overnight.
I think the savory sweet flavor of Solerno Blood Orange liqueur is one of the best flavors to mix with anything from fresh citrus juices to spicy tequila or herbaceous gin. Slightly stronger and more bitter than Cointreau, but not as bitter at Campari, the flavor beautifully can meld into your favorite aperitif or patio sipping cocktail.
Blood Orange Margarita
3/4 ounce Solerno Blood Orange Margarita
1 1/2 ounce Silver or Reposado tequila, like Partida
1/2 ounce fresh lime juice
Splash fresh orange juice
Splash agave – optional (I don't like super sweet cocktails so I didn't need this addition with the orange juice.)
Preparation:  Add all ingredients to an ice filled cocktail shaker and shake until very cold. Strain into a coup or martini glass.
Get the SideDish Newsletter
Dallas' hottest dining news, recipes, and reviews served up fresh to your inbox each week.