Utilizing culinary techniques steeped in Mexican and Mayan culture, Meso Maya is known for flavors that are fresh, bold and robust. From the hand-crafted tortillas to the chocolate mole sauce, everything is made in-house, ground by hand, and finalized with care. Recently, executive chef Nico Sanchez expanded the restaurant's menu with new traditional dishes, and further refined its current offerings. I was lucky enough to be invited for a tasting. The result is astounding flavor, and a window to a culinary experience that many never knew existed.
Set in the historic Luna Tortilla factory, Meso Maya boasts an extensive tequila and mezcal menu, in addition to some of the most desirable Latin-based cocktails in Dallas. The picturesque Mexican Martini features a partially salted rim, fresh squeezed lime juice, Cointreau, and el Jimador reposado tequila. The Avocado Margarita possesses an enticing mouthfeel, provided by hand-mashed avocado, which is subsequently strained and blended with pineapple juice and top shelf tequila blanco—an unlikely combination that works brilliantly!
Wood-blistered tomatoes provide an earthy, fiery, and smoky flavor to the salsa, enhanced with garlic and onion. The Ceviche Mixto, a combination of Mazatlan white shrimp, striped bass, jicama, tomatoes, cilantro and avocado, was light and refreshing. Chicharrones, consisting of of kurobuta pork jaw and queso de rancho, were served in warm, fresh white corn tortillas. Fatty, tender and delicious, they reign as my "go to" every visit.
For those seeking lighter fare, traditional sopas y ensaladas are abundant. Try the pozole verde, a comforting tomatillo-based chicken soup with hominy, cilantro, poblano peppers, queso fresco and ample lime juice.
The Chuleta de Puerco is not to be missed, predominately for its smoky, wood-grilled flavors. Paired with a fire roasted pipián rojo sauce, the bone-in chop was tender and juicy, accompanied by traditional elote and a blend of fresh vegetables, known as calabacitas. The kobe beef was perfectly cooked medium rare and flavorful, but I'll likely opt for the carne asada during my next visit.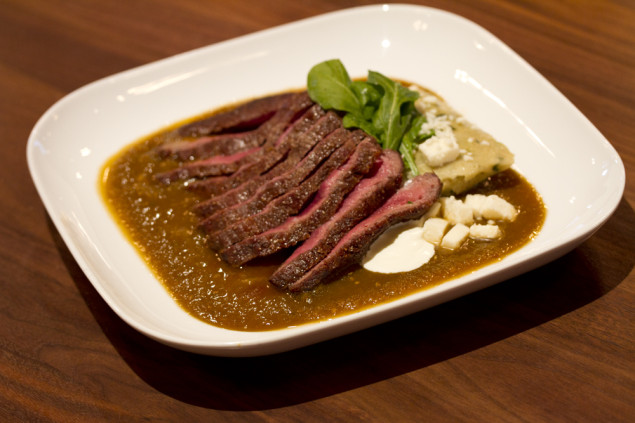 For parties of two or more, there is no better way to adjourn than with the "Postre Sampler": mini-sized portions of three signature desserts. The Pastel de Moras is a skillet-baked blueberry cake with Mexican vanilla ice cream and blueberry drizzle. The Flan de Queso is a traditional Mexican egg custard with cream cheese, sugar cane caramel and dark rum whipped cream. The pastel de chocolate is a warmed Oaxacan dark chocolate cake with fresh corn ice cream and a warm chocolate rum sauce. All are decadent in isolation, but the trio makes for ideal conversation amongst friends.
Chef Sanchez is the perfect mix of purist and perfectionist, which leads to a cerebral experience. Manager Hugo Miranda provides a friendly face at the door, while extensively trained servers (Carlos, in this instance) ensure guests have a uniquely educational adventure. Perfectly housed in one of the last standing buildings of Dallas' "Little Mexico," Meso Maya respectfully pays homage to the traditions of Mexican and Mayan culinary history.
Get the SideDish Newsletter
Dallas' hottest dining news, recipes, and reviews served up fresh to your inbox each week.