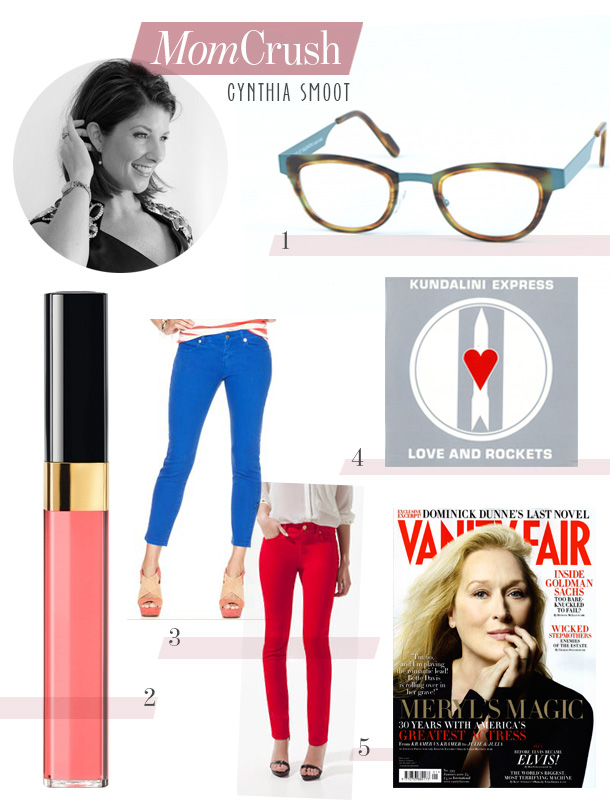 Who she is: PR and marketing maven and mom Cynthia Smoot.
Why we love her: In addition to spending her days creating interactive social media strategies and handling media relations for clients as a partner at Gangway Advertising, the mom of one also regularly hits the town to cover food, fashion, events, tastemakers, and business deals for her widely-read lifestyle blog, Oh So Cynthia.
Herewith a peek into Cynthia's world.

On heavy rotation: My life is so chaotic and busy that when I get in the car I do not listen to music. I LOVE the silence. But when I DO listen to music, I like sounds that soothe the soul like Michael Buble, Adele and Corrine Bailey Rae. When I want to be energized, there's nothing like the Alternative 80s sounds of INXS, Erasure, Love and Rockets, The Smiths and Depeche Mode.
What she's reading: I'm reading blogs all day long for the agency and magazines at night to stay on top of trends for the blog. I gave up on books a long time ago! Online reading will never replace the thrill of flipping through a glossy magazine for me. I never miss an issue of Southern Living or Vanity Fair. And D Magazine, of course!
Always in her handbag: A Chanel Glossimer and 86 other tubes of lipstick. I am always on the hunt for the "perfect" color, knowing full well it doesn't exist, my Anne et Valentin glasses from Occhiali (at 45 I can't read a thing without them), Serpico sun shades by Smith, peppermint gum (I am a stickler for fresh breath), iPhone – this is my life. I am currently obsessed with the Uber app. I love this new car service! As many events as I go to, it's great to take Uber and not have to mess with valet or worry about driving after a cocktail (or two), Cannon PowerShot Elfp 300 HS because you never know when I might run into a celebrity or see something cute in a store I want to feature on my blog or I want to capture a momnt of my son's life. It's the size of a small wallet and shoots hi-red HD photos and video, business cards.
Her uniform: Skinny jeans – whether they are solid colors (a have a stack of colored jeans in my closet that looks like a crayon box because I have so many colors and shades of colors!) or prints (this Summers twist on last Summer's solids) a skinny jean can be dressed up with a jacket and a heel for a day of meetings or worn with a Tee and a pair of Toms flats for a casual day in the office or running errands.
Her go-to restaurants: Hillstone at the Plaza at Preston. The food is always delicious, the atmosphere is top-notch and it's fantastic people-watching! We just went there a few weeks ago for our 14th Anniversary (with my son) and had the best time dining at the bar. They had a piano player pounding out big band tunes. I entertained myself by trying to stump him with obscure tunes and my son had a wonderful time taking my requests over to him with dollar bills. I have dreams about that Grilled Artichoke…
Favorite Family Outing in Dallas: Hands down it's the State Fair of Texas. It's a fried food fest like none other. First stop is always the Flethcher's stand for a Corny Dog slathered in mustard. My son loves the Midway with the games and rides. My husband and I love the wacky exhibit like the Butter Sculpture and seeing what canned foods and pies won blue ribbons. They always have fun exhibits like the Bird Show and the Automobile building where you can see all the newest models. This year we can't wait to go and welcome back Big Tex who has spent the past year at a spa recovering from his fiery accident last year.
Her tip for balancing work and family: Oh, if only there was a magic formula! I follow the motto of "quality over quantity". As a working mom I just can't make every single practice or school party and you just have to get to a point where you're okay with that. The guilt will eat you alive if you let it. I make sure to attend whatever is "important" to my son. I have the most amazing husband who is great about helping my almost 8th grader with homework (which is so great because it's sort of beyond me at this point) and is very involved with his lacrosse teams. Having a supporting and involved partner is everything!
Get the D Brief Newsletter
Dallas' most important news stories of the week, delivered to your inbox each Sunday.