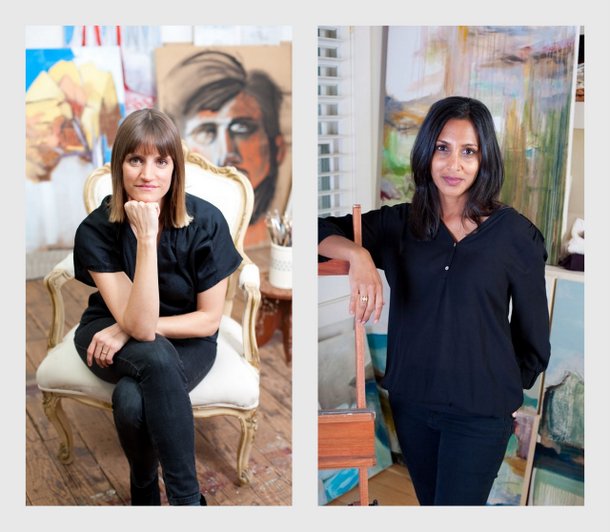 Who they are: Mixed-media artists and moms Erika Jaeggli and Sonali Khatti.
Why we love them: The two women boast serious art cred (Erika received her graduate degree at New York University's Tisch School of the Arts and studied painting under John Currin at Columbia; Sonali earned her B.F.A. from the Rhode Island School of Design and a post graduate diploma in Asian Art from the University of London), are making compelling, thoughtful works while raising their young families (no easy feat), and are committed to creative collaboration and using art as a way to better the community… Enter Remnant, a joint exhibit of the women's work featuring their use of actual and metaphorical remnants as they explore the things left behind after the greater part has been "used, removed, or destroyed."
Remnant is at Janette Kennedy Gallery through May 12, with an artists reception this Saturday, May 4 from 6-8:30 p.m. supporting Dallas Children's Advocacy Center (DCAC). A portion of the evening's sales during the reception will be donated to the DCAC, and guests can also participate in a collaborative collage that will be donated to the new DCAC facility.
Herewith a peek into Erika and Sonali's worlds…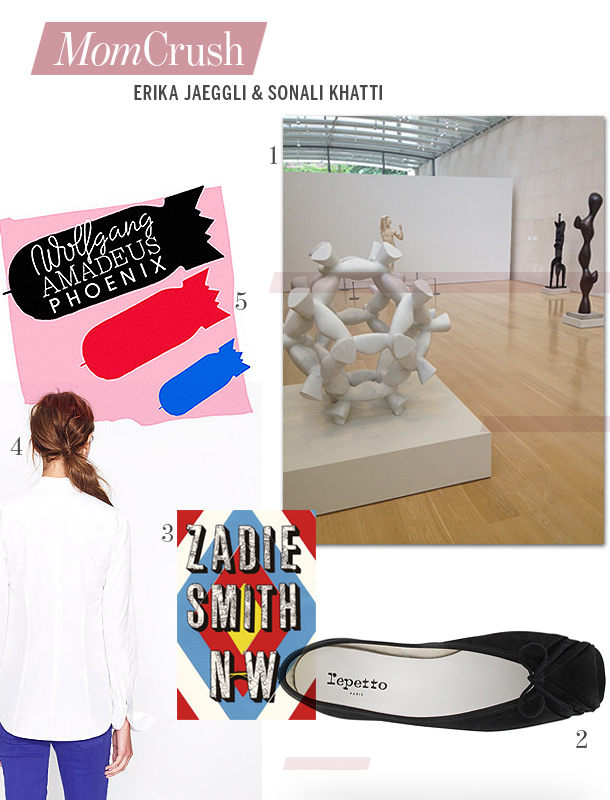 (Erika and Sonali's picks: 1. The Nasher 2. Ballet flats 3. Zadie Smith 4. White button down 5. Phoenix)
ERIKA'S WORLD…
On heavy rotation: Bon Iver, Phoenix, Hospitality
What she's reading: NW by Zadie Smith
Always in her handbag: Headphones
Her uniform: Belted shirt dress and Puma sneakers
Her go-to restaurants: Taco Joint
Favorite family outing in Dallas: Exploring all the hidden streams that lead to White Rock Lake
Her tip for balancing work and family: Creative work needs to be treated like any other kind of work – give it your best hours during the day and leave it in the studio at night. When I get home to my kids, I leave e-mailing, social media, and communications for the late night or the next day. We try to have dinner together as a family as much as possible.
SONALI'S WORLD…
On heavy rotation: I go through phases of what I like to listen to…at the moment I'm listening to the Stone Roses.
What she's reading: Oleander Girl, by Chitra Banarjee Devakaruni
Always in her handbag: I always have hair ties, Chapstick & epi-pen (for my son)
Her uniform: Dark denim skirt or jeans, white button down shirt, ballet flats
Her go-to restaurants: Mimi's pizza, reminds me of home.
Favorite family outing in Dallas: My kids and I love going to the Nasher sculpture garden.
Her tip for balancing work and family: My strategy for balancing creative work and family life is keeping the two separate.  I focus on my work when the kids are at school.  Once 3 p.m. hits, I shift gears.  This strategy puts me first when I am alone and able to paint without distraction, and puts my family first when they are at home.
Get the D Brief Newsletter
Dallas' most important news stories of the week, delivered to your inbox each Sunday.