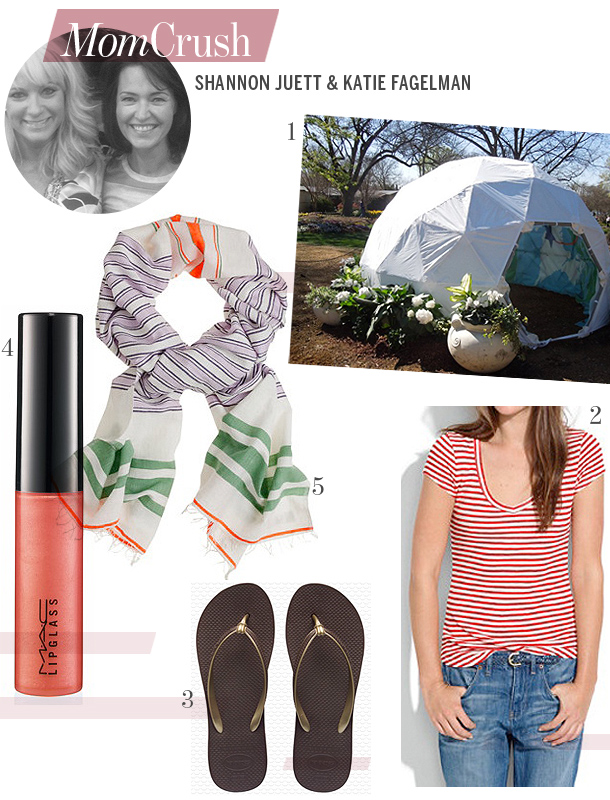 (A Few of Shannon and Katie's Essentials: 1. Dallas Arboretum 2. Madewell striped tee 3. Havaianas flip flops 4. M.A.C. Lipglass 5. J. Crew scarf)
We're doing a little something different today for our "Mom Crush" and featuring two Dallas moms that have joined forces to co-chair an event honoring the teachers at their children's school. They are crush-worthy because of their enthusiasm, energy, drive, collaborative spirit, creativity… But what sealed the deal is the fact that they represent so many moms I know who are working full-time or at home managing kiddos and schedules and logistics with an efficiency and attention to detail that would put NASA's Mission Control Center to shame. And they don't stop there. These powerhouse mamas all over our fair city take things a step (or ten) further and chair committees, concept fundraisers, and execute events to help better our communities in hugely meaningful and lasting ways.
In the case of moms Katie Fagelman and Shannon Juett, the event in question is the 60th anniversary St. John's Teacher Appreciation Tablescape Luncheon. Over the past year, in addition to their careers as the entrepreneur behind Little Play Spaces (Katie) and Vice President/Sales Director for STAK Design (Shannon), the women have lead a team of St. John's parent volunteers in planning this event designed to honor their teachers and staff. In honor of the event, we asked the ladies to share tips for all the rest of you amazing mamas out there who might want to do something similar for your own kids' schools. We also asked them to share some of the things that keep them sane (i.e. family outings, Tangle Teezers, and early morning alone time).
Here's what we learned…


The Luncheon:
Tell us about this year's luncheon.
Our Teacher Appreciation Tablescape Luncheon is planned and hosted by parent volunteers to honor the teachers and staff. Parents work together in small groups to create amazing tablescapes for each table. And at the luncheon, the artistic volunteers dress in costumes complementing their tablescapes. Each year, the volunteers design the tablescapes around a theme; this year's is "A Period in Time," in which we'll have tables representing eras like the Rat Pack, Ancient China, 70's Disco, French Impressionism, and the Stone Age.  
What would you recommend for other parents wanting to launch a similar event at their children's schools?
Keep it simple and don't set the bar too high at first. Let it grow into something. You want willing volunteers, and folks tend to get frightened about 'being creative', so perhaps reach out to those designer, decorators, architects, and artists at school to get the ball rolling. Each year the chairs for the luncheon write up post event notes and suggestions which is essential for those coming in to chair the following year. And as with any event, choose a theme early so your enthusiastic parents can plan accordingly. 
What lessons have you learned this year while planning the event? Would you do anything different?
Don't be afraid to ask for volunteers. When you have teachers as fantastic as ours, there are always people willing to help do something special for them – they just need a leader. Someone to take charge and organize the event. And have fun! It's such a fun event to plan and host.
The Ladies:
A Peek into Katie's World
Her uniform: Striped tops and jeans for about the last 25 years, only now I'm in my 40s I seem to be adding scarves a lot.
Always in her handbag: Random pairs of sunglasses, tissues, receipts, a pencil case, the Tangle Teezer (eliminates the torturous chamber sound effects when brushing my oldest daughter's hair), TicTacs, a scarf, and usually a kid's odd sock.
Favorite family outing in Dallas: It is a toss-up between the Dallas Zoo and the Dallas Arboretum.
Her tip for balancing work and family: Get up a few hours earlier than the rest of the household to get lunches made, homework packed, forms filled out, work emails answered, and maybe even a cup of tea while catching up on a DVR show (if you're lucky). There was a time when we were all running around like headless chickens, yelling to pack this and crying about lost (essential!) items for school and barely giving kisses before racing out the door for carpool. Not now – well, not so much.
*******
A Peek into Shannon's World
Her uniform: Black pants, comfortable blouse, and high-heels. (And I always have a pair of flip flops handy for after-work soccer games with my kids!)
Always in her handbag: My MAC lip gloss and one of my daughter's hair bows.
Favorite family outing in Dallas: With us being able to walk to White Rock Lake from our house, we like to take bread and feed the ducks.
Her tip for balancing work and family: Traveling internationally for work and being very involved in our school, life is always crazy, but I try to stay focused on one task at a time. It is also important for all moms to remember to keep yourself as a priority as well – schedule some time for yourself…You will be a better mother because of it!
Get the D Brief Newsletter
Dallas' most important news stories of the week, delivered to your inbox each Sunday.