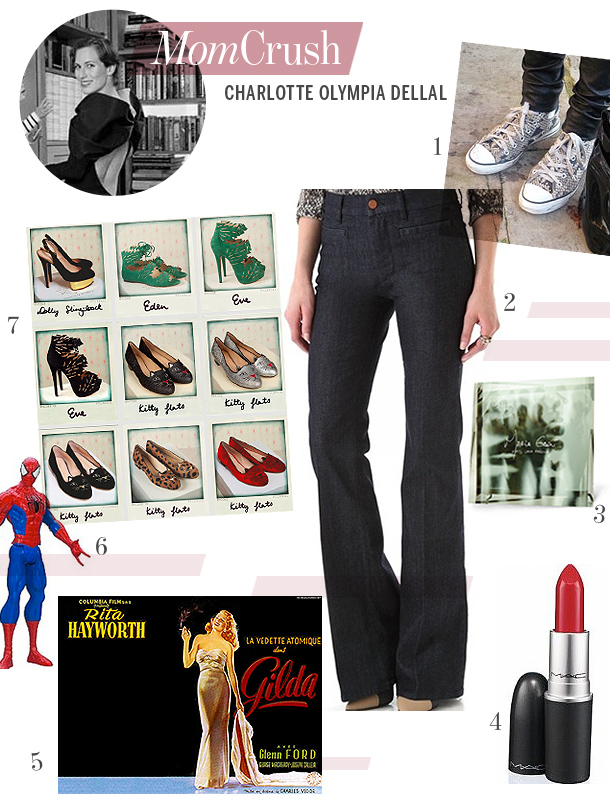 (Charlotte's Favorites: 1. Converse 2. High-waisted flare jeans 3. Maria Gadu 4. MAC Russian Red 5. Rita Hayworth 6. Superhero figurines for her boys 7. Classics from her line)

Who she is: Charlotte Olympia Dellal, shoe designer (her eponymous line is regularly sported by fashion "It girls" like Alexa Chung, Jessica Chastain, and Victoria Beckham), and mom of Ray (4) and Ike (1). She's expecting her third child in September.
Why we love her: Raya and I had a chance to sit down with the designer last week when she was in town for a personal appearance at Neiman Marcus NorthPark and walked away from our chat totally smitten. Dellal was a study in contrasts, with her fitted pale pink frock, pin curls, luminous skin, and classic red lip balanced by a quick wit, a mellow demeanor, and a staunch devotion to fondness for cold beer and Converse kicks. The combined effect was immensely appealing and, without a doubt, mom crush worthy.
Herewith a peek into Charlotte's world.
You launched your business the same year you had your first son. What was that like?
I was fortunate to own my own business so I could structure things the way I wanted. I brought my baby to work a lot and just kind of got on with it. It also helped that my mother and my mother-in-law were living near by. They were very involved. 
Your designs are super feminine, yet your the mom of two young boys. Do Ray and Ike inform your designs?
Coming home to dinosaurs and superheros is a good balance, and my older son loves my spiderweb logo (it reminds him of Spider Man), so the two worlds just blend. Creativity is part of our everyday life.
You're incredibly pulled together. What do you wear to the park? Do you own jeans?
I have one pair of dark denim, high waisted jeans, wide leg jeans, but they're dressy. I have to wear heels with them. For a trip to the park, I wear cropped pants and converse. I have a huge collection. They're my favorite shoe besides my own designs.
What's always in your handbag?
Red lipstick (either MAC Russian Red or Revlon Just Bitten lip stain), two little plastic figurines — a superhero for Ray and Micky Mouse for Ike (I also carry them when I'm traveling to remind me of the boys), rice cakes (they don't go stale), wipes (I always have wipes), my iPhone, a mini notebook, a pen, and a current look book. I'm a very compact "packer." When you have kids you realize what you really need.
You're mother is a former model. How did she influence your personal style and your approach to motherhood?
My mother is very glamorous. She loves old movies and Agatha Christie. She definitely passed those passions on to me. She stopped working when we were young was a great mother, so when I had kids it was important for me to structure my business so I could be at home with them as much as possible. My office is just five minutes from my house. It makes it very easy to go back and forth. I love what I do. I've always wanted to have my own business and have kids, so I feel very lucky that I'm able to do both.
Get the D Brief Newsletter
Dallas' most important news stories of the week, delivered to your inbox each Sunday.