In 2003, online sales as a percentage of total retail sales equaled only 1.6 percent. That same year, Dallas-Fort Worth's retail market showed a vacancy rate of around 11 percent.
The resulting DFW retail occupancy rate of 89 percent was and is considered healthy, particularly for a huge market that, at the time, had more than 147 million square feet of retail inventory. In the 15 years since, online sales have grown to be an estimated 10 percent of total retail sales. During the same decade and a half, DFW's retail inventory has added more than 50 million square feet and today stands at 200 million.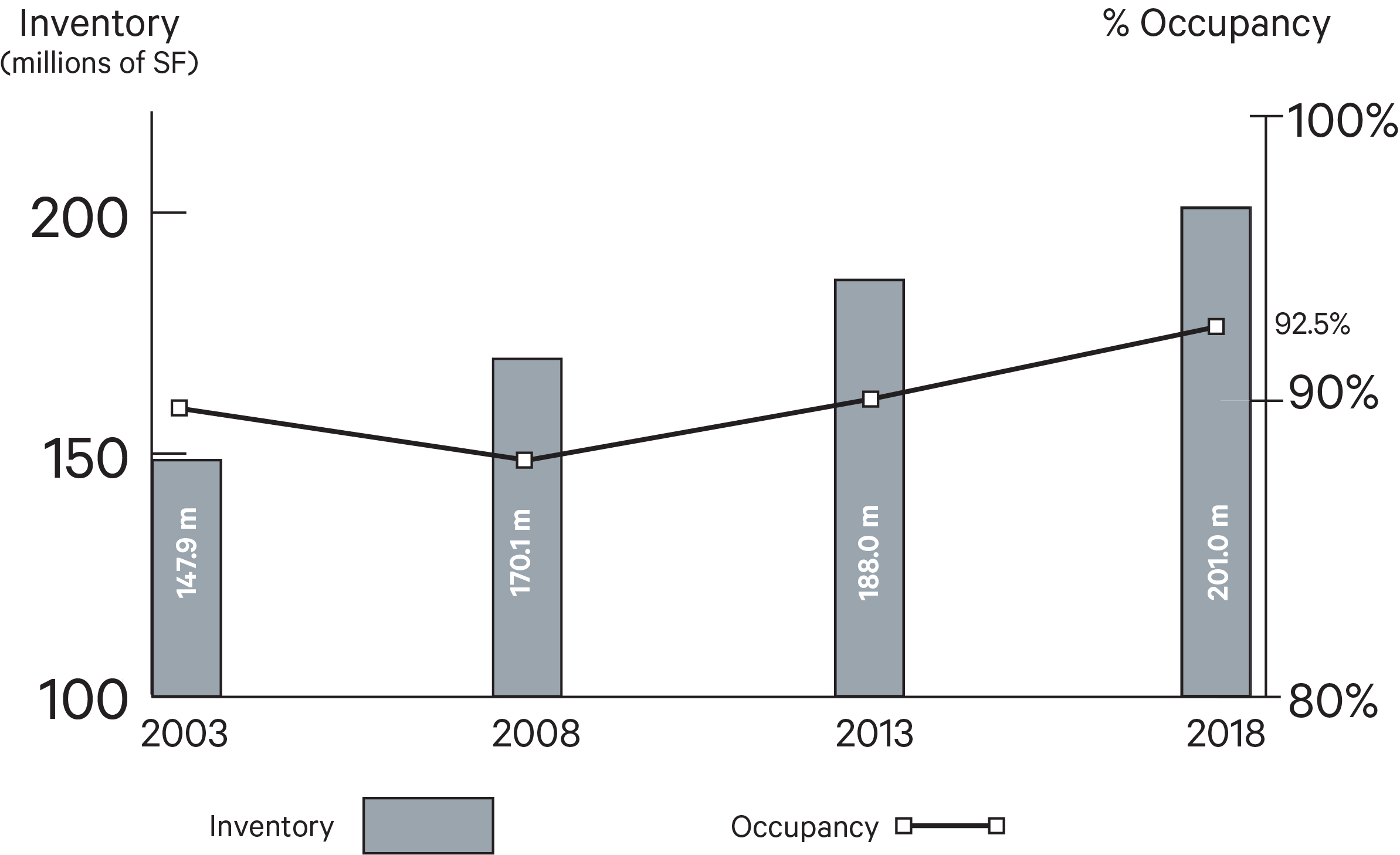 And our vacancy rate? It's right at 7.5 percent, for our healthiest retail market in terms of occupancy in three decades! So how is it possible that we are healthier today in a climate where online sales are growing and legacy retailers like Toys "R" Us and Sears are closing stores?
It's possible because retail is evolving. Those who focus only on store closings of failed retailers like Toys "R" Us are missing the big picture. The big toy store of yesterday may no longer be viable, but children's retail still is. Just look at the popular Crayola Experience Plano, Sea Life Grapevine and Legoland Discovery Center, or KidZania under construction in Frisco and Altitude Trampoline Park underway in Fort Worth. These examples of experiential retail are just a few of the many reasons why today's Texas major-metro retail markets are healthier than they've ever been.
Today's expanding concepts are focused on internet-resistant offerings like food (grocery and restaurants), entertainment, fitness, beauty, services, medical, dental, and other concepts that are hard to duplicate efficiently, if at all, online.
This new wave of retail is adding new strength to our retail market. And today's new construction is demand-based, with little or no speculative space. This statewide low-construction environment means that today's healthy retail demand is outpacing construction and driving the absorption of existing vacancies.
Here in DFW, we've added on average a little more than 3 million square feet a year over the past 15 years. For 2018, our retail construction in DFW is on track to total around 3.5 million square feet, which falls right into our 15-year average.
That's not overbuilding by a long shot—especially for an economy like ours that is adding 146,000 people a year, reports unemployment well under 4 percent and that ranks as one of the nation's most active homebuilding markets for both single-family and multifamily units!
Retail follows rooftops, as always, but today we're seeing on average a lot more rooftops than retail square footage. That's not to say that all you have to do to lease a project is put up a sign. If your project is outdated or even at the wrong corner, it can suffer.
Take the hot restaurant market. Restaurants at one corner of an intersection will thrive while another will suffer and close across the way. Because even with all the changes—click-and-pick-up, experiential retail, mixed-use—one thing remains the same: location, location, location, combined with the added benefits of customer experience, dedicated service, and digital marketing.
What we see here in DFW is playing out across the state, where all of our major metros are seeing strong population, housing, and job growth. Our new mid-year 2018 retail report shows:
Austin is tops among Texas' major metros with 96.1 percent occupancy, yet the market still reports only 700,000 square feet being added this year to an inventory of 49.5 million square feet.
Houston occupancy is a strong 95 percent, with construction of only 2.8 million square feet being added to a market inventory of 160 million square feet.
San Antonio occupancy is a healthy 95 percent, yet the market is adding less than 300,000 square feet—an incredibly low construction total—to an inventory of 46.1 million square feet.
These markets all have a number of major retail projects in the works. San Antonio, for example, should see retail construction much more active in 2019 and, especially in 2020.
Herbert Weitzman is founder and executive chairman at Texas-based Weitzman, the largest retail brokerage firm in Texas.
Get the D CEO Real Estate Newsletter
Get weekly updates on breaking commercial real estate news and relevant industry reports.