The Dallas-Fort Worth industrial market is gradually moving into a recovery stage, and signs of the market's emergence from the economic recession are beginning to appear. Vacancy rates have been ratcheting down over the past year, as large distribution space users lease large blocks of space and, except for the occasional build-to-suit or user-built project, construction activity remains largely dormant. Modest improvements in occupancy rates have been accompanied by a recent uptick in asking rental rates.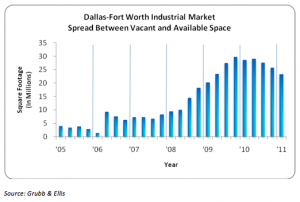 However, one of the interesting trends taking place in North Texas is the declining spread between total vacant space and total available space in the industrial market.
From 2005 through early 2008, the spread between vacant and available space ranged from 3 million to 10 million square feet, with an average of about 6 million square feet. During the depths of the economic recession, many tenants went out of business, consolidated their space needs into smaller spaces or deferred signing new leases. As a result, the spread between vacant and available space on the market grew, until reaching a peak of 30 million square feet at the end of 2009.
But lately, the vacant/available spread has been falling; it stood at 23 million square feet at the end of the first quarter of 2011, a 22 percent drop from its peak. In fact, the local market's drop in the vacant/available spread is outperforming the national spread, which has remained unchanged in the last year—another indication that the North Texas industrial market is entering recovery mode and leading most other major metropolitan areas.
As employment growth gains strength during the year, expansion continues in the manufacturing sector, and Texas exports remain above their year-ago levels, we should expect additional improvement in the region's industrial market.
Click here for more details, and for information on the national vacant/available spread.
Moody Younger is executive managing director for Grubb & Ellis, overseeing the firm's activities in Texas, Oklahoma, Arkansas, and northern Mexico. Contact him at [email protected]
Get the D CEO Real Estate Newsletter
Get weekly updates on breaking commercial real estate news and relevant industry reports.