The journey North from Los Angeles to San Francisco on California's Pacific Coast Highway—"PCH" as we Cali natives call it—is renowned as one of the most scenic road trips in the U.S. Many of the smaller coastal towns that dot this route are among the state's hidden gems, offering flavorful food, historic missions, luxury lodging, and relaxing beaches.
A four-hour drive from Los Angeles or San Francisco, or a short 3-hour flight from DFW Airport, San Luis Obispo county makes for an excellent stop mid-road trip or a destination all its own. Encompassing California wine haven Paso Robles, 80 miles of beautiful beach alongside coastal towns like Morro Bay and Pismo Beach, and even historic Hearst Castle, the central coast region has something for everyone. I'd recommend a stay at Hotel Cerro in the heart of San Luis Obispo's downtown. The boutique luxury lodging houses 65 rooms and suites, a rooftop pool, spa, and its own garden, filled with edible botanicals that inspire many of the plates at the hotel's in-house eatery Brasserie SLO. Another option for luxury lodging is Hotel SLO, also located downtown.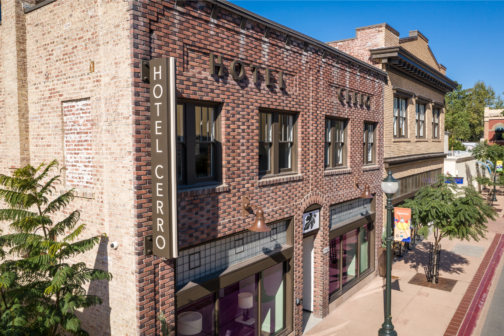 Start your day at Scout Coffee Co. across the street, then wander through downtown's many shops, restaurants, and cafés with a cappuccino and Scout's signature giant cookie—oatmeal, three kinds of chocolate, and toasted pecans—in hand. On Thursdays, enjoy the farmer's market that takes over the streets and highlights locally produced olive oils, fresh fare from the area's restaurants, and more. Peruse the many booths and be sure to purchase some local goods to take home as souvenirs, including all-natural skincare products from FableRune (its facial cleanser is a game-changing addition to any nightly routine), olive oil from any of the many local vendors—sample bites from local restaurants, including Novo Restaurant & Lounge. I'd recommend the Salmon Bisque and the Fresh Avocado Spring Rolls. A Tri-Tip Sandwich from F. McLintock's is also a must-try, featuring a triangular cut of meat from the sirloin portion of the beef, a cut not typically found in Texas. Bring some fresh produce from local farm Hayashi Fruit Stand back to your hotel for a snack later, or choose some florals from Farmermaid to adorn your room.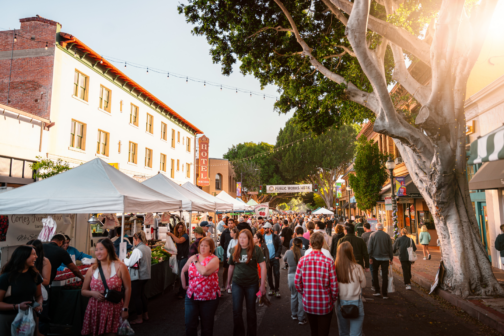 Adventure is available both North and South of SLO proper. Head north to Morro Bay, known as the Gibraltar of the Pacific and renowned for the large volcanic rock near the beach. Take a two or three-hour cruise of the bay on Papagallo II, keeping an eye out for local wildlife, including migratory gray or humpback whales that appear from December to May, pelicans, sea otters, cormorants, blue herons, egrets, sea lions, and more. Reserve time with local singer-songwriter Loren Radis aboard and bring some bubbly for an adventurous afternoon on the water. Sample a plate of Morro Bay oysters from any of the restaurants surrounding the dock for a refreshing snack.
Even further north, near San Simeon, lies Hearst Castle, the former estate of media mogul William Randolph Hearst that at one time spanned 270,000 acres. He had 32 homes, seven of this size. The unfinished castle, which Hearst spent 28 years building with the help of architect Julia Morgan, houses 165 rooms, more than 20,000 pieces of invaluable art, a large two pools, and more. It is a 65,000-square-foot, 35-bedroom, 42-bathroom oasis. Much of the land has since been sold to the military for a training base. A portion of it is still used as a beef farm, and its organic, grass-fed cuts are sold in select locations in Los Angeles.
At its height, the property also housed a 2,000-acre wildlife preserve and zoo, but the animals were largely lost during the Great Depression and WWII, except for a herd of zebra that were able to survive in the neighboring hills. Around 200 wild zebra still roam the property today. In the late 60s, you could have walked through the castle's grounds led by my great grandfather, Alfred Jones Sr., who was a tour guide at the property for a handful of years. Today, I'd recommend expert Jim Allen, who has been giving exclusive tours at Hearst Castle since the late 70s.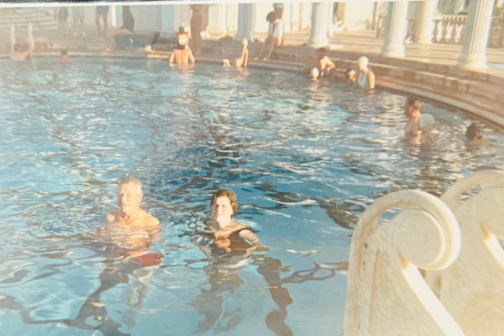 Allen will guide you through the property's two guest houses, one of which has ceilings made with 22-karat gold leaf, as well as the main house (called Casa Grande) and its corresponding wine cellar, two rooms with iron vault doors that Hearst continued expanding during Prohibition. The cellar still houses the family's antique liquor collection and the remainder of Hearst's wine collection, which includes a few California wines and many more French and German varietals. Allen says sometimes members of the Hearst family still return to the property to retrieve their bottles of choice for special events. A tour with Allen also offers a moment on the castle rooftop, overlooking the hillside and Pacific Ocean and a look at the property's two stunning pools.
The property's outdoor hilltop Neptune Pool is 104 feet long, ringed by Italian statues, and lined with Vermont marble at its basin, gutters, and alcove. The original pool and its renovations were built between 1924 and 1936. A second pool, The Roman Pool, was constructed indoors from 1927–1934 and resembles a Roman bath. It is surrounded by eight Italian marble statues carved beginning in 1930 by artist Carlo Freter and blue and orange mosaic tiling with gold-fused inside to create a mural by artist Camille Solon.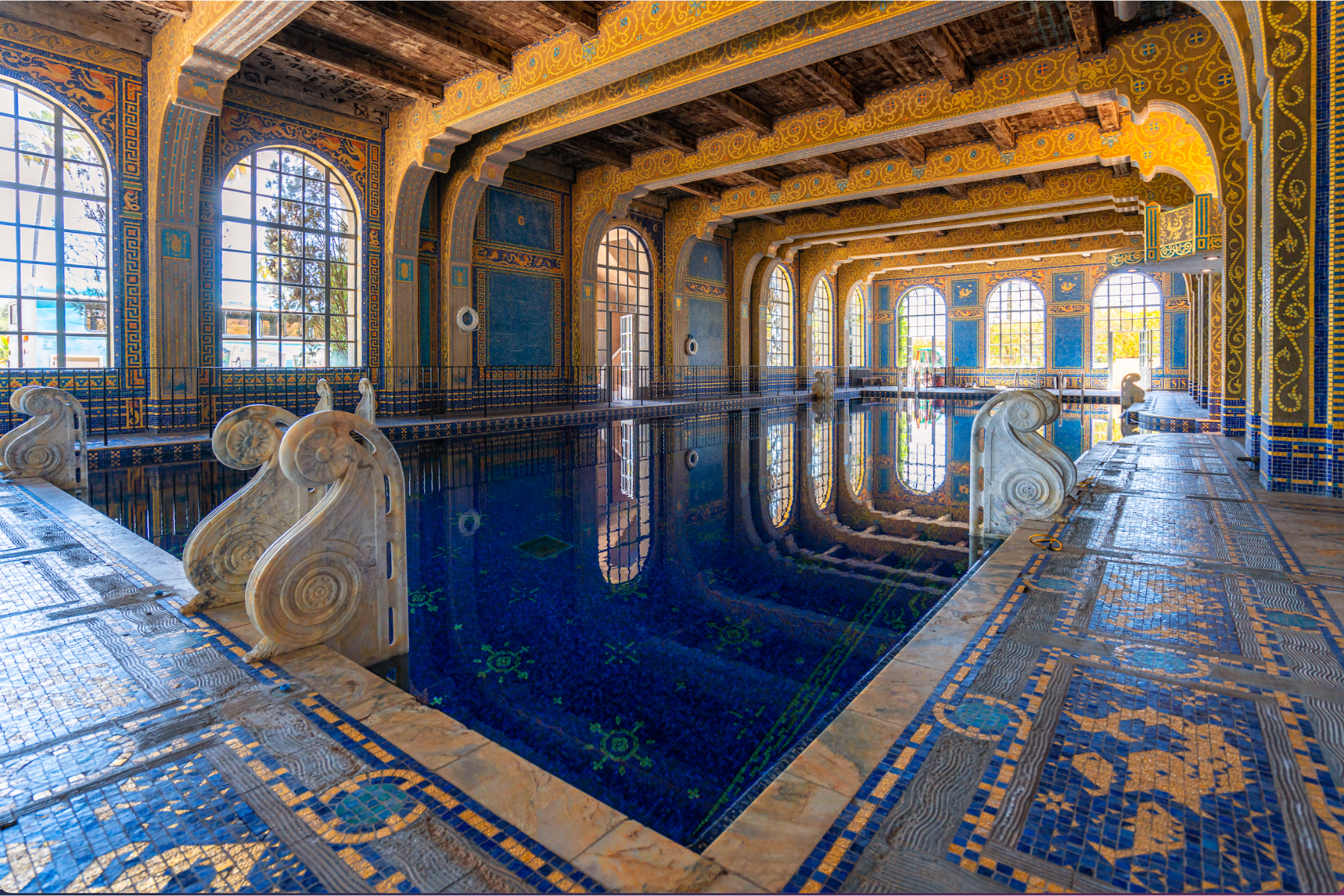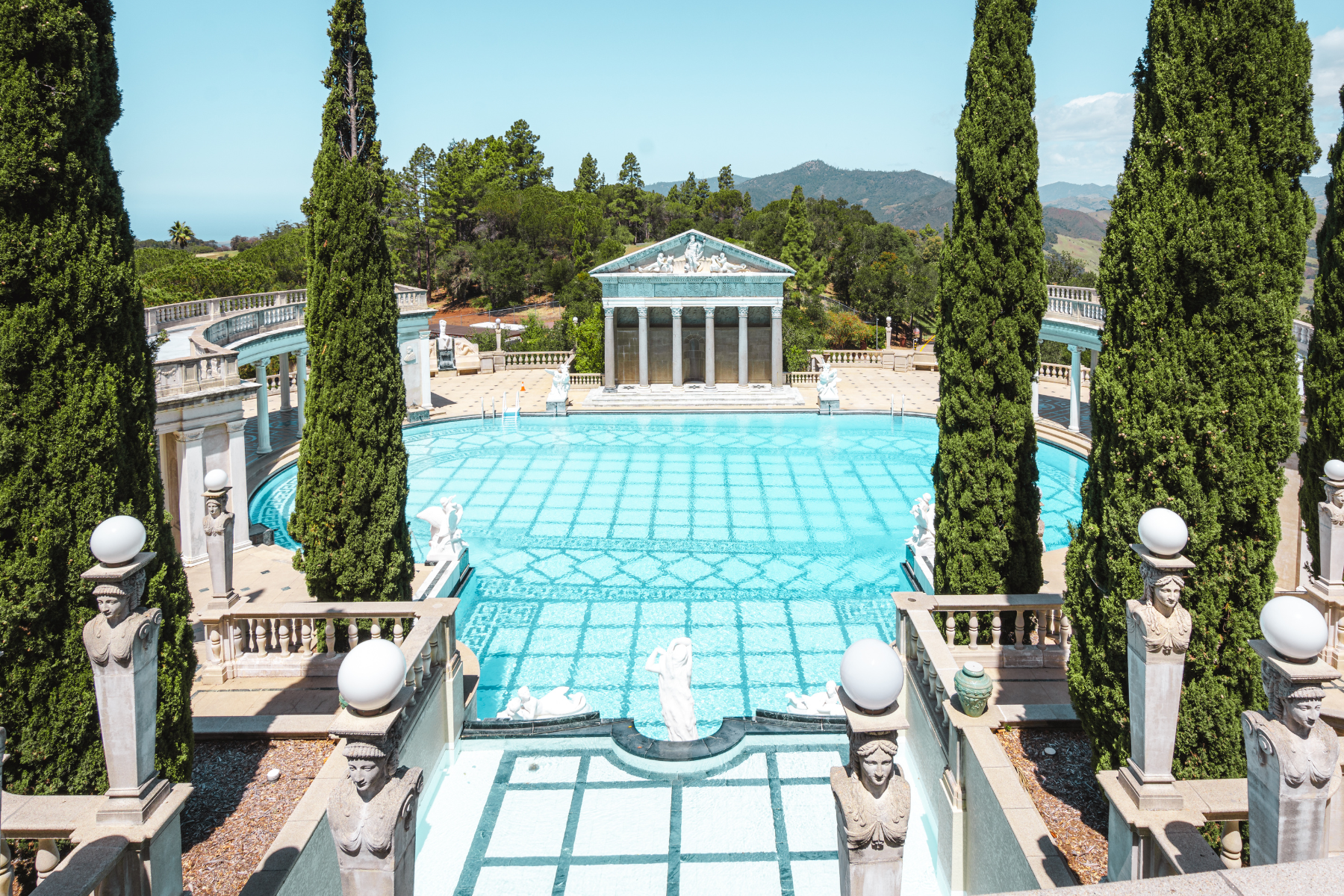 Wondrous Waters at Hearst Castle
The tour also meanders through the house's large kitchen and bedrooms while Allen shares inside information about the space's family, history, and design. The library houses a first-edition Mark Twain, an employee at the castle at one time. On your way out, stop by the movie theater on the property to see an informative film on the castle and the Hearst family.
Once you've finished wandering through Hearst Castle's wealth of wonders, head to Paso Robles to enjoy the region's wines and vines. Schedule a lunch at Niner Wine Estates and enjoy seasonal dishes prepared using greenery from the Chef's Garden nearby. If the timing of your visit permits, I'd recommend the roasted beet salad featuring strawberries, blue cheese, and shallot jam vin, as well as the grilled scallop with smashed yams, shishito peppers, and braised cherry tomatoes. A charcuterie board is always a nice touch as well. Finish with mascarpone ice cream with hazelnut praline and brownie bits. Pair lunch with a tasting from the family-owned winery that produces 13–20 thousand cases of wine annually. The 2021 Sauvignon Blanc and 2015 Cabernet stand out. When you've finished, take a peaceful walk through the chef's garden, adorned with shiny abalone shells, and take in the winery's signature heart-shaped hillside.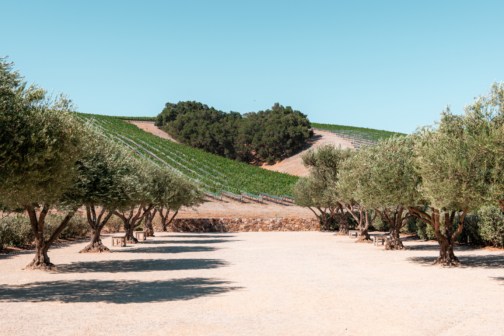 Cass Winery provides a great way to end an afternoon or evening. The property has over 150 acres of planted land. Its wines have helped place it among the top 11 best wineries in the U.S. Reserve a private dinner in the winery's event space and enjoy dishes including pan-seared white sea bass with roast corn relish toasted quinoa and lacianato kale in lemon buerre blanc and nantua sauces and Angus beef flat-iron steak marinated and grilled over white oak Morrell mushrooms in a green peppercorn demi-glace. Pair it with the winery's 2021 Oasis Rose or a 2021 Rockin' One Blanc if you prefer lighter wines. Red lovers can choose a 2019 Backbone Syrah. End the outing with a glass of 2019 Dessert Syrah.
If you'd rather not brave the 40-minute drive back to downtown SLO, book a night at Geneseo Inn, Cass Winery's on-property shipping container inn, featuring luxurious suites and a fire pit under the stars, where you can connect with other travelers and oenophiles.
Journeying South of SLO offers a day on the dunes. Reserve a hummer ride with Pacific Adventure Tours and choose between the Adventure Ride, a thrilling drive over dunes and twisting in the sand, or the Scenic Ride, a leisurely exploration cruising through the area's signature sand features. Bring takeout from area restaurants for a beachside lunch while you enjoy the water and waves of the Pacific. On your way back to the hotel, stop for a drink at Rod & Hammer SLO Stills and enjoy locally distilled bourbons and whiskeys.
Before heading back to Dallas, stop at Kreuzberg Coffee for a pre-flight pick-me-up.
Get the D CEO Newsletter
Stay up to speed on DFW's fast-moving business community with weekly news reports, interviews, and insights.
Author
Kelsey J. Vanderschoot came to Dallas by way of Napa, Los Angeles, and Madrid, Spain. A former teacher, she joined…