Ken Hersh, the president and CEO of the George W. Bush Presidential Center, is one of Dallas' most bullish investors. He focuses on high-growth companies across the sectors of real estate, technology, sports and entertainment, and industrial goods and services. As part of the Texas Rangers former ownership group, he watched the team make back-to-back World Series appearances—and he says if he had his dream car, the DeLorean from Back to the Future, he'd go back to 2011 and tell Nelson Cruz "to play deeper in right field in the bottom of the ninth so that he could make the damn catch!"
He is also a top investor in esports with Dallas-based Envy Gaming. "As an investor, I pay attention to the trends of sports and what I saw a handful years ago was something that I didn't understand at all, which was esports. And my first thought was, 'What the hell is esports?' Esports viewers has gone from 400 million globally four years ago, to 650 million people globally watching esports on a regular basis. In the US, viewership has passed every major sport except the NFL. Last year, in 2021, 84 million people watched esports in the US; Major League Baseball had 79 million people."
Here, in an extended version of his 2022 Dallas 500 Q&A, Hersh shares about his mentors, his proudest moment, how he is forecasting the future, and much more.
Education: Stanford University (MBA), Princeton University (BA-Politics)
Birthplace: "Dallas"
Best Advice: "My original mentor in the investment business, the late Richard Rainwater advised to 'align yourself with great people and then get out of their way.' Whether it is the investment business or in leading the great team at the Bush Center, my goal has been to support a great team that is aligned on a single mission and then help them execute."
First Job: "McDonald's: I learned how to work a grill and a cash register (not at the same time!)."
Destinations of Choice: "I enjoy the vibrancy and beauty of mountain town in the summer. The western United States is blessed to have some of the most spectacular mountain destinations in the world."
Dream Car: "The souped-up DeLorean from the famous Back to the Future movie. I want the car to go back in time to 10:00 pm on Thursday, October 27, 2011 and get to St. Louis to tell Nelson Cruz to play deeper in right field in the bottom of the ninth so that he could make the damn catch!"
Favorite Thing: "President Bush painted a scene of my daughter and me fishing on the river at our ranch. It memorializes one of the best days of my life."
Second Home: "My escape is a ranch in the mountains about an hour outside of Telluride, Colorado. It is a peaceful setting with a wonderful river flowing through the property where I like to fly fish."
Proud Moment: "The Bush Center's focus on the need for this country to enact comprehensive immigration reform has been powerful. President Bush's collection of paintings and his book—Out of Many, One—plus the Bush Institute's policy work and public meetings have advanced the message that immigration is important to our country's economy and cultural richness. It is very possible to protect our nation's borders and be a welcoming nation. They are not mutually exclusive. It is also critical to understand that the existing set of immigration rules is outdated and unworkable."
Future Forecast: "We are living in an age of discovery. Technological advances will change just about everything we touch and how we live. The challenges that this poses to the world order and the way in which our country operates are daunting. It is an exciting time to be alive and to help think through what it all means."
Walk-Up Song: "This is an easy one: 'Stayin' Alive' by the Bee Gees. After my heart scare in 2020, I have faced my own mortality and have a new lease on life. I pledge to make the most of it."
Hobbies/Passions: "I like to fly fish whenever I get the chance. The raw beauty of a mountain stream and the mesmerizing activity is one of my true escapes where I can reset."
Local Fare: "Oishii on Wycliff—I always order the Tribeca Roll and, in honor of President Bush, I also order the 43 Roll, of course."
Get the D CEO Newsletter
Stay up to speed on DFW's fast-moving business community with weekly news reports, interviews, and insights.
Author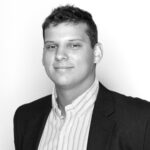 Ben Swanger is the managing editor for D CEO, the business title for D Magazine. Ben manages the Dallas 500, monthly…