After taking over as CEO of Neiman Marcus Group in 2018, Geoffroy van Raemdonck successfully navigated the Dallas icon through bankruptcy in 2020. Now back on its feet, the company is riding the accelerated recovery of the luxury retail niche.
Most recently, Farfetch—a London-based online luxury fashion retail platform—invested $200 million in the growth of Neiman Marcus' digital platforms.
"Farfetch's investment demonstrates their confidence in our omnichannel strategy, and we look forward to partnering with Farfetch to continue revolutionizing the luxury customer experience and delivering value to all our stakeholders," van Raemdonck said.
Education: The University of Chicago (MBA), Université Catholique de Louvain (MBS)
Birthplace: Brussels, Belgium 
First Job: "I spent most of my college summers as a camp counselor in New Hampshire teaching horseback riding and ultimately running the stables. At the time, I could only say a few words in English so this is really where I learned to speak the language. The experience also taught me a lot about leadership and how to inspire and build trust."
Best Advice: "One piece of advice that has had the greatest impact on my career is the notion that passion leads to success. When you are passionate about what you do, you will undoubtedly devote your time, effort, and energy to being successful."
Hobbies/Passions: "There are many things I enjoy doing for fun; however, I really enjoy extreme skiing. Though, as the years go by, extreme skiing has become less and less extreme…perhaps that means I have become more deliberate in taking risks!"
Proud Moment: "A company highlight within the past year that I am extremely proud of is that we reached six million remote client engagement sessions hosted by our sales associates by utilizing our proprietary CONNECT clientelling tool."
Fun Fact: "I think most people would be surprised to learn that I am very clumsy and have spilled many glasses of wine all over the dinner table."
Greatest Inspiration: "Personally, my father was the biggest inspiration in my life. He was such a generous and visionary person who helped mold me into the man I am today. Additionally, Les Wexner was a key inspiration in my life, specifically, his belief that passion leads to success and that curiosity keeps you young."
Destination of Choice: "One of my favorite destinations to visit is Venice, Italy, which also happens to be where my husband is from. Whenever we are visiting, it always evokes moments of nostalgia for him, and I enjoy hearing his stories and learning more about his early life in Venice."
Local Fare: "My favorite Dallas-Fort Worth area restaurant is Mot Hai Ba Vietnamese restaurant, which is located in Lakewood. Their Green Papaya Salad is the absolute best––so delicious."
Fashion Trend: "One of the most interesting trends I'm seeing in the fashion industry is the accelerated recovery of luxury, which has led to higher revenue and traffic at Neiman Marcus this spring as compared to pre-COVID."
Dream Car: "If I could drive any car for one day, I would choose to drive a vintage 1960's Convertible Porsche. I love the class and timelessness of that era; it's such a throwback!"
Toughest Challenge: "I was born with a congenital heart defect, which has since been fixed. Overcoming this has taught me that anything in the world is possible."
Walk-up Song: "'Feeling Good' by Nina Simone'
Future Forecast: "I am most excited for the upcoming roaring twenties! The 1920's had so many iconic cultural moments and such a unique aesthetic; I think and hope it will be the same for the 2020s."
Get the D CEO Newsletter
Stay up to speed on DFW's fast-moving business community with weekly news reports, interviews, and insights.
Author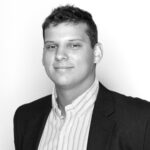 Ben Swanger is the managing editor for D CEO, the business title for D Magazine. Ben manages the Dallas 500, monthly…